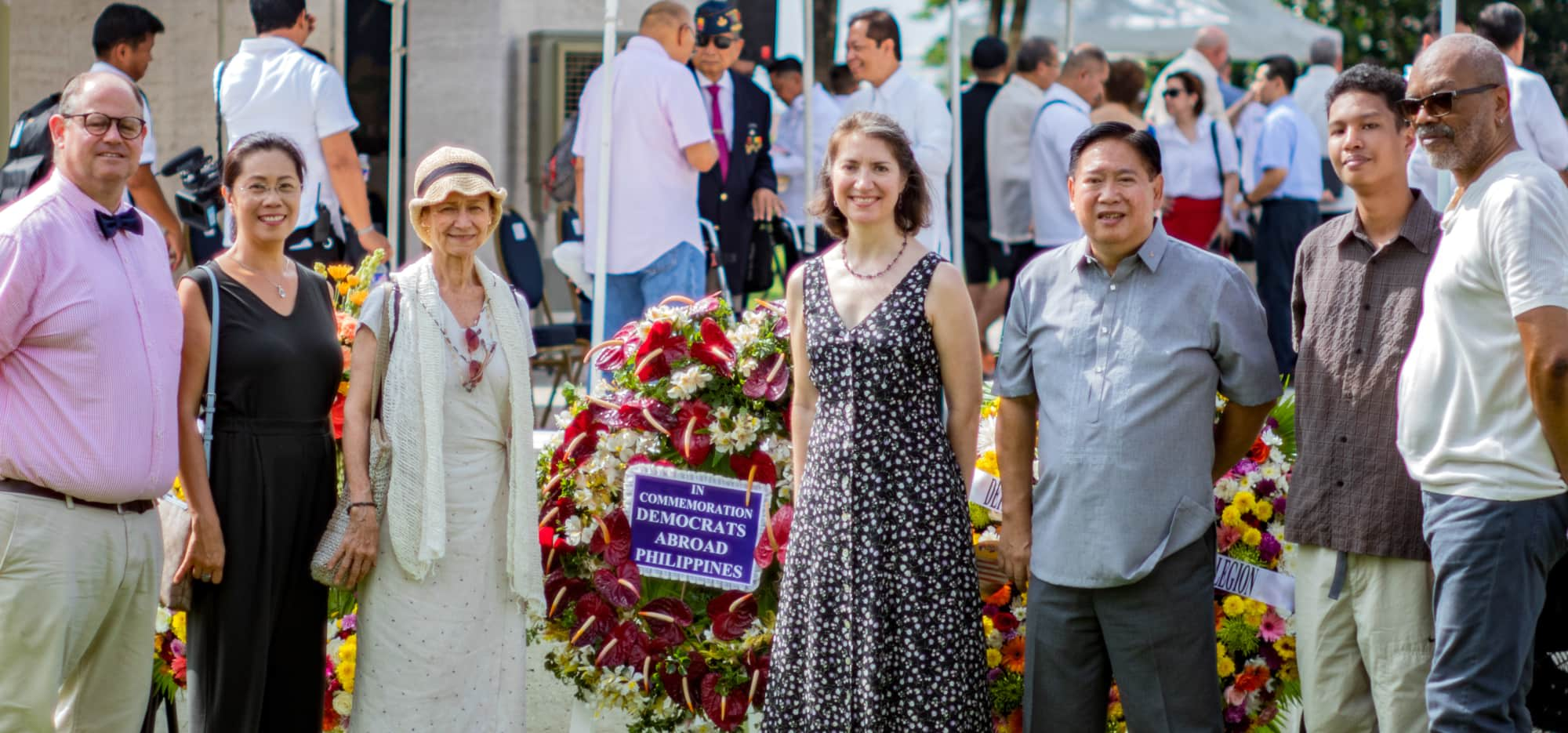 Article by Democrats Abroad (DA) Philippines (DAPh) Communications Manager Morrie Kayanan. Photo by DPGK Photography Dale Pagkalinawan shows DAPh members (left to right) John Stephany, Bing Gelman, Kathryn Carpenter-Perlas, Lisa Pagkalinawan (Chair), Morrie, Brian Borlongan (Get Out The Vote Coordinator), and Stephen L. Tyler laying a Memorial Day commemorative wreath.  More photos by Stephen, here.
To honor the Americans and Filipinos who fell and went missing in World War II, members of DA Philippines donated a commemorative wreath and attended the Memorial Day ceremony on May 26, 2019. Thanks DA International Chair Julia Bryan for suggesting the wreath! 
To raise money for the wreath, a few members independently placed a GoFundMe page on social media channels to see if their friends and other members would respond to their request. The page showed a panoramic view of the Manila American Cemetery as well as a historic photograph of Douglas MacArthur returning to the Philippines. The words read:
"In World War II, Douglas MacArthur promised the Philippines, 'I shall return!' He and America kept its word at the cost of more than 17,058 of its young men and women. These American and Filipino Soldiers, Sailors, Marines, Airmen, Doctors and Nurses, made the final sacrifice and have been laid to rest in the Manila American Cemetery. An additional 36,286 are still Missing In Action. Help us honor these souls on Memorial Day, May 27, 2019, please give to our cause to fund a wreath for them. God bless all who sacrifice for freedom."
Within days, DAPh members and friends answered the call of the GoFundMe page, gave generously to the cause, and the cost of the wreath was met. A handsome wreath was designed around lovely red Anthurium flowers.
DAPh Chair Lisa said, "The use of this modern application on social media, to fund an old tradition of honoring our fallen soldiers teaches us that where is a will – there is, indeed, a way. When the idea to purchase a wreath for the Memorial Day event was broached, one of the first questions that arose was, 'How will our organization raise the money?' A couple of enterprising members came forward and offered to independently create a fund-raising page using the free GoFundMe application, and if it worked, the proceeds would be donated to our cause. Our wreath is proof that generosity and goodwill still exist in the hearts of Americans. We thank you for your help. God bless."
Check out a few pictures from Memorial Day 2019 events in France, Luxembourg, the Netherlands and the Philippines,
here
.
If you are not yet a member of Democrats Abroad, you can become one by signing up at DemocratsAbroad.org. Visit Democrats Abroad Philippines webpage, like us on Facebook, and follow us on Twitter.

Do you like this post?