Dear Friend, 
We are now 45 days away from the elections, and there is no time to waste! 
If you elected to receive your ballot by email, you should receive it by Saturday, September 19 (not sure whether or not you did? Chat with someone for help on votefromabroad.org). If you must send your ballot back by postal mail, please send it by Monday, September 21 to ensure it gets back to the U.S. on time! You can save tons of money by sending it back through the U.S. Embassy (more on that below). 
We are still always looking for volunteers for the global network and DA Colombia (respond to this email for more info). If you don't have time to volunteer but still want to help in other ways, consider the following:
Your vote counts. If you haven't registered to vote or requested your ballot yet, don't worry. There is still time if you do it right away. If you encounter any issues along the way, don't give up—we are here to help you exercise your right to vote. 
Democratically yours,
Quyen Nguyen
Chair, Democrats Abroad Colombia
---
Need help registering to vote? Join us for 1:1 help on Sundays or chat with someone on votefromabroad.org. 
Ballots officially are sent out on September 19. Fill it out and do not waste time- send it back to your local board of elections ASAP. Sept 19 is 45 days from November 3 or 6 weeks away!  We've done some homework and here's what we know.
If you MAIL in your ballot (OPTION 1):
The US Embassy (Bogotá) and Consulate (Barranquilla) can deliver your ballot (or voter registration packet).
It is FREE.
Your ballot or voter registration packet MUST be in a sealed, addressed and postage-paid envelope.
You can in-person drop off your ballot or registration packet OR you can mail it to the US Embassy or Consulate (see mailing address below).
Please allow 4-6 weeks for delivery.
You are not able to track mail delivery via this method.
If you MAIL in your ballot (OPTION 2):
Several private courier services offer international delivery including: Deprisa, FedEx, DHL, and 472.
This method includes tracking for mail delivery.
Delivery time can approximately range 4-6 business days.
This method does incur a cost. Approximate quotes we've received are $120,000~$220,000. 
Should you opt to send your ballot through the US Embassy or Consulate, bear in mind the time lapse of sending your ballot or registration packet. Therefore, we strongly encourage you to send your ballot or registration packet as soon as you can to allow for on-time delivery. Remember, Sept. 19 is already 6 weeks away from Nov 3. 
Contact us with any questions, challenges, or experiences you want to share at demsabroadcolombia@gmail.com or via messaging our Facebook or Instagram accounts. We can help you make a plan to get your ballot in.
How do I send my ballot to the U.S. from Colombia?
Get your ballot to the U.S.
Private Couriers
---
FEDERAL WRITE-IN ABSENTEE BALLOT (FWAB)
If for any reason, you do not receive your ballot (having registered and requested one) and the time is ticking, you can mail in the FWAB. This ballot serves as a back-up ballot. It is official and counts. You can find an FWAB at https://www.votefromabroad.org/fwab/. 
Once you mail this in, you do not need to send in the other ballot should it come in later. We do recommend, as with the state ballot, follow up. Contact your local election office. Check in with friends and family as well to ensure they are doing the same.
----
DA Colombia
http://www.democratsabroad.org/
P.S. - Click below to let us know your current voting status!
---
The least expensive option for returning your ballot is to send in or drop off your ballot to the US Embassy in Bogotá or the US Consulate in Barranquilla. Your envelope needs to have a US stamp or postage paid. Please allow as much time as possible - we recommend four to six weeks!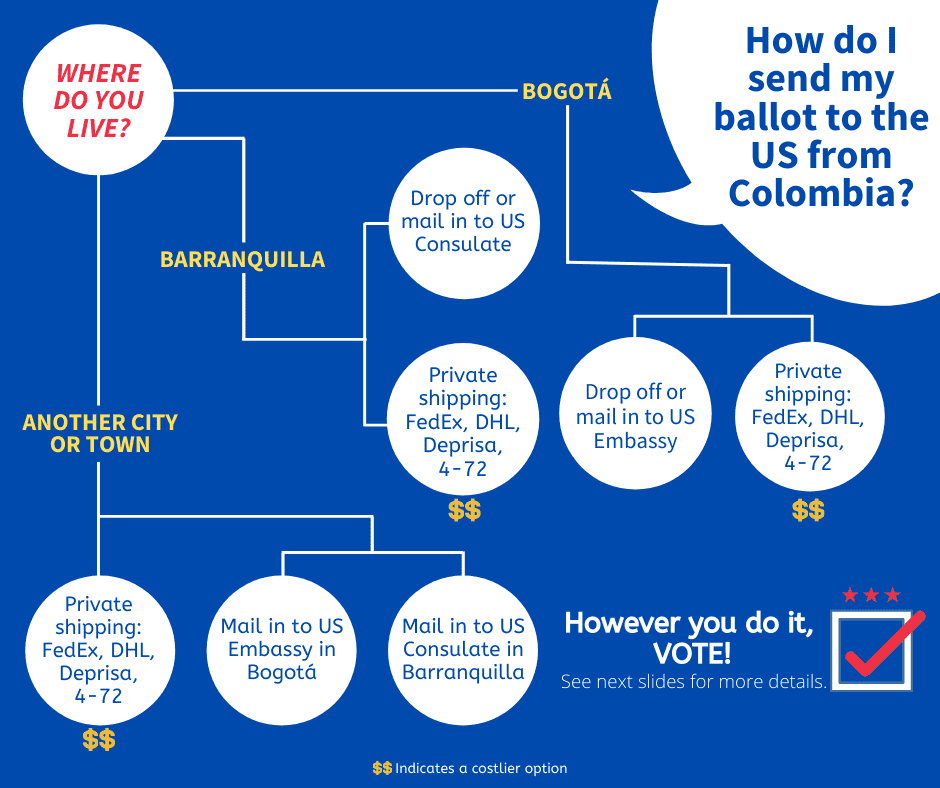 US Embassy - Bogotá
Mailing address:
Att: Voting Assistance Officer
Cra. 45 No. 24b-27
Bogotá D.C
Colombia 11132
In-person drop-off: Monday-Friday 2pm-4pm
US Consulate - Barranquilla
Mailing address:
American Citizen Services
Calle 77b 57-141 Suite 511
Barranquilla, Colombia
In-person drop-off: Monday- Friday 8am-5pm
If you want to have the ability to track your ballot and can spend more, use a private courier, e.g. DHL, FedEx, Deprisa, Servientrega. This can cost from COP120,000 to COP220,000.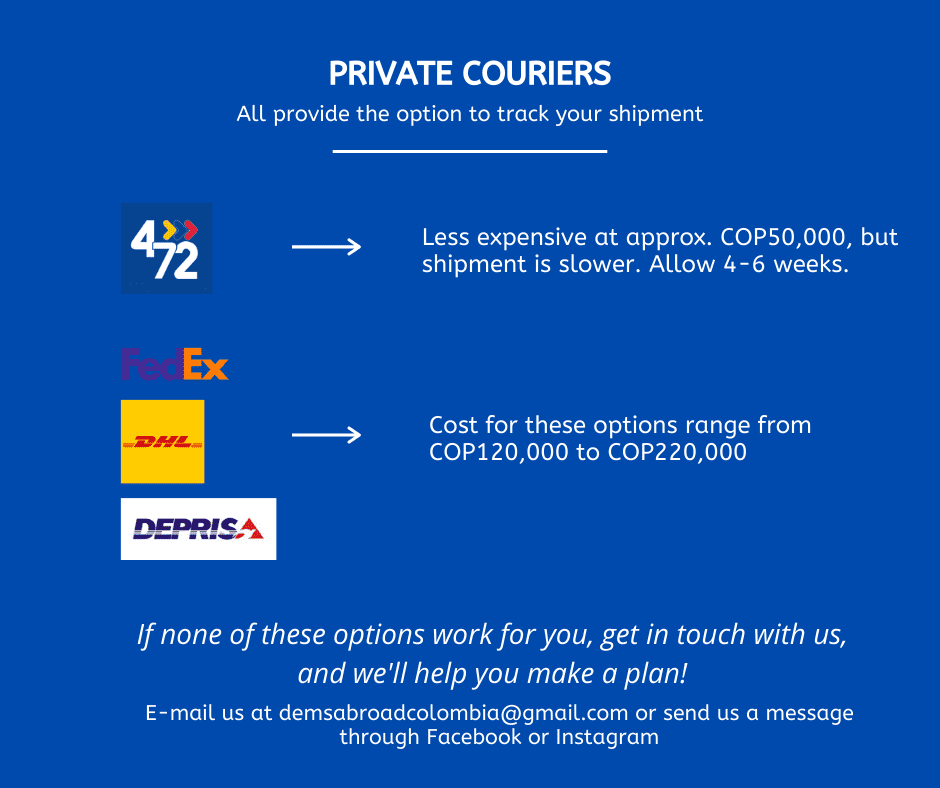 If none of these options will work for you, please get in touch with us, and we'll help you make a plan! 
---



WELCOME TO DEMOCRATS ABROAD COLOMBIA!
Are you a U.S. citizen, a Democrat, and living in Colombia? Get involved with Democrats Abroad Colombia (DA CO), the official country committee for Democrats Abroad. The first step is to click on JOIN/SIGN IN in the upper right-hand corner of this page. This will add you to our mailing list and ensure that you are included in the official count of Americans living abroad around the world, which determines how many representatives we can send to the Democratic National Convention. 
Follow us on Facebook, Instagram, and Twitter (@demsincolombia) for voting information and announcements of meetings and events. If you're interested in volunteering, hosting an event, or helping to get out the vote, please fill out this interest survey and we'll get back to you!
---