The Wiesbaden/Mainz Chapter is very pleased to collaborate with the newly formed DA Germany Climate Caucus to promote their launch event, happening June 9th 7pm CET. We in Wiesbaden/Mainz have several members in this nascent group and hope it will have a bright future!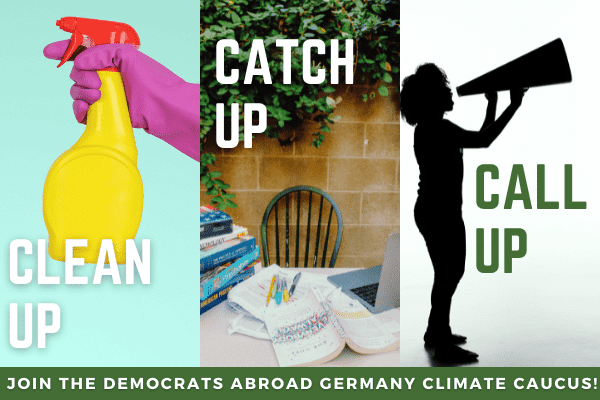 The brand new DA Germany Climate Caucus is starting things off by celebrating the U.N.'s World Environment Day. There are several ways to take up the cause (and have fun doing it!):
You can play our Climate Action Bingo – Compete with others to fill up your Bingo board of meaningful, positive climate actions that can make an important difference. Find us soon on Instagram via @demsabroadgermany and other participating DA social media channels. Directions for how to play are here! 
Clean Up – Find out how you can make a difference outdoors or inside your home. We have lots of ideas from a traditional neighborhood trash pick-up to cleaning up your digital waste (there's a carbon footprint there too!). Click through this Clean Up tip document to find out more! (This is not a time-specific event)
Catch Up – Ready, set, read (or listen or watch)! Pick from our curated list of resources for exploration of the climate crisis and its solutions to Catch Up on what's going on. We have tips for books, podcasts and films in this Catch Up document so look no further for next steps to learning more! (This is not a time-specific event)
Call Up -  Make a plan to make a call. Join us on June 9th, 7pm CET for a Zoom event in support of the American Jobs Plan, President Biden's key climate policy proposal. This is our chance to make the Paris Agreement goals possible! We'll introduce the plan, explain how to call up your senator about it (whether Democrat or Republican), and support one another as we all hop off Zoom to call our representatives. Learn about this bill and our event in this Call Up document.
RSVP for our June 9th event here!
If you're interested in getting involved with the Climate Caucus, write to [email protected] and they'll be in touch!
Do you like this post?