Hundreds of Toronto-based Democrats Abroad (DA) members crowded into the Madison pub on November 6, 2018 to celebrate the party's gains in 2018 and their own efforts to change the balance of power in Washington by helping to flip the control of the House of Representatives.
Democrats Abroad Toronto exerted unprecedented efforts to reach U.S. absentee voters by staffing a call centre based in the Cadillac Fairview Tower for two months before Election Day. The centre operated from noon to 9 pm seven days a week. A total of 150 volunteers made 20,000 calls from the centre. Toronto's centre was primarily managed by DA member Arjun Gupta, who assisted volunteers with the use of the centre's computers and the scripts used to motivate the members who were reached.
Call centre volunteers talked to Democrats based in Mexico, Italy, France, and countries around the globe. Volunteers were energized as they conversed about common concerns with Americans who were living thousands of miles or, in some cases, half a world away. On election day, one young volunteer spent over 12 hours calling U.S.-based members in Ohio and Texas.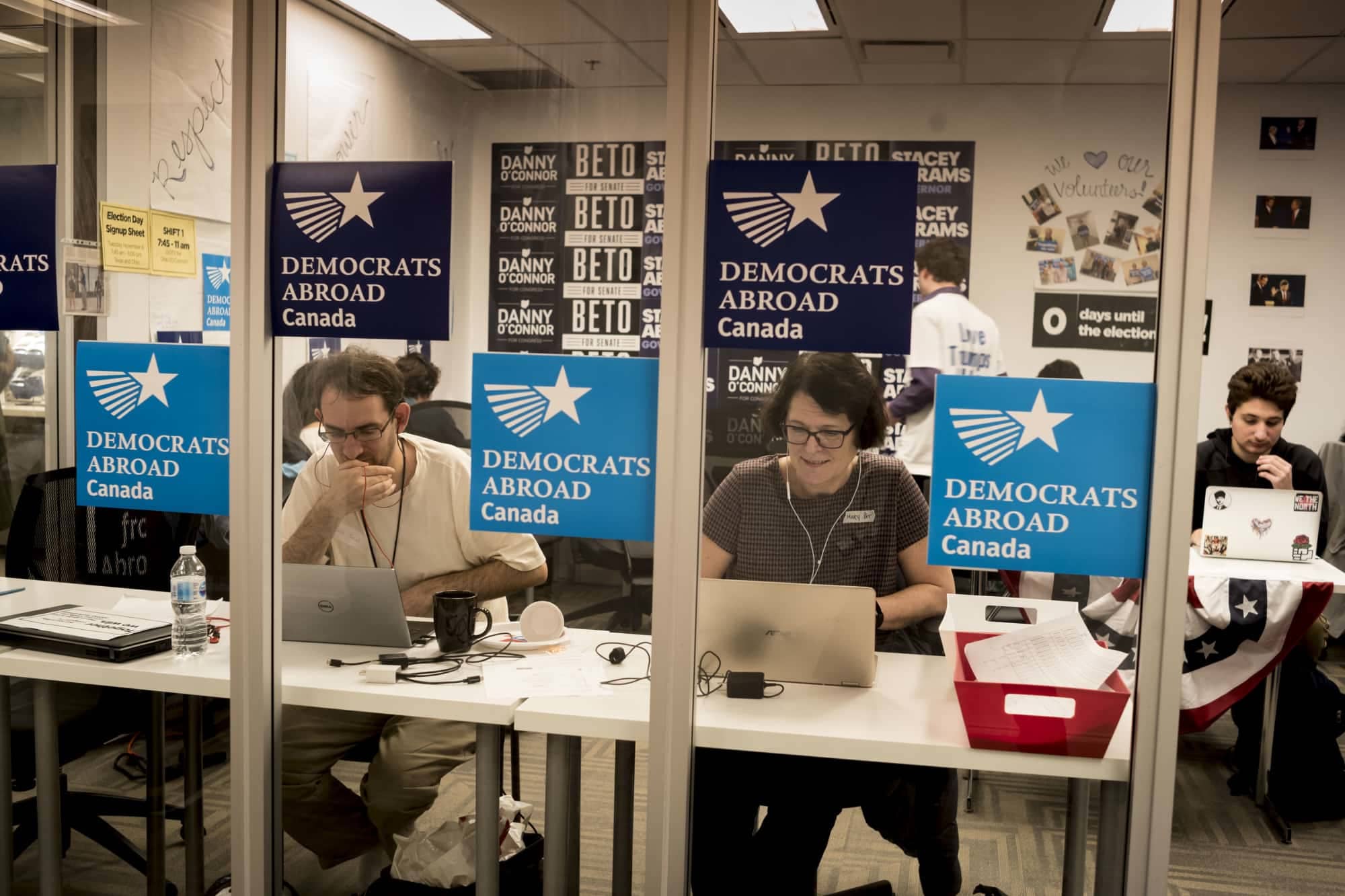 The high spirits that fueled this mid-term election effort were evident in the great throng that gathered at the Madison as the results were announced. The proceedings included the sale of buttons and "It's Mueller Time" T-shirts to enthusiastic party members. Democrats were exuberant when the announcement came that the party had won control of the House. There was some regret about the outcomes for Andrew Gillum, Beto O'Rourke, and Stacey Abrams, but we were also certain that there is a "next time" for these candidates.
Toronto chapter vice-chair Danielle Stampley told the cheering crowd that the voter contact effort this year was the "biggest success ever for a mid-term." Stampley summed up the DA mid-term experience this way: "Because of our amazing volunteers, we exceeded expectations getting out the vote this year. We are thrilled that our efforts paid off and we flipped the House. Now, we are ready for 2020."
By Virginia Smith