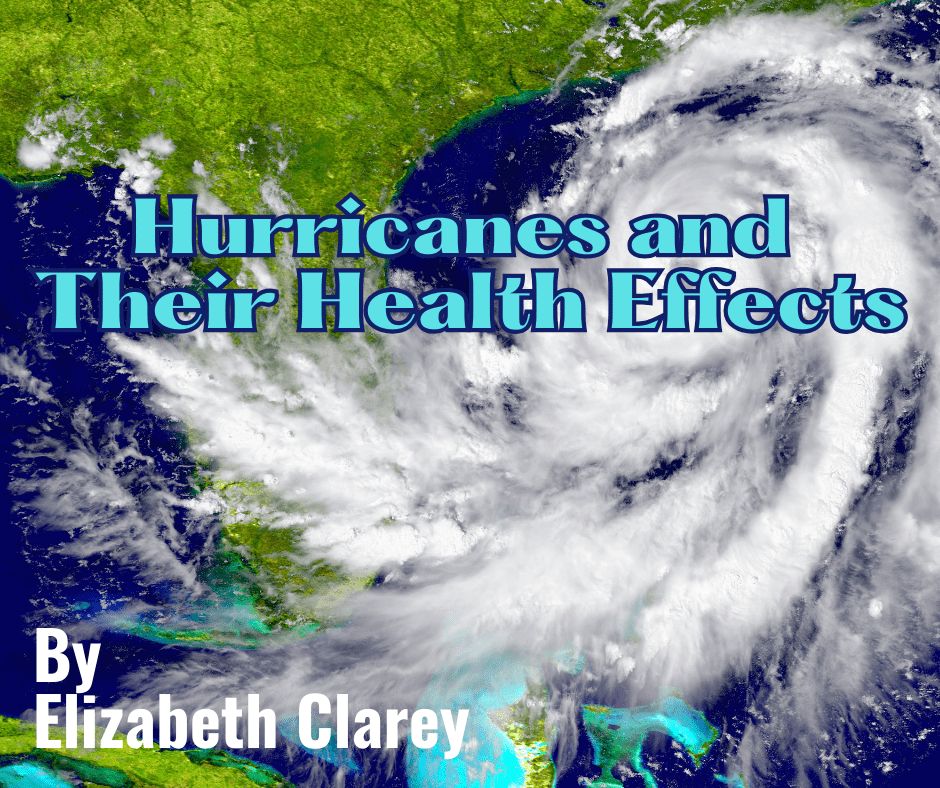 By Elizabeth Clarey
The US is currently in middle of hurricane season, and anxieties are high after record-breaking temperatures throughout the summer. People living in the Southeastern United States are used to these seasonal storms, but with climate change, hurricanes are expected to get stronger and more destructive. When we think of the health damage done by hurricanes, we think of the risks of unintentional injury and death from the storm rather than increased levels of disease. However, hurricanes and other "extreme weather events" (EWEs) pose significant risk of illness, especially after they have passed.
Firstly, hurricanes bring significant rainfall, which can cause flooding. Flooding can contaminate water resources, as overflowing rivers and streams can run into water treatment centers and sewage overflow can occur. This increases the amount and concentration of bacteria and viruses present in the drinking supply. Flooding can also result in runoff of chemicals used in manufacturing and agriculture, including arsenic, lead, and hydrogen sulfide.
Additionally, flooding of homes and buildings increases the chances of mold growth, which can be inhaled and cause serious respiratory illness. People are at risk of inhaling the mold spores when returning to flooded homes to reoccupy or repair.
When the hurricane subsides, pools of standing water create the perfect breeding ground for disease-carrying mosquitos. This year, Florida has seen cases of both malaria and dengue fever. Malaria was officially eradicated from the US in the 1950's, but there are fears of resurgence and dengue cases have been rising each year.
Extreme weather events can also exacerbate chronic diseases and mental health issues. People with heart disease and asthma are more vulnerable to other consequences of extreme weather events, like exposure to chemicals and pathogens and interruptions in healthcare delivery and medical supply chains. Incidence of PTSD, intimate partner violence, anxiety, and depression all surge after extreme weather events.
Lastly, hurricanes and other natural disasters can affect healthcare delivery. As more people require help, hospitals can find themselves limited in their capacity to provide it. Healthcare facilities may experience flooding and power outages; damaged infrastructure can make it difficult for people to access hospitals and pharmacies. 
Globally, political and healthcare bodies have turned their attention towards adaptation and mitigation to prepare vulnerable communities for natural disasters like hurricanes. This includes effective early warning communication with the public as well as modifying infrastructure and health facilities so that they are more energy-efficient and resilient to extreme weather.
Hurricanes can have devastating effects on physical and mental health. However, when people are armed with knowledge about potential dangers, they can take steps to reduce their likelihood of sickness and injury.