Sacrifice at Sea of an Ecumenical Foursome
By Tilly Gaillard (Global VMF Caucus Steering Committee, France)
After midnight on February 3, 1943, the military transport ship SS Dorchester carried soldiers from New York to Greenland. The ship sailed at only 10 knots/hr because of thick layers of ice and snow on the deck, freezing most of the lifeboat riggings; only two could be used. While traveling through the notorious Torpedo Alley, a torpedo from a German submarine hit the ship, and the SS Dorchester sank within 20 minutes. Of the 902 military passengers on board, 672 died; 230 were saved by the U.S. Coast Guard Cutters escorting the convoy. It was the single worst loss of American personnel on any American convoy during World War II.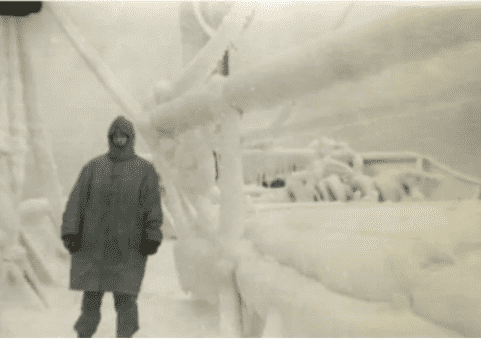 Four chaplains on board helped the crew, servicemen, and civilian workers abandon the ship. After giving their life jackets away to four soldiers, they joined arms as they sang hymns and prayed together on the deck as the near-freezing sea swallowed their ship. Witnesses of that terrible night remember hearing the four men offer prayers for the dying and encouragement for the survivors. 
Who were these Four Chaplains?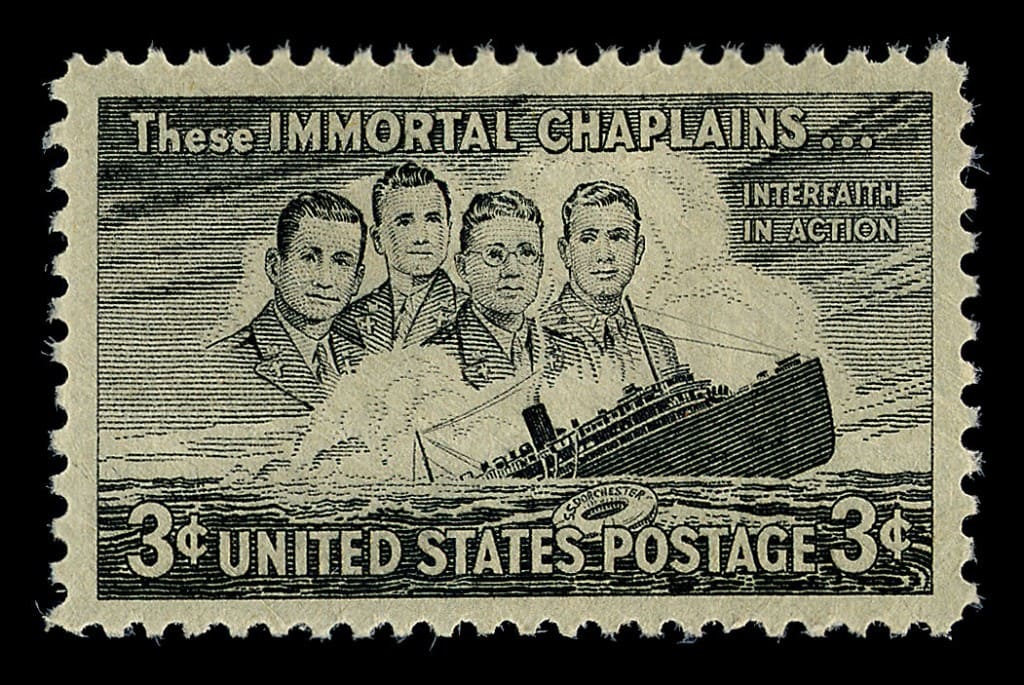 Lt. George L. Fox (42) was a Methodist minister born in Pennsylvania. In 1917 he convinced the military that he was 18, joined the ambulance corps, and was sent as a medical corps assistant to France. His bravery won him the Silver Star, Purple Heart, and the French Croix de Guerre. In June 1934 Fox was ordained and moved to Vermont. Fox reenlisted in the army again in 1942, just when his 18-yr old son, Wyatt, joined the Marine Corps. 
Lt. Reverend Father John Washington (35) was a Roman Catholic Priest from New Jersey. He was once an altar boy and a prizefighter before becoming a priest in June 1935. Pearl Harbor inspired him to join the military. A BB gun accident left him with poor eyesight and a rejection from the navy. So he joined the army. To pass the eye test he covered the same eye twice and hoped the doctors wouldn't notice. It worked.  
Lt. Reverend Clark V. Poling (33) was a Dutch Reformed Church Baptist Minister. As a child of six generations of ministers, his future was preordained. When WWII broke out, he originally didn't want to enlist as a chaplain. "I'm not going to hide behind the church in some safe office out of the firing line". His father, a chaplain in WWI, reassured him. Chaplains have one of the highest mortality rates.Before joining the Army, Poling served as a pastor in Schenectady, New York.  
Lt. Rabbi Alexander Goode (32) studied for the rabbinate at the Hebrew Union College in Cincinnati, was ordained in 1937 and accepted a pulpit in York, Penn. He got his Ph.D. in Oriental Languages (Theology) from John Hopkins University in 1940. In 1941 he founded the first multicultural mixed-race Boy Scout troop in the U.S. His scouts uniquely could earn Catholic, Jewish and Protestant badges. He wanted to be a navy chaplain but was rejected; so he joined the Army Air Corps. 
Awards and Memorials for the Four Chaplains
The four chaplains received a posthumous Distinguished Service Cross, a Military Order Purple Heart, and President Eisenhower awarded them the Chaplain's Medal for Heroism in 1960. Congress wanted to award them the Medal of Honor. But that medal is strictly reserved for heroism performed under fire. Clearly, this was heroism performed underwater. 
There are more than 400 memorials in the U.S. devoted to these heroes. In 1948, the U.S. Postal Service issued a commemorative stamp in their honor, and Congress designated February 3 as Four Chaplains Day.