Greetings from your Global Women's Caucus team! We hope your summer has been enjoyable, whether it involved travel, work, relaxation, or all of the above. As we say goodbye to the dog days, we're also ramping up here at the GWC. This month, we are striking for climate change, hosting a webinar with Planned Parenthood and rolling out a new Reproductive Rights Action Team. Read on for more about these and other ways to get involved in the coming months.
***
New in the Global Women's Caucus: Reproductive Rights Action Team
The rights of American women are being attacked every day in the United States with new state legislation -- recent early abortion bans, for example -- and decisions by conservative federal and state judges.
We need to mount a strong defense, and that is precisely what the DA GWC has decided to do. The newly formed Reproductive Rights Action Team, led by Salli Swartz, is open for business!
Please visit our site to read about our mission and discover links to interesting resource material.
DA Global Women's Caucus Speaker Series: Jenny Lawson, Planned Parenthood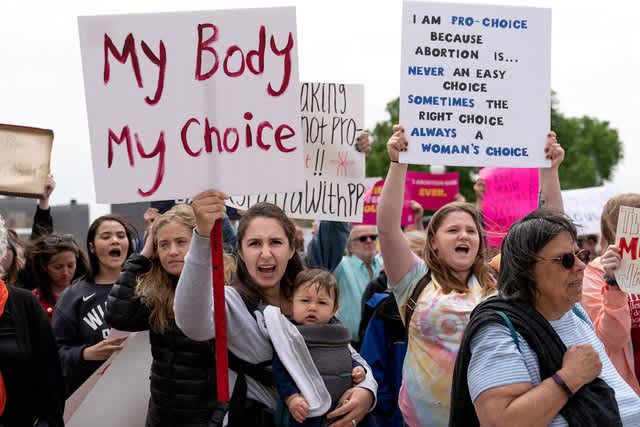 Join Democrats Abroad on Wednesday, September 18 at 8:00 p.m. CET (7:00 p.m. GMT, 2:00 p.m. EST) as we speak with Jenny Lawson, Vice President, Planned Parenthood Action Fund & Planned Parenthood Votes.

We will discuss the restrictive laws sweeping the country, the politicization of women's healthcare, what is at stake for Planned Parenthood in the 2020 elections and how to further support and get involved in Planned Parenthood's domestic and international campaigns.
Click here to RSVP and receive the Zoom link by email. Please submit any questions you would like presented during the webinar to womenscaucus@democratsabroad.org. We look forward to welcoming you!
TINY ACTION
In the spirit of our work to protect reproductive rights, check out this list of tiny actions to protect abortion and healthcare access for American women, courtesy of the GWC in London.
Join the Global #ClimateStrike: September 20-27
While we at the GWC are focused on women's issues, we also assert that women's rights are human rights. The global climate crisis is challenging humanity's rights to clean air, water, and a livable planet for generations to come.
As the Amazon rainforest suffers devastating fires and hurricane season barrels down on the Atlantic coast of the U.S., we are reminded all too often of the dangers of climate change and the preciousness of our natural resources.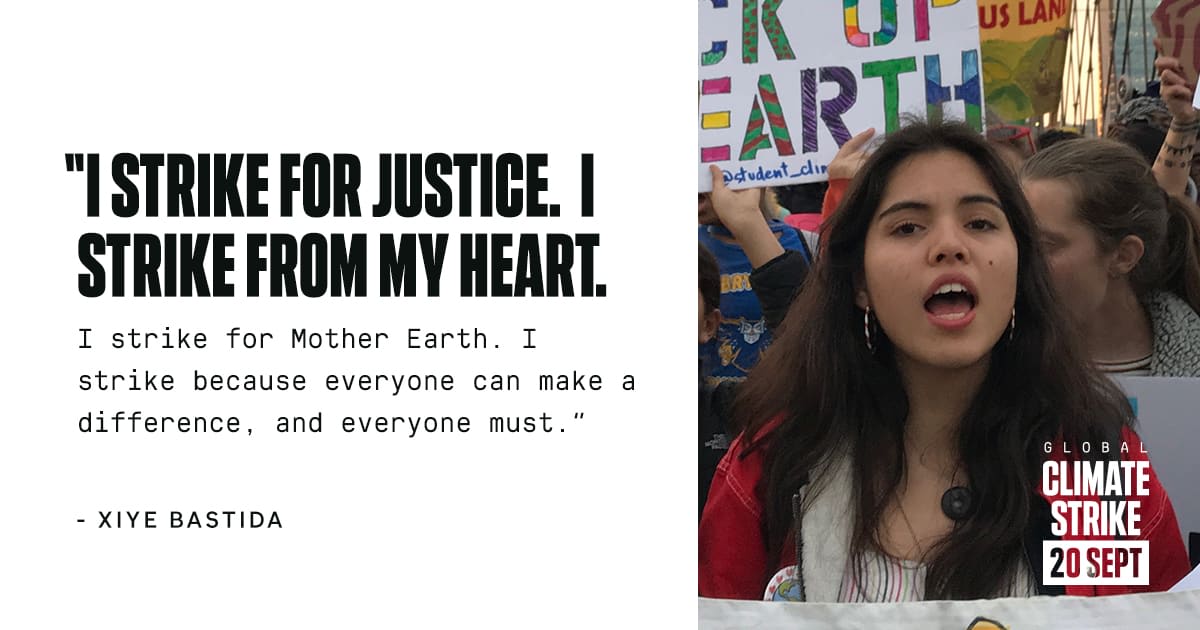 Born out of the same passion that led teenage activist Greta Thunberg to ignite the Fridays for Future movement, a global strike is happening this month to demand an end to reliance on fossil fuels. On September 20 and 27, to coincide with a UN emergency climate summit, millions will walk out of their schools, homes, and workplaces to demand action on climate.
Events and actions will take place throughout the week. Learn more about events near you at globalclimatestrike.net.

Books Abroad: Help Choose Our Next Book!
You're invited to join the next Books Abroad feminist reading group meeting! We've received some suggestions for our next book and would greatly appreciate your input. Please follow the link below to indicate your reading preference and your availability for our suggested next meeting date, Sunday, October 20.
Tell us your preferences HERE.
Thanks in advance for your feedback, and we look forward to another excellent conversation.
Join us! DA EMEA Annual Regional Meeting in Athens, Greece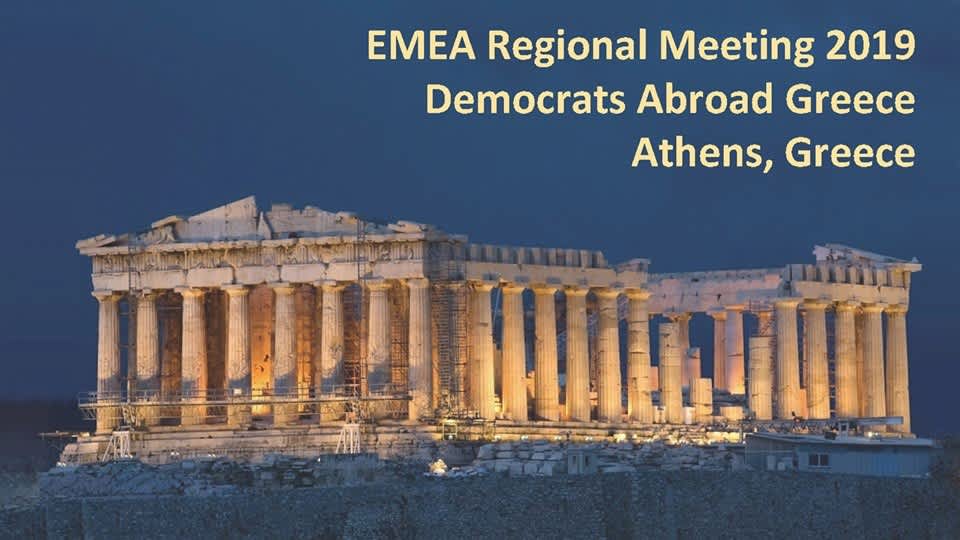 Democrats Abroad will hold its 2019 regional meeting for Europe, the Middle East, and Africa from October 11-13 in Athens, Greece.
All DA members are welcome to join workshops, training, presentations, and social events to help Americans vote and Democrats win in 2020.
The Women's Caucus will offer activities including our own training and strategy session, a lunch meeting and some "just for fun" stuff for getting to know each other better.
Our Women's Caucus is always in need of volunteers, and this event is a great opportunity to meet engaged and inspiring American Democrats from across Europe, Africa, and the Middle East.
As Americans living abroad, we don't have to watch helplessly from the sidelines as our country falls into chaos and women's rights are increasingly threatened. Participating in regional meetings or volunteering, even in the smallest way for our caucus, is the best remedy for that feeling of helplessness we all get when we watch the news or wince at the latest tweet! There is a lot we can do from abroad. Come to Athens, and we'll show you how you can help!
Click here for more information and registration.
ERA Update: Write Postcards to Flip the Virginia Legislature!
Earlier this year, the Equal Rights Amendment passed the Virginia Senate but failed in the VA House by a vote of 50-50. This November, all positions in the VA House and Senate are up for election. DA is partnering with the VAratifyERA organization to elect pro-ERA candidates. Although VAratifyERA is non-partisan, all of the pro-ERA candidates are Democrats.
Here's how we can help:
We have the postal addresses for 2,500 Virginia voters living in Kirk Cox's district. He's the House Chair that has blocked the ERA bill for the last several years, so it would be a pleasure to help replace him with Democrat Sheila Bynum-Coleman.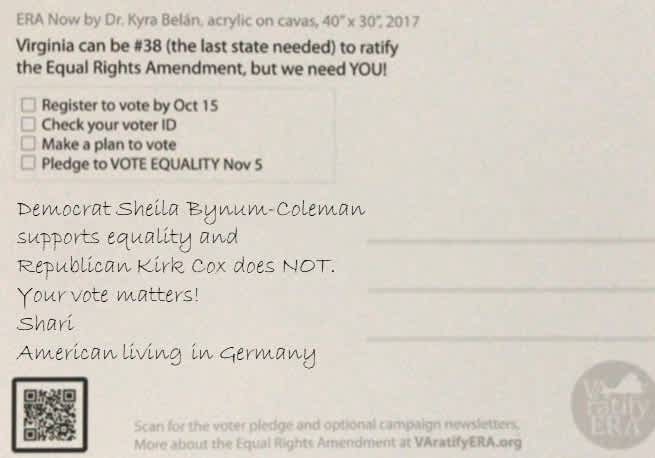 Hopefully, some of you can host postcard writing parties or just do some yourself. Ideally, they need to reach the U.S. by Oct. 15, the registration deadline, but at least before the November election.
If you are willing to write and send some, let us know how many and we'll send you the addresses. Please only take as many as you are committed to send. You can use your own postcards, or if you live in Europe, we can mail you some special VAratifyERA postcards to use. Please send your request to Shari Temple at [email protected].
Let's flip the House in Virginia with pro-ERA candidates. By doing so, we could have the ERA ratified by Valentine's Day 2020. What a sweet thought!
--
Thank you for reading, and as always, stay tuned on our Facebook page for all the latest news.
In solidarity,
Your GWC Team
Ann Hesse, Chair, Global Women's Caucus
Laura Depta, GWC Newsletter Editor-in-Chief
http://www.democratsabroad.org/wc
womenscaucus@democratsabroad.org