Greetings from your Global Women's Caucus team! Summer has been flying by as usual, and we've had plenty to keep us busy at home and abroad. In this month's newsletter, see Lights for Liberty photos from around the world, learn about happenings with our caucus in China, and hear what some of the Democratic presidential candidates had to say about women's issues in their first debate.
Also, please take a moment to fill out our issues survey. We want to know what's important to you in the 2020 elections.
***
Around the World: Lights for Liberty
On July 12, vigils were held across the U.S. and around the world to protest the inhumane conditions facing migrants at the southern U.S. border.
London organizer Melissa Branzburg said, "Standing up as a concerned citizen to host a vigil felt bold, but the children and adults locked up in inhumane conditions in detention in the U.S. demands bold action. My five-year-old spoke at the event, and as a mother to young children, the stories at the border really cut deep. So many people turning out to our vigil in London felt impactful, and I look forward to continuing the fight."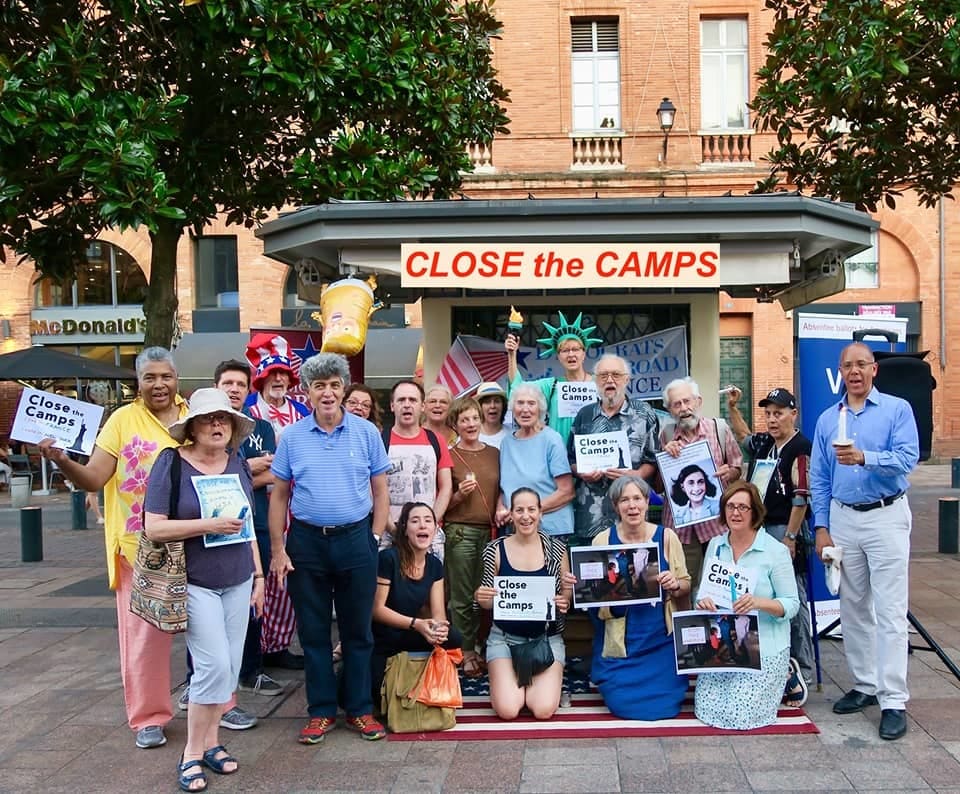 Toulouse, France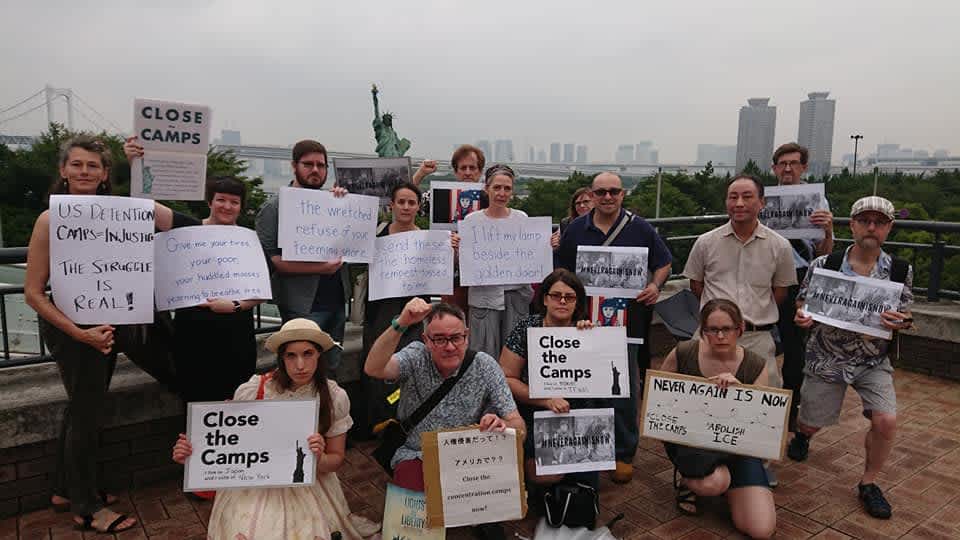 Tokyo, Japan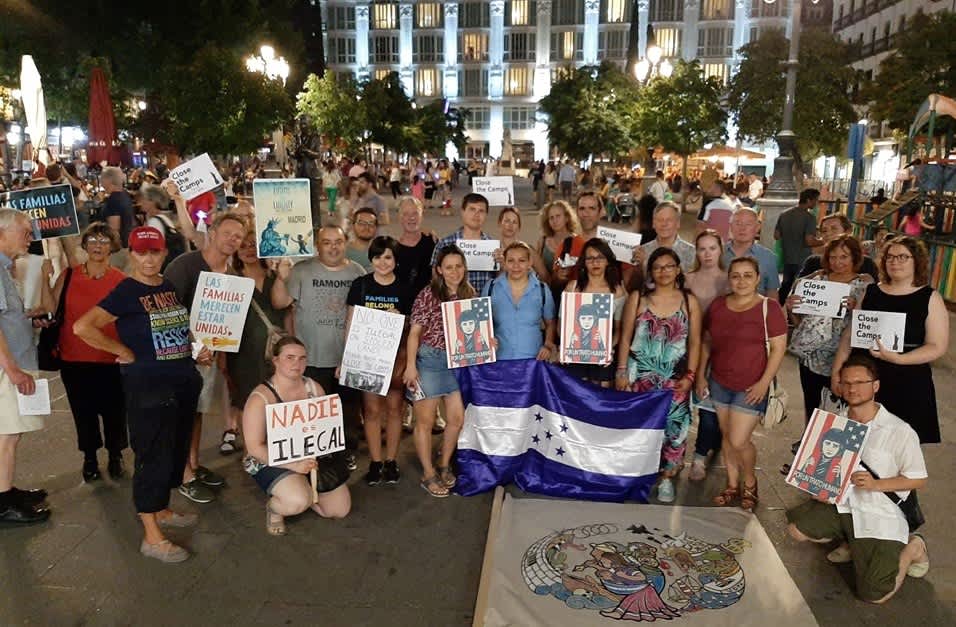 Madrid, Spain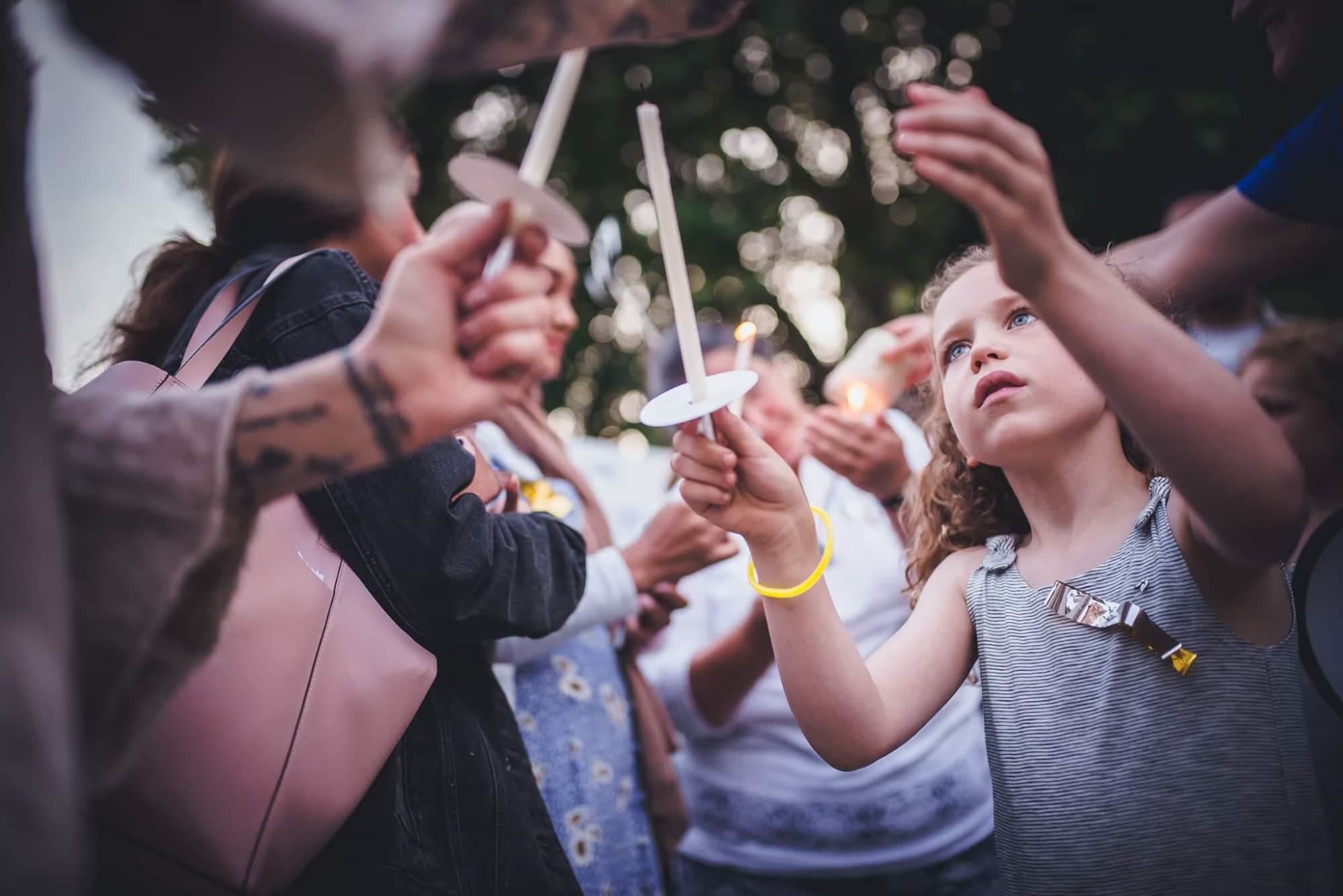 London, UK
View more photos at the Lights for Liberty Facebook page. 
DA Happenings: Busy Summer in China
From Elaine Chow, China Communications/IT Director: The Women's Caucus in China has had a busy summer season across Beijing, Shanghai, and Guangzhou. We kicked off the summer with a Take an Action Happy Hour in two cities to write our Congress People denouncing the attacks on women's health rights. In June, we revitalized ourselves with a Book Club Takeover discussing Susan Faludi's "Backlash," a book about how unprecedented advances in women's rights then led to more anti-women initiatives. Now, even as we have the most diverse Congress ever, we are encountering a similar backlash against our health and guarantees to equality.
We look forward to growing our community and continuing to discuss women's issues into the new year!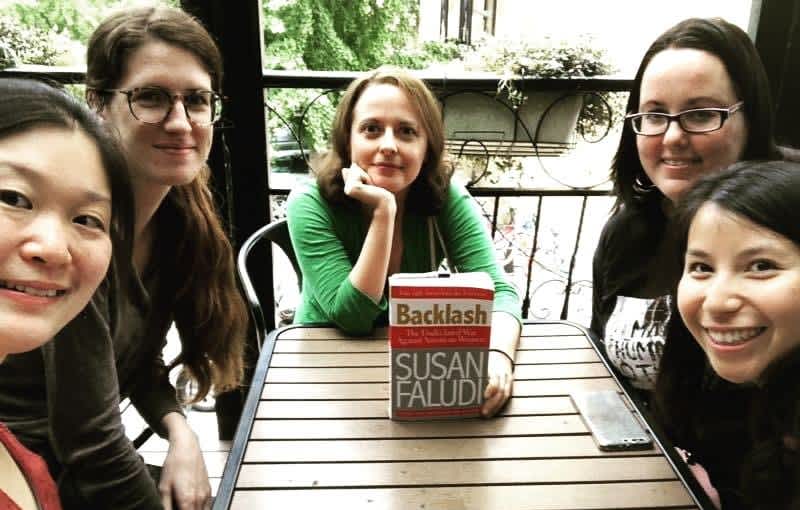 In the US: Women's Issues in the First Democratic Debates
The Global Women's Caucus has formed a candidate research team to gather information about the presidential candidate's positions on women's issues that we will be sharing later this year.
During the first Democrat Presidential Candidates debate, there were only a few questions on women's issues. Not all candidates had an opportunity to answer the same questions. Hopefully, we will have a chance to hear the stance of all candidates on women's issues in the next debates, set for July 30-31 in Detroit.
Here are a few quotes on women's issues from the first debates:
JULIÁN CASTRO:
"I would do several things, starting with something we should have done a long time ago, which is to pass the Equal Rights Amendment finally in this country."
BETO O'ROURKE:
"And health care also has to mean that every woman can make her own decisions about her own body and has access to the care that makes that possible."
JAY INSLEE:
"It should not be an option in the United States of America for any insurance company to deny a woman coverage for their exercise of their right of choice."
AMY KLOBUCHAR:
"I just want to say, there's three women up here that have fought pretty hard for a woman's right to choose."
ELIZABETH WARREN:
"I would make certain that every woman has access to the full range of reproductive health care services, and that includes birth control, it includes abortion, it includes everything for a woman."
KAMALA HARRIS:
"I want a rape victim to be able to run in the middle of the street and wave down a police officer and report the crime against her."
JOE BIDEN:
"I supported the ERA from the very beginning."
BERNIE SANDERS:
"Let me make a promise here. You asked about litmus tests. My litmus test is I will never appoint any—nominate any justice to the Supreme Court unless that justice is 100 percent clear he or she will defend Roe v. Wade."
KIRSTEN GILLIBRAND:
"Women in America—women in America, are on fire. We've marched, we've organized, we've run for office, and we've won. But, our rights are under attack like never before by President Trump and the Republicans who want to repeal Roe v. Wade, which is why I went to the front lines in Georgia to fight for them."
JOHN HICKENLOOPER:
"I'm a small business owner who brought that same scrappy spirit to big Colorado, one of the most progressive states in America. We've expanded reproductive health to—to reduce teenage abortion by 64 percent."
ERA Update: Support H.J.Res 38 and S.J.Res 6
There has been more press coverage of the Equal Rights Amendment – especially with the equal pay and Title IX discussions generated by the U.S. Women's Soccer team win. It was also mentioned three times in the first presidential debates.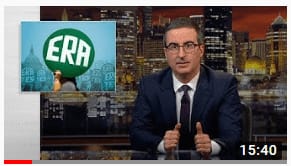 For those in need of a refresher on why we need the ERA, here's a excellent 15-minute segment from John Oliver. *Note, it is R-rated for language.
Help the cause. Please take 10 minutes to contact your U.S. Representative and two U.S. Senators to ask them to support the ERA or thank them if they already are. For the House, it is bill H.J.Res 38. Here's the link with how to contact them and what to say: https://www.democratsabroad.org/era_house. For the Senate, it is bill S.J.Res 6. Here's the link with how to contact them and what to say: https://www.democratsabroad.org/era_senate. 

If you have ideas or would like to help DA with the ERA ratification, please contact us at [email protected].
Recap: Webinar on the Criminalization of Women's Bodies with Jennifer Merchant
Jennifer Merchant, Ph.D., spoke for the Global Women's Caucus in Paris on June 13 on the subject of the Criminalization of Women's Bodies, following the recent abortion bans or restrictions in the U.S. The evening was streamed live on Zoom, and over 100 people listened and watched in real-time.
No one in the audience was disappointed with Dr. Merchant's complete and informative story of historical landmarks that got us to where we are today. Most striking was her analysis of trends in abortions (in 2014, the U.S. abortion rate reached a historic low) and the segment of the population most affected by the restrictions.
Click here for a full recap of Dr. Merchant's talk.


Get Involved: We Want to Hear Your Story!
Though we are proud of how far women have come in the U.S., there are still many miles to go. To shed light on the progress still needed, we are launching the "State of the American Woman" campaign. As part of this initiative, we hope to highlight stories of American women facing inequality in their daily lives.
If you are interested in learning more or participating, please contact [email protected].
Save the Date: DA Meetings
October 11-13: DA EMEA annual regional meeting in Athens, Greece. All DA members are welcome!
October 25-26: Americas Regional Workshop on Voting from Abroad in Costa Rica. All DA members welcome!
Thank you for reading, and as always, stay tuned on our Facebook page for all the latest news.
In solidarity,
Your GWC Team
http://www.democratsabroad.org/wc

Do you like this post?