Farewell and Thank You Obama Vigil
20 January 2017, Szabadság tér, Budapest, Hungary
8 years ago on the day of President Obama's first Inauguration, Democrats Abroad and other Americans gathered to celebrate with candlelight and song in Budapest's Szabadság tér (Liberty Square) next to the US Embassy to celebrate a new era of hope for America and it's place in the world.  
Our gathering in 2008 was documented by local media and joined by other groups also seeking political reform.  Here is a short clip of the event from a Hungarian news portal: 
During the last hour of President Obama's administration, on 20 January 2017, we returned again to the same square to close out this chapter in American history.  Around 50 members of Democrats Abroad came together to sing American anthems and to share with each other some of the Obama accomplishments that we found most significant.  Participants spoke out expressing the importance of: America regaining respect in the world, the Affordable Care Act, Dignity, Net Neutrality, Marriage Equality, Economic Recovery, improving the rights of women in the workplace, and having a president with the ability to speak in complete grammatical sentences. 
Our DA-Hungary Chair, Marylin Ball-Brown, led the group in singing This Land is Your Land, America the Beautiful, and We Shall Overcome.  As a trained opera singer, she then closed out the event by singing Amazing Grace.  Many in the crowd had eyes filled with tears as we bid farewell to the Obama Presidency.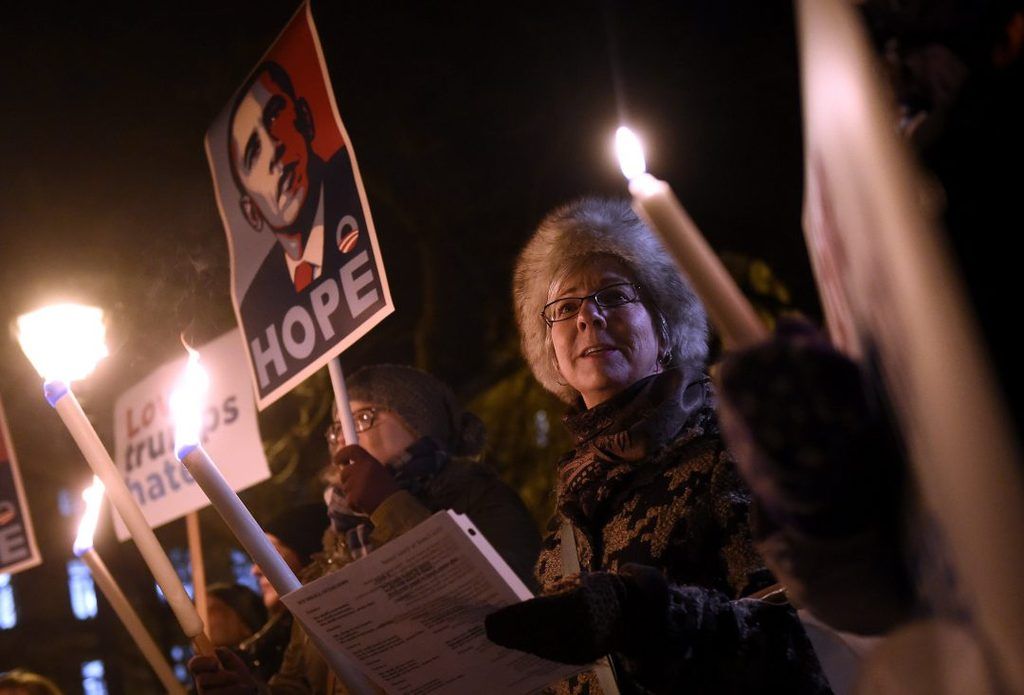 Several from the group gathered after the event at the nearby Cafe Liberté to warm up and to share thoughts on how we can work to sustain the Obama legacy of achievement in the challenging years to come.  Our thanks to DA-HU member Amy Modly for her extensive work in helping to coordinate the event with the local police office.
---
Not in the US for the week of Super Tuesday?
You can vote for your choice of Democratic presidential candidate in-person at the American Corner in Budapest, on the 3rd, 4th, and 5th of March.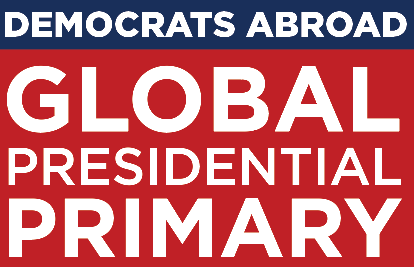 The Democrats Abroad Global Presidential Primary will hold an official in-person voting center in Budapest at the American Corner (Corvinus University).  Votes in the Democrats Abroad primary determine the presidential preference for delegates to the Democratic convention in Philadelphia.  You must be a member of Democrats Abroad to vote, but you can join on the spot.
When: 3, 4, and 5 March (Thurs, Fri, Sat.) 8:00 AM to 20:00
Where:  American Corner Budapest  (Corvinus University)
Fovam ter 13-15, Salt House Building
H-1093 Budapest
Contact and RSVP to: DAevents@DemsAbroad.hu
If you can't make it to our Voting Center at the American Corner, you can vote via e-mail, fax or postal mail with a Remote Ballot.
---
photo by Richard Ricciardi
Welcome to Democrats Abroad Hungary!
DAHU is the official country committee for US Democrats living in Hungary. Watch this space for upcoming announcements of meetings and events - we have events planned throughout the year, and encourage anyone interested in participating to get in touch.
If you have questions or would like to help with Democrats Abroad in Hungary please contact us. (3)
Marylin Ball-Brown, Chair
Democrats Abroad - Hungary
chair-HU@democratsabroad.org
---