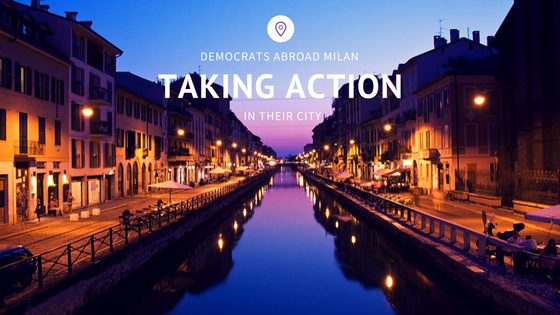 Theresa Morelli and Nancy Fina are honored and excited to be co chairs for the Democrats Abroad Milan chapter

Our board will promote growth and work actively work to increase our membership in preparation for the crucial 2018 GOTV efforts and we will increase the amount of events and activities to connect and engage members in person, in Milan and Northern Italy.
The new officers are: 
Theresa Morelli (Co-Chair)
Nancy Fina (Co-Chair)
Sean Carlos (Vice-Chair)
Mike Waite (Secretary)
Astrid Palmieri (Treasurer)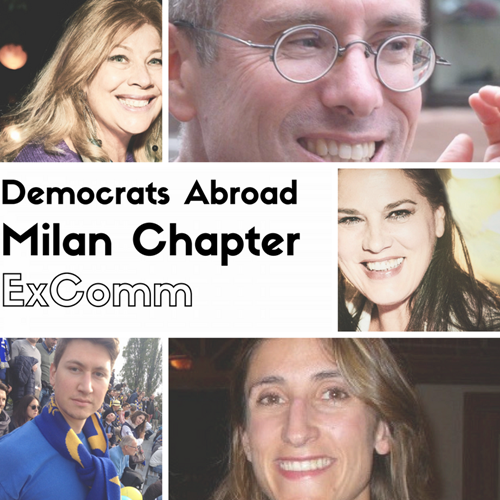 The Co-chair combination reflects Theresa's longstanding experience in Democrats Abroad as the founder of the DPCA's first Country Committee with multiple chapters, when Theresa founded and chaired Democrats Abroad Milan, then Democrats Abroad Italy, and served on both the DPCA Executive Committee and the DNC as a Super-Delegate. A long-serving political activist and renowned community advocate in Milan she looks forward to bringing Democrats Abroad Milan and its many talented and fired-up members to enthusiastic participation and active expression in the forefront of Milan!
Nancy is a true blue democrat who totally embraces the ideals of the democratic party, she has lived in Italy for 30 years. She is consumed with enthusiasm to create exciting events to show case Democrats abroad and increase the membership to create a vital turn around for the 2018 elections. The time is ripe and so many people share our shock , horror and concerns. Our job is to harness the incredible energy of the Resistance Movement and to impact our elections in 2018 through GOTV efforts as much as possible. As a group we will be able to enrich our strengths and passions to make a lasting mark.
"Our job is to harness the incredible energy of the Resistance Movement and to impact our elections in 2018 through GOTV efforts as much as possible."
Secretary, Mike Waite is originally from the proudly Democratic city of Boston and has been involved with Democrats Abroad for over 7 years. As an intern for DA Munich in Germany Mike launched their Facebook page and was active in reaching out to members and coordinating events. Now living in Parma, Mike is excited to bring his experience to the position of Secretary of the Milan Chapter and to get our message out and rally supporters to ensure Democrats win in the next mid-term and presidential elections!

We are joined by Sean Carlos (vice chair) and former Chair, Astrid Palmieri as (treasurer) both who share our democratic values and dedication to make Democrats Abroad Milan a thriving chapter leading with Democratic spirit and collective action.

Our greatest desire is to connect with like minded Americans and harness the energy of democratic values to create a vibrant chapter where all may contribute to bring about a positive change in the 2018 elections.
---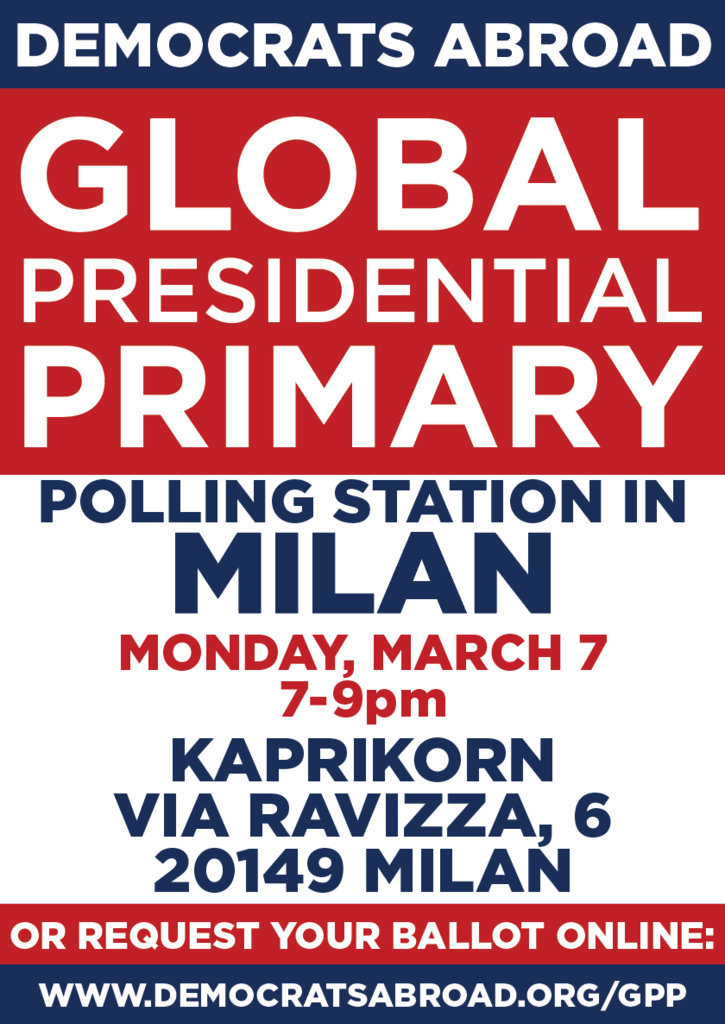 For information contact Astrid Palmieri at [email protected]
---
Welcome to Democrats Abroad Northern Italy!
DA Northern Italy is a chapter of the official country committee for US Democrats living in Italy. Watch this space for upcoming announcements of meetings and events - we have events planned throughout the year, and encourage anyone interested in participating to get in touch.
If you have questions or would like to help with Democrats Abroad in Northern Italy, please contact us.
Mark Pendell - 
Democrats Abroad - Northern Italy
[email protected]
Follow us on Facebook: https://www.facebook.com/DAItaly
---