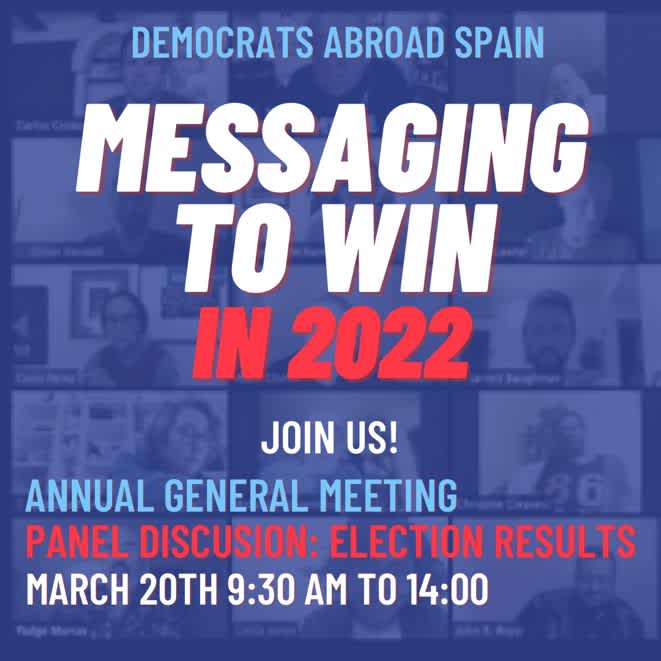 The AGM this year will end with the results of our national election for the new leadership team.
The meeting will kick-off at 9.30 with the business meeting with a wrap up of the activities of Democrats Abroad Spain leading up to the 2020 election.  We'll update everyone on our record breaking membership numbers and the impact that Democrats Abroad had using its multiple outreach tools.
Following the business meeting we'll take a look at our current status as a Party in the Congress and get an overview of the key races in the House and Senate.  Breaking the cycle of the opposition party winning back seats in the mid-terms is key to the success of the Biden Harris administration.  
A key element of winning the hearts and minds of our fellow Americans is effective messaging.  We will have a panel and audience discussion of what we need to do to win additional House seats and in the Senate. Among the panelists will be the Director of Global Democrats Abroad Communications and some of our own members who will share with us their ideas.  We will further engage the audience with one or two interactive surveys over the course of the 90 minute panel. 
Following that we will be introduced to three caucuses that you may wish to join.
The meeting will end with the results of the election of the new leadership team.  They will share a few words with us. 
Please join us for a busy morning that hopefully will get your political juices flowing. 
WHEN
March 20, 2021 at 9:30am - 2pm Madrid Time
CONTACT
Jim Mercereau · · +34 600 53 07 12
Who's RSVPing
Do you like this post?