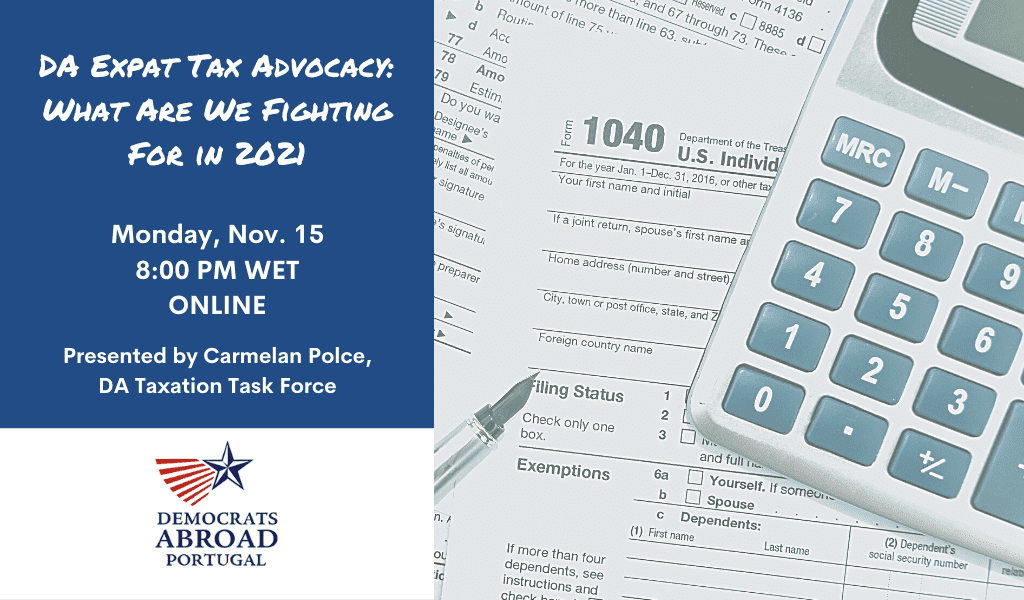 Please join us for this informative discussion on a topic that affects all Americans living abroad.
Carmelan Polce from the DA Taxation Task Force will be speaking on "DA Expat Tax Advocacy: What Are We Fighting For in 2021."
Americans living abroad need action from Congress to eliminate double taxation, remove barriers to banking, saving and investing, and simplify tax filing from abroad. Democrats Abroad has been talking to Congress for many years about a switch to Residency Based Taxation (RBT). Americans abroad won't be taxed fairly and on a par with the rest of the world until we have RBT. We have not as yet persuaded Congress to enact RBT but we continue to work towards that outcome.
In the meantime, we cannot let this critical year for ground-breaking, progressive legislation finish without achieving some practical, consequential tax relief for Americans abroad. Come hear about the work the Tax Task Force is doing to persuade Congress to include tax relief for Americans abroad in 2021 legislation. You can also read about the work on this posting on the democratsabroad.org/taxation page of the DA website entitled "WHAT ARE WE FIGHTING FOR IN 2021."  
Please RSVP for the Zoom link.
WHEN
November 15, 2021 at 8:00pm - 8pm Lisbon Time
CONTACT
Kristi Espineira · · 7203148626
Who's RSVPing
Do you like this post?