Tuesday, July 26
Washington, DC
ADA Anniversary - Panel Discussion
RSVP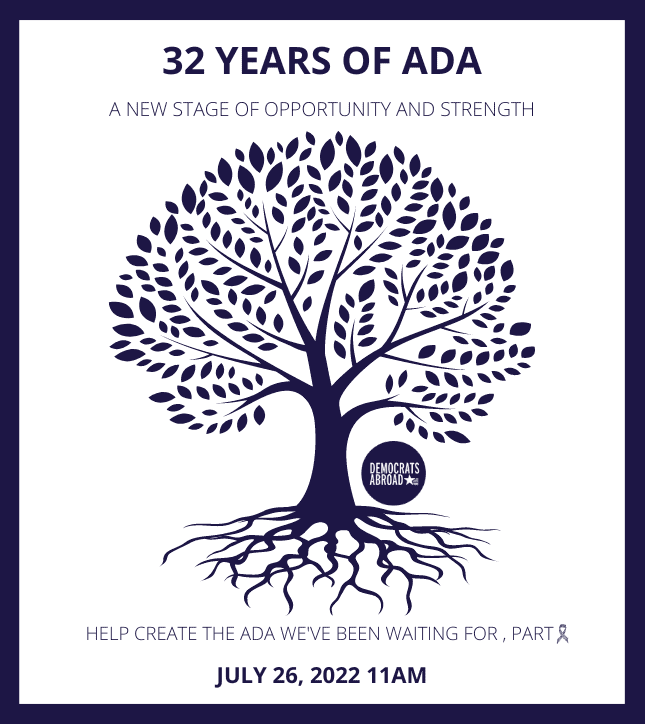 The Global Disability Caucus is dedicated to learning and growing by speaking to members of the disabled community, their allies, and medical experts. Our quest is to increase visibility, create accessible environments, and rally for legislative change.
Please join us on the anniversary of the Americans with Disabilities Act (ADA), for a panel discussion on the policy and legislative decisions impacting care for those living with severe mental illnesses. The conversation will revolve around disease definitions, access to care, criminalization of those with severe mental illnesses, public service costs, and how acceptance by the Democratic Party as a whole can improve the lives of many.
Questions will be accepted in advance, please email [email protected]. 
Time:
11AM Eastern Daylight Time
5PM Central European Time
11PM China Standard/HK Time
Panelists: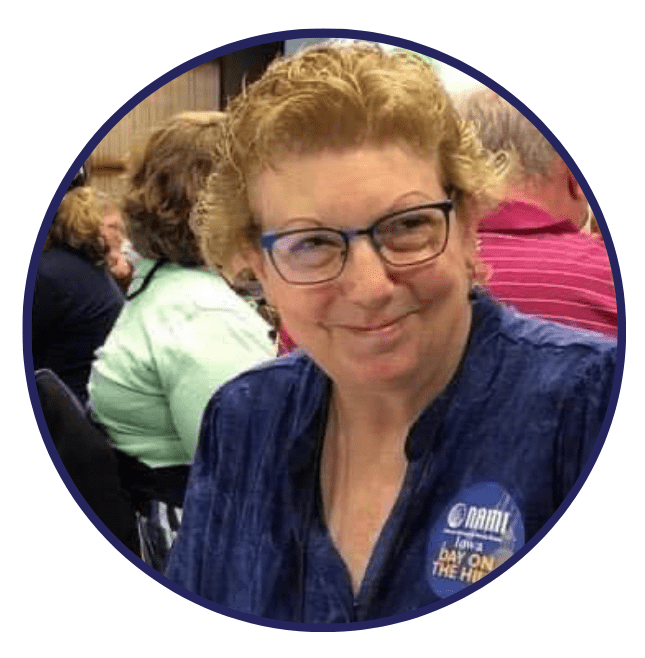 Leslie Carpenter is a co-founder of Iowa Mental Health Advocacy, a lobbyist in the Iowa Legislature and an advocate for serious brain illnesses. She is a retired physical therapist who now works to improve the mental health treatment system. Leslie serves on the NAMI Iowa Board of Directors and teaches 3 of the NAMI Signature Programs, with her most recent emphasis on NAMI Provider Training. She provides advocacy presentations to a wide variety of audiences to help people to understand the causes of the mental health crisis, to humanize it and to share practical solutions. Leslie is leading an effort in the 6th Judicial District in Iowa to create an AOT (Assisted Outpatient Treatment) Program in conjunction with Iowa's first Civil Mental Health Court. She also serves on 2 advisory boards as a family member with lived experience, to help improve the treatment of people with serious brain illnesses in hospital and crisis settings. Leslie and her husband, Scott, have 2 adult children, one of whom lives with a severe Schizoaffective Disorder. Leslie and Scott received the Isabel Turner Award from the Iowa City Human Rights Commission in 2020 for their advocacy work.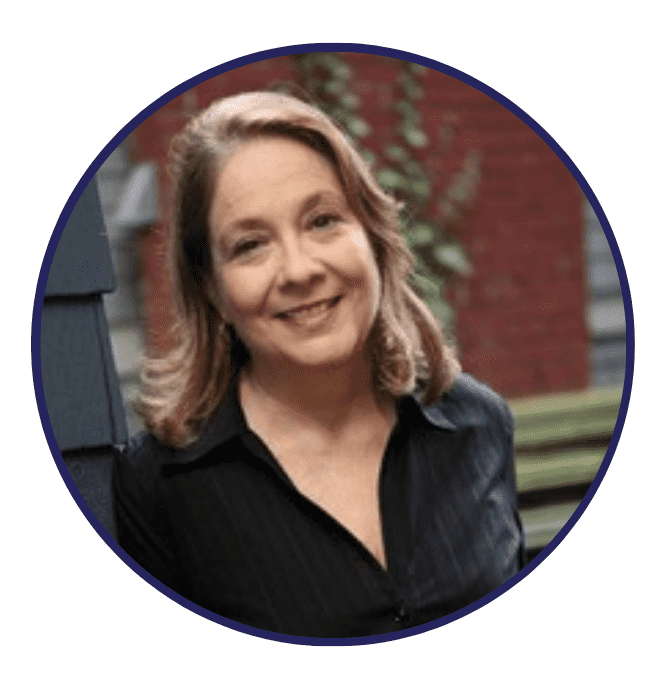 Susan Inman
, a Democrat Abroad, is a retired secondary school teacher living in Vancouver, British Columbia. She is the mother of a daughter who has been living with schizophrenia for over 20 years. She advocates in many ways for improvements to mental health services for people living with psychotic brain disorders. These include initiating in 2015 work on introducing evidence-based cognitive remediation programs in British Columbia for the many people whose psychotic disorders include significant cognitive losses. She helped to organize the 2017 sold-out conference on "Bringing Cognitive Remediation to BC". 
With her daughter's support, Susan published the memoir After Her Brain Broke, Helping My Daughter Recover Her Sanity. Her articles have appeared in numerous publications including the Vancouver Sun, The Province, Huffington Post Canada, The Tyee, National Post, Family Caregivers of BC, and, most recently, in Medium.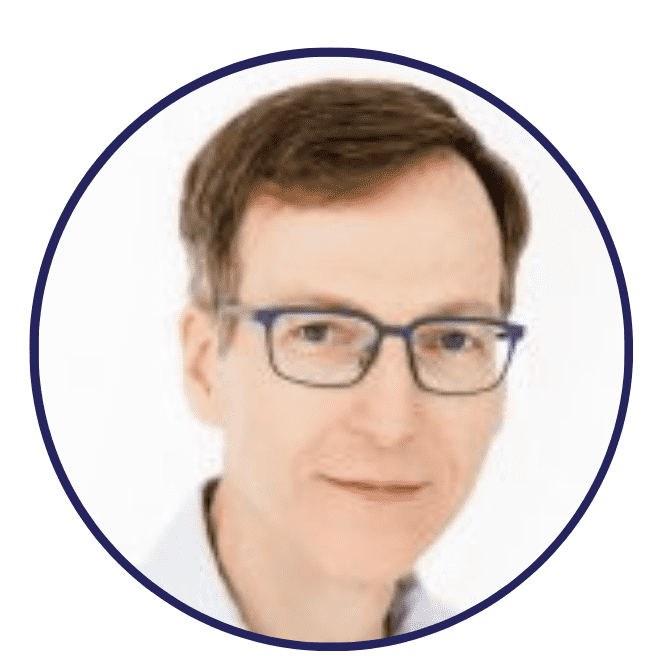 Dr. Randall White, DA Canada member, was awarded the status of Distinguished Fellow by the American Psychiatric Association (APA) in 2021. As the sole recipient of this distinction for Western Canada, Dr. Randall is being recognized for his significant contributions to the psychiatric profession in a range of areas, including administration, teaching, scientific and scholarly publications, and clinical excellence. The status of Distinguished Fellow is the highest honour conferred by the APA upon its members.
Dr. White is the Medical Director of Community Mental Health in Vancouver, and the clinical director of the BC Psychosis Program at UBC Hospital. His clinical and research interests lie in the management of treatment-resistant psychotic disorders. Dr. White was first appointed to the UBC Department of Psychiatry in 2007, and was promoted to the rank of Clinical Professor in 2016. As a member of UBC clinical faculty, he has contributed extensively to both teaching and service activities, through which he has made a significant and positive impact on our undergraduate and postgraduate Psychiatry education programs. Annually, he actively participates in supervising medical students and residents, and delivers academic day seminars and other lectures on a wide range of topics such as Psychosis Clinical Decision Making, Preparation for Medical Practice, Psychotic Disorders in DSM 5, and Treatment Resistant Psychosis. As well, he has served as co-chair of an annual psychopharmacology conference, has produced CME for UBC CPD and Medscape.com, and is the recipient of a number of teaching awards and honours.
Additional Resources:
The importance of 2022 elections cannot be overstated. Every election will impact legislative efforts, including those discussed during this webinar. Your contribution will help us reach and assist voters across the globe who vote in states and districts where Democratic wins are imperative. Please consider donating. 
WHEN
Tuesday, July 26, 2022 at 11:00 AM Eastern Time (US & Canada) Time
CONTACT
Global Disability Caucus
[email protected]
21 RSVPs