As a way to highlight the impact of the many female glass-breakers over time, and to show examples of women who have successfully fostered equality and women's rights, the DACH Women's Caucus will occasionally share herstories. We hope you enjoy reading about the groundbreaking bell hooks, a Black feminist author. She insisted that feminism needs to be intersectional in order to actually make progress.
If you would like to receive other information from the DACH Women's Caucus, please email them to let them know you would like to join.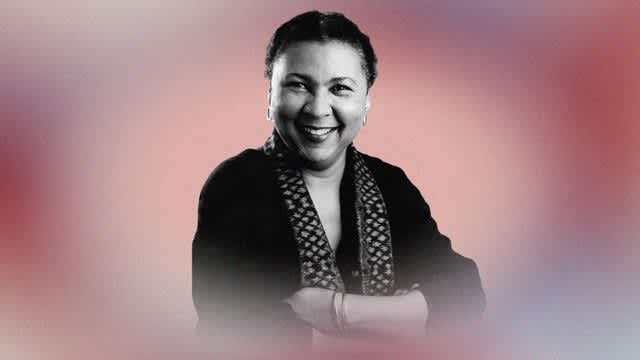 She insisted that the fight for women's rights had to take into account the diverse experiences of working-class and Black women.
By Clay Risen
December 15, 2021
bell hooks, whose incisive, wide-ranging writing on gender and race helped push feminism beyond its white, middle-class worldview to include the voices of Black and working-class women, died on Wednesday at her home in Berea, Ky. She was 69.
Her sister Gwenda Motley said the cause was end-stage renal failure.
Starting in 1981 with her book "Ain't I a Woman? Black Women and Feminism," Ms. hooks, who insisted on using all lowercase letters in her name, argued that feminism's claim to speak for all women had pushed the unique experiences of working-class and Black women to the margins.
"A devaluation of Black womanhood occurred as a result of the sexual exploitation of Black women during slavery that has not altered in the course of hundreds of years," she wrote.
If that seems like conventional wisdom today, that is in large part because of the enormous impact Ms. hooks had on both feminism and Black women, many of whom had resisted aligning with a movement they felt was designed to diminish their experiences.
"I think of bell hooks as being pivotal to an entire generation of Black feminists who saw that for the first time they had license to call themselves Black feminists," Kimberlé Crenshaw, a law professor at Columbia, said in an interview. "She was utterly courageous in terms of putting on paper thoughts that many of us might have had in private."
Womanhood, Ms. hooks said, could not be reduced to a singular experience, but had to be considered within a framework encompassing race and class. She called for a new form of feminism, one that recognized differences and inequalities among women as a way of creating a new, more inclusive movement — one that, she later said, had largely been achieved.
She applied a similar, and equally trenchant, criticism to Black antiracism, which she said was often grounded in a patriarchal worldview that excluded the experiences of Black women. But she also recognized, in books like "We Real Cool: Black Men and Masculinity" (2004), that such a worldview resulted from centuries of oppression and exclusion of Black men.
Ms. hooks resisted the title "public intellectual," but by the 2000s she had achieved celebrity status. Her books, written in a flowing, jargon-free style, were required reading across a wide range of college courses. She appeared onstage with the actress Laverne Cox and activists like Janet Mock, and on the bookstand of the model and actress Emily Ratajkowski, who cited Ms. hooks as inspiration while writing her recent essay collection, "My Body" (2021).
Part of Ms. hooks's appeal was the sheer diversity of her interests. Her work, across some 30 books, encompassed literary criticism, children's fiction, self-help, memoir and poetry, and it tackled not just subjects like education, capitalism and American history but also love and friendship.
In "Teaching to Transgress: Education as the Practice of Freedom" (1994), she argued that the American education system had been constructed to quell dissent and shape young people into productive workers — and that it was therefore up to teachers to push against the grain by showing students how to use knowledge to resist.
She did just that in her own classes, instructing her students to see critical thinking and reading as liberating acts.
"She was a foundational influence on how I understood the possibility of my becoming a writer," Min Jin Lee, the author of the novel "Pachinko," who took two classes with Ms. hooks at Yale, said in an interview. "She taught me how to read. But more than that, she taught me how to read as a global person."
bell hooks was the pen name of Gloria Jean Watkins, who was born on Sept. 25, 1952, in Hopkinsville, Ky., a small city in the southwestern part of the state not far from the Tennessee border.
Though her childhood in the semirural South exposed her to vicious examples of white supremacy, her tight-knit Black community in Hopkinsville showed her the possibility of resistance from the margins, of finding community among the oppressed and drawing power from those connections — a theme to which she would return frequently in her work.
Her father, Veodis Watkins, was a postal worker, and her mother, Rosa Bell (Oldham) Watkins, was a homemaker. Along with her sister Ms. Motley, Ms. hooks is survived by three other sisters, Sarah Chambers, Valeria Watkins and Angela Malone, and her brother, Kenneth.
Her early education took place in segregated schools, though she moved to white-majority schools once the state integrated its education system — an experience in navigating complex racial and gender hierarchies that she later drew on in her memoir, "Bone Black: Memories of Girlhood" (1996).
She was an avid reader, vacuuming up books and reading long past her bedtime. She dreamed of becoming an architect, and of leaving small-town Kentucky behind.
The definition of feminism that hooks offered was simple: It is 'the struggle to end sexist oppression'
December 16, 2021
Raquel Willis first encountered bell hooks as an undergraduate student at the University of Georgia. She remembers the first book she was assigned for class — "Feminist Theory: From Margin to Center." It wasn't long before Willis began seeking hooks's work out on her own.
"Her words and work were accessible in a different way than a lot of feminist thinkers," Willis said. She was particularly struck by how hooks, a queer Black woman and feminist scholar and critic, "was herself on the page."
It was a transformative lesson for Willis. At 19, in addition to studying feminist theory, she was coming into her own as a transgender woman.
"My whole embrace of my trans womanhood happened at the same time I was reading 'Ain't I a Woman,'" Willis said. The groundbreaking book, which hooks began writing as a 19-year-old, explored the effects of racism and sexism on Black women from slavery onward.
Willis saw very clear parallels between Black women's demands "to be seen in all their womanhood" and the experiences of trans women, who were similarly unacknowledged, "understudied, under-reflected upon, un-listened to." Along with work of trans feminist writer Julia Serano, hooks helped Willis piece together her own understanding of her voice and power as a Black trans woman.
Now a prominent activist, writer and media strategist, Willis hopes she can build on hooks's formidable work as she writes her own book.
"The work of writers, in part, is to leave breadcrumbs for other people to find pieces of their own liberation," said Willis — particularly in the Black literary tradition. "I hope I can one day have a legacy like that."
As people started hearing news of hooks's death on Wednesday, the imprint the trailblazing scholar had on women like Willis was clear. Across social media, directors and scholars, artists and activists, writers and politicians lifted up her work.
"bell hooks' definition of feminism is the only one I've used for 10 years because it's the best and the clearest," magazine editor Sarah Leonard tweeted.
Director Ava DuVernay shared an excerpt from an interview with hooks, writing that "your garden was dazzling and will continue to bloom."
Rep. Cori Bush (D-Mo.) also paid tribute, thanking hooks "for showing us that we are never alone."
Her influence, many have said, was most profound for Black women, whose lives and concerns had often been excluded from the work of White feminist thinkers. The lessons hooks imparted had a profound impact not just on their work, they said, but how they came to see and embrace themselves.
The definition of feminism that hooks offered was simple and straightforward: It is "the struggle to end sexist oppression," not "a lifestyle nor a ready-made identity or role."
According to hooks, that struggle is fundamentally multidimensional, intertwined with other battles against oppression.
"I would disagree that my political standpoint begins with feminism. My political standpoint begins with the notion of Black self-determination," she once said in an interview. "It begins with an understanding of domination and with critique of domination in all its forms."
Tao Leigh Goffe, an assistant professor of literary theory and cultural history at Cornell University, said hooks's writing served as "a portal" and a "lifeline."
"I felt initiated into a world where Women of Color feminism and solidarity were central, not an afterthought," she wrote in an email. "Studying the words of bell hooks made it clear there is no way to critique patriarchy and capitalism without simultaneous racial analysis."
Goffe said hooks, like other Black women, knew intimately "what it means to be eaten, to be consumed by the gaze of the dominant culture, but not digested by U.S. society." These experiences were reflected in critical essays like "Eating the Other: Desire and Resistance," as well as hooks's pop-culture pieces, like her 1997 interview with rapper Lil' Kim.
Goffe now teaches classes in Africana studies and feminist, gender and sexuality studies, and recently founded the Dark Laboratory collective. She credits hooks with inspiring her path of "negotiating the academic and public life of being a thinker and a philosopher."
For hooks, writing was also a form of activism.
"What does it matter if we write eloquently about decolonization if it's just White privileged kids reading our eloquent theory about it?" hooks told Bomb Magazine in 1994. "Masses of Black people suffer from internalized racism; our intellectual work will never impact on their lives if we do not move it out of the academy."
Indira Henard, executive director of the D.C. Rape Crisis Center (DCRCC), said hooks's death "cuts deep."
"bell hooks was my first entry point into radical thinking around what it means to move as a Black woman in this world," she said. "She curated my heart and gave me a blueprint for what it means to love, heal and have accountability that is rooted in humanity. You cannot fully examine feminism without the work of bell hooks."
Henard noted that the DCRCC was one of the first rape crisis centers in the country, and since its founding in 1972, it has historically been led by Black women.
The center is shaped by the principles that hooks espoused, Henard said, using Black feminist thought "to further examine the ways in which systems of power and oppression interact."
When Jenn Jackson reflects on hooks's legacy, they think of the wisdom, experience and love that infused hooks's work.
"Her writing was representative of the personal being political," said Jackson, an assistant professor at Syracuse University and author of the forthcoming book, "Black Women Taught Us." "I genuinely believe there's a whole generation of Black feminists who only exist because of bell hooks."
Jackson said hooks gave them the courage to challenge established scholars as a young, androgynous and queer Black woman in graduate school.
Through hooks, Jackson said they learned how to "take power back" from predominantly White academic institutions.
"We have power and knowledge within our community as well; we actually come to the table with our own networks and resources, and they're just as valid as what I'm getting on this campus," said Jackson.
But the most enduring example hooks set for Jackson was much more personal, they said.
Throughout her life, hooks reflected on the power of love to transform individuals and communities.
"Some of most iconic work was about how she wouldn't let herself be consumed and eaten up and watered down," Jackson said. They noted how, in the aftermath of hooks's death, many of her fans have turned to quotes from hooks's memoir "All About Love."
"The way that that she taught us love wasn't just through that book, it was how she really fashioned an entire career to love herself," Jackson said. "By being herself in every single space, every single room she entered, every single door she walked through."
That unapologetic sense of who she was — how hooks would swear during lectures, how she would wear her hair in braids, how she wasn't afraid of being critical of beloved pop culture figures like Beyoncé, Jackson said — has stuck with the professor.
"She really wanted us to save ourselves for ourselves," Jackson said. "She really wanted us to hold onto ourselves. And that was a critical part of what she meant by 'love.'"
Do you like this post?