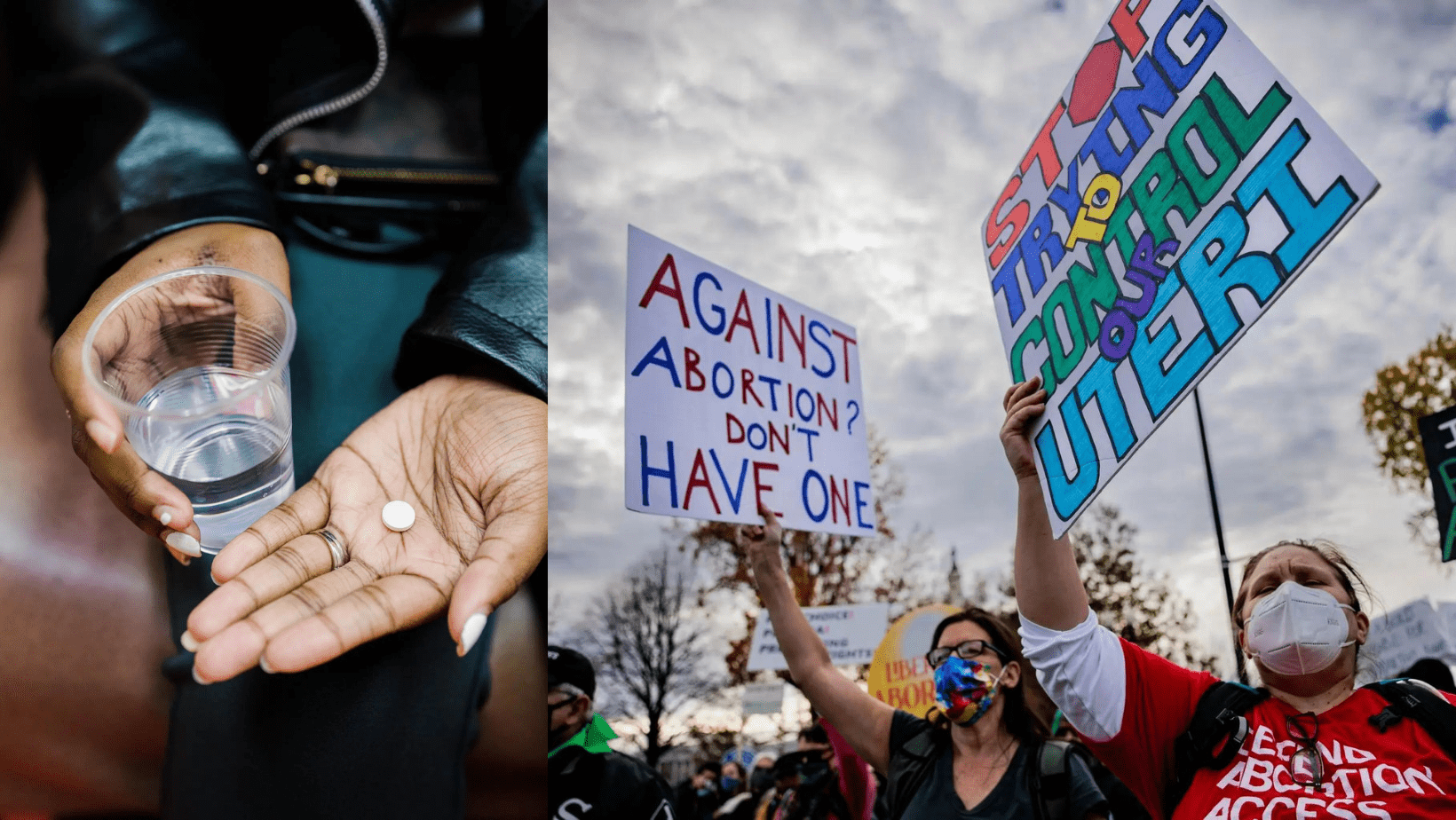 Would you like to get more involved with the DA Women's Caucus? We're looking for someone who can organize events (virtual or in-person) and mobilize around issues affecting women. Please contact Alissa at [email protected] to learn more. 
The DACH Women's Caucus aims to keep you informed with relevant updates. Here's some breaking news from the New York Times.
---
In advance of a Supreme Court decision, states are proposing new restrictions and heavier criminal penalties on medication abortion.
Kate Zernike | April 6, 2022
Last year, after Texas passed its strict abortion ban, surgical abortions in the state dropped by half. Many women found a workaround: pills. The week the law took effect, requests for medication abortion shot up to 138 a day from 11 a day at just one service that delivers the pills by mail.
Anti-abortion lawmakers in the state were already on it. That same week, they passed another law making it a felony to provide abortion pills through the mail and requiring doctors to comply with new testing and reporting procedures to prescribe them.
Medication abortion is the new front in the nation's five-decade-long fight, as both sides anticipate that by summer the Supreme Court could overturn or pare back the constitutional right to abortion established in Roe v. Wade.
Supporters of abortion rights, who argue that women should be able to make their own reproductive choices, see the pills as a workaround in states that have already moved to ban or severely restrict abortion. Women in those states would get abortions not in the back alleys of pre-Roe America, but via a post office box or a friend in a state where abortion remains legal, or from an online pharmacy in India.
To anti-abortion activists, who believe ending a pregnancy is murder, the pills are a back door to be locked shut with new restrictions and heavier criminal penalties. In the first three months of this year, legislators proposed more than 100 restrictions on medication in 22 states.
States such as Missouri are attempting to reach beyond their borders to stop their residents from going elsewhere to get an abortion, by pill or by surgery. Connecticut and California, meanwhile, are rushing to protect their citizens who might be penalized for helping women in restrictive states obtain the medication. One pill manufacturer has sued to stop a Mississippi law that requires the pills to be picked up and swallowed in a doctor's office.
"Being able to mail medication abortion is a way to get around state laws, so it's a real threat to states and to advocates who want to ban abortion everywhere," said Rachel Rebouché, a professor and interim dean of the law school at Temple University.
Attempts to restrict abortion pills have accelerated since the Food and Drug Administration loosened its rules on medication abortion late last year.
The F.D.A. had initially approved the use of mifepristone, the first of a two-pill regimen to terminate a pregnancy, in 2000, but required it to be provided in person. As the coronavirus pandemic pushed up demand for telemedicine, and in the face of a lawsuit from medical groups, the agency lifted a ban on obtaining the pills through a remote appointment with a doctor. It authorizes only a limited group of providers to prescribe the pills — which are taken 24 to 48 hours apart — and allows the medication to be used only in pregnancies up to 10 weeks.
In January, Americans United for Life, an anti-abortion advocacy group that publishes an annual playbook for like-minded legislators, declared legislation against medication abortion as the first among its most "pressing priorities" for 2022.
Already, 19 states prohibit pills from being prescribed by telemedicine or delivered through the mail. Nine additional states are proposing to do the same.
The shift in priorities reflects the change in how most abortions are carried out. According to the Guttmacher Institute, a research group that supports abortion rights, 54 percent of abortions in 2020 were by pills.
About half the states are expected to outlaw abortion if the Supreme Court overturns or weakens Roe v. Wade, and bans on abortion apply to medication and surgical abortion alike. On Tuesday, the Oklahoma Legislature passed what could become the nation's most restrictive law, an outright ban on abortion except to save the life of a mother suffering a "physical" disorder or illness. Abortion providers who violated the law would risk a 10-year prison sentence and a $100,000 fine.
Telemedicine requires doctors to follow the law of where the patient is, so doctors in other states cannot prescribe or provide pills to women in any state that has a ban.
Many of the new bills layer criminal penalties on top of the existing prohibitions, on the assumption that women will procure the pills illegally.
In Texas, S.B. 8, which bans abortion after about six weeks, requires civilian enforcement, incentivizing citizens with bounties of at least $10,000 to sue anyone who helps a woman get an abortion. S.B. 4, the subsequent law against medication abortion, establishes a criminal violation for delivering the pills, making it a state felony punishable by $10,000 and up to two years in prison. A bill in Iowa would ban the distribution of the pills entirely, with punishments of $10,000 and up to 10 years in prison.
A law passed last week in Kentucky establishes a new state certification program for pill providers and will require their names to be published. It also created an anonymous "complaint portal," which abortion rights supporters say will encourage harassment against providers.
Anti-abortion activists say they intend the new laws to raise alarms. They portray medication abortion as the Wild West of what they call the "abortion industry."
Nancy Tate, the state representative who sponsored a 60-page omnibus bill of abortion restrictions that passed in Kentucky last week, said during the debate that she had gone online and discovered that it was easy to obtain the pills. "Within 15 minutes, I had this product on its way," she said, "in a nondescript package with no doctor visit, no consultation, no information at all."
Mallory Carroll, a spokeswoman for the Susan B. Anthony List, which helps elect anti-abortion lawmakers, said: "A lot of people who have been in the pro-life movement don't understand the threat level. The industry has already been moving from brick-and-mortar clinics to chemical abortion."
Anti-abortion activists have tried to create doubts about abortion pills — calling them "chemical abortion" and pushing regulations requiring doctors to tell women that they can reverse a medication abortion if they change their minds after taking the first pill.
The American College of Obstetricians and Gynecologists says so-called abortion reversal, in which a woman takes the hormone progesterone after the first pill, is "not based in science" and is "unproven and unethical." The Center for Reproductive Rights and medical groups have obtained preliminary injunctions against abortion reversal laws in three states, arguing that they violate the free speech of doctors by forcing them to provide what one judge called "misleading" information to patients.
Still, the legislation that passed last week in Kentucky says that "more than 1,000 lives have been saved" by abortion reversal. Under a Tennessee law temporarily blocked by an injunction, providers who refused to tell patients about it would face up to six years in prison and health centers would face a $10,000 daily fine if they refused to display signs telling women about the procedure.
Abortion rights advocates say the laws against mailing pills will be hard to enforce, as laws generally avoid punishing women who get abortions. Still, they do not rule out the possibility that people might report women who take the pills.
The threat of fines on doctors and the added requirements for patients have a "chilling effect," said Dr. Bhavik Kumar, an abortion provider at a Planned Parenthood clinic in Houston.
"There are so many restrictions in place that this just adds to it," he said.
The Texas law requires two visits with the same provider, which can make scheduling hard. The doctor must test the woman's blood for her Rh factor, a marker that could complicate future pregnancies, even though medical guidelines say the test is not necessary before at least eight weeks. If she is Rh negative, the doctor is required to offer to administer Rh immunoglobulin to her. Doctors also have to give women other warnings not supported by science; falsely telling them, for instance, that abortion increases the risk of breast cancer.
"Some patients breeze past it," Dr. Kumar said. "But if you have a patient with a strong family history of breast cancer, you can imagine what kind of weight that adds. There's no actual link there."
While medication abortion can be much less expensive than surgical procedures, the tests and doctor visits can drive up the price and the time it takes.
Aid Access, a European service, has continued to send pills to women regardless of state laws. Still, it saw the number of requests for the pills drop after the law criminalizing them was passed, to 30 a day from 138 that first week.
Several new groups providing pills within the United States say they will send them only to women in places where pill delivery remains legal. These groups imagine more complicated scenarios: A woman in a state that bans abortion orders pills to a friend in a state that allows them, who then forwards her the package.
Dr. Jamie Phifer, the founder of Abortion on Demand, said she hoped the increasing use of telemedicine that the pandemic encouraged would also encourage acceptance of providing abortion pills that way.
"Seeing the clinician on your phone for treating your urinary tract infection and seeing the clinician on your phone for an abortion isn't going to be that different," she said.
Over the next months, the F.D.A. will establish rules to certify pharmacies that want to dispense medication abortion.
Ms. Rebouché, the law professor, said pill providers could argue that the F.D.A. rules pre-empt the new state restrictions. The manufacturer of generic mifepristone, GenBioPro, for example, argues that the Mississippi rules requiring abortion pills to be taken in a doctor's office constitute an "impermissible effort by Mississippi to establish its own drug approval policy."
Do you like this post?