Message from the Chair
Dear Brothers, Sisters and Allies,
☞ We can no longer ignore the pipeline of racist rhetoric to racist violence!
☞ Thoughts and prayers are not enough! And will never bring back the lives lost! 
☞ Laws must be passed! 
But they only can be achieved if the foundation is laid out and that is why YOUR VOTE, DOMESTICALLY & ABROAD, IS NEEDED!
Steve Kerr, coach of the Golden State Warriors, nails it in this must-watch clip.
I'm here to tell you that we ABSOLUTELY can do something about gun control – as well as other major issues plaguing our communities that we must address. Here is the macro strategy for change and the very specific immediate actions for you to take. (resources for immediate actions below)
☞ Sisters, Brothers & Allies eligible to vote? Us your voice! It matters! It matters to us - It matters to you - It matters to every family who's lost their loved ones - It matters to ALL BLACK LIVES! 
Love and Light
Leedonal (Jazz) Moore
---
News
☞ Encourage, Educate, Empower and Inspire eligible voters to Register & Vote!
https://www.votefromabroad.org
---
❖
Race To Saving Our Democracy

Macro Strategy: 
❖ Hold & Expand our Senate seats so that we can get rid of the filibuster, don't have to rely on Sens Manchin and Sinema, and can finally pass popular measures that a majority of Americans want. This means, at a minimum, defending the toughest seats to hold (GA, AZ, NH, and NV) and flipping the 3 seats where we already hold statewide leadership positions (NC, WI, and PA).
❖ Hold the House so that we can continue to pass extraordinary measures that help the American People. Every state has vulnerable Dems who need protection to flip seats. 
❖ Win key State leadership roles – ie Keeping Govs in WI, MI, PA, and KS to prevent toxic state legislatures from passing heinous legislation and flipping MD and MA so we can incubate more great policies in the states.
❖ Give President Biden two more years (at least) to govern with both chambers of Congress so that the seeds he's planted with ARP, the Infrastructure package and other efforts across government can sprout and bloom and so that he can pass voter protection reform and Build Back Better.
❖
☞ Encourage, Educate, Empower and Inspire eligible voters to Register & Vote!
https://www.votefromabroad.org
---
Call to Action
Your Immediate Actions: 
❖ MAKE CALLS: 
Phone bank to register voters in battleground states and join the ongoing Call Crew!
❖ PROTECT VOTERS (ESP. for Lawyers): 
Learn more and then sign up here to help w/the voter assistance hotline and protect voters year-round – but especially in the run-up to primaries and general elections. Note - this is usually set up closer to election day, but is so critical it's now year-round!
❖ MOBILIZE: 
There are many opportunities to go and knock on doors in strategic locations. Let's Get It Done!
❖ BUDGET YOUR RESOURCES: 
Really dig deep to identify what you can contribute in terms of your time, your money, and your network – knowing that every single vote counts and that your efforts will truly make a difference. THIS IS GO TIME! Please let me know if you want to talk about your strategic application of your resources.

---
❖
❖ Please help us reach voters, especially BIPOC voters, and provide them with the resources they need to vote from abroad!
❖ Please help Democrats Abroad Global Black Caucus fight for our democracy in 2022 and beyond!
❖ Donations of any size will help us "Get Out the Vote" and support the Biden/Harris Administration in the midterm elections.
❖ We MADE the difference in 2020! And in Georgia in 2021! And we will continue to fight for Democratic victories and for issues that our members care about!
❖
☞ WE CAN'T WIN WITHOUT YOU!
If you can, please chip in! 
Either by donating to the Global Black Caucus:
or support us to help us modernize our website and reach more voters:
Your generous donation is a strategic investment that will benefit Democrats—and our democracy—for years to come!
Thank you for your support! 💙
---
❖
Welcome To The Team!
Andrew Morgan
❖ Global Black Caucus Legal Counsel - Deputy
Votes in Mississippi
Lives in Germany
I am a native of Oxford, Mississippi, home of Ole Miss University where I was raised in a predominately black community by a single mother and a loving Grandmother. I am now living in Germany after honorably serving in the United States Army until I retired. I have a MA in Criminal Justice and I have a broad background in legal issues, I am an advocate for equality, social justice, and human rights.
I joined the Global Black Caucus arm of the Democrats Abroad because of their commitment to being strong advocates for ensuring that all people, particularly Black and brown communities, can exercise their right to vote.
I want to do my part to support the mission of the GBC and the DA to help educate, engage, and mobilize overseas voters because I believe our democracy is at stake.  I believe that participating in the electoral process is one of the key freedoms of our democracy.
We are all humans until race disconnected us, religion separated us, politics divided us, and wealth classified us.
Natalie Bachiri
❖ Democrats Abroad Global Black Caucus Reparations - Deputy
Democrats Abroad Luxembourg Chair
Lives in Luxembourg
Votes in Washington State
I was born in Minnesota and also lived in Las Vegas, Washington DC, and Seattle before moving to Luxembourg 7 years ago. I was a part of Democratic political initiatives since I was a teenager. 
In Las Vegas, I worked on a campaign for a Congressional Delegate and he was elected. While in Washington DC for many years I also worked with the Democratic Party and other groups for initiatives.
I work independently in Luxembourg as a therapist and freelance writer, editor, and public relations. I am also the Communications Director of the Luxembourg Peace Prize and World Peace Forum and it is amazing the people I have met from all over the world doing amazing Peace Initiatives. Some of the best and most amazing people I met and I am great friends with, are from Africa and do amazing things. I am so open to everyone from every country, nationality, and ethnicity. We all should be open to everyone in the world and all the people around us.
The worst part of America is that it has so many people that are prejudiced and racist and this is horrible what they do and how they treat people. Also, they have been taking away the voter's rights based on ethnicity in many states and this is not in any way a democracy. This is one of many things that I want to help through Democrats Abroad in so many ways. Being a part of the Global Black Caucus is inspiring to me as it is such a great group of people doing so many amazing things to bring back diversity and fairness to everyone that deserves it so much. I am also going to be a part of the Reparations Task Force as this is something that really needs to be done to stop all the discrimination and racism that has filtered the US for so long. All of this needs to stop. We all need social justice and rights in this world.
My passion is to stop all this racism and discrimination and have every person recognized as who they are with kindness and openness. We all need to be open and kind and that is what will make the world a better place.
---
Get Involved!
There are many ways for you to get involved. You can become an active VOLUNTEER, DONATE or join our EVENTS and last but not least having a strong digital presence will be more important than ever for finding and mobilizing voters abroad for critical races in 2022.
We Need You.
Our Brothers and Sisters Need You. Our Country NEEDS You. BE THE FUTURE!
---
Event Highlights
Get Your Ticket or Simply Just Donate
The Global Black Caucus (GBC) is hosting its very first Give-4-More Summer Summit in co-sponsorship of Democrats Abroad Switzerland (DACH) on Saturday, June 18th, 2022, from 2 pm CET to 8 pm CET in Zürich at Fork & Bottle.
During this fundraiser event, we will be joined by Democrats Abroad International Chair Candice Kerestan, DA GBC Chair & DPCA Voting Rep. DACH Leedonal (Jazz) Moore, an official Representative of State (undisclosed out of security measures for now), and a special message from the DNC Chair Jamie Harrison. 
What to expect during the summit: 
❖ Kick-Off Juneteenth Celebration Weeks
❖ Voter Registration Booth
❖ Voter Assistance Training
❖ Phonebanking Training 
❖ Communications Training
❖ Postcard Writing
❖ Tax Seminar
❖ Ballot Bingo (with great prizes) 
❖ Why I Vote Video Booth
❖ Community Building
❖ One-on-One Meeting Your Leadership
❖ Entertainment And Speeches 
❖ Kids corner 
❖ Delicious Food And Drinks and Simply A Great Time Meeting Members From All Around Switzerland!
---
❖ 
JUNETEENTH - FREEDOM DAY - JUBILEE DAY - EMANCIPATION DAY - FREEDOM DAY -  BLACK INDEPENDENCE DAY
Juneteenth National Independence Day
Sunday, June 19, 2022
❖ 
We've put together lists of activities/events, books, films, and other information we hope you find interesting, inspiring, helpful, and educational. 
The resources on this page are intended to help you learn more about Juneteenth, Global Black Caucus issues and help you develop Juneteenth 2022 Resources page will be updated regularly. 
Where links are provided, these are only suggested sources. Please use the sources you are most comfortable with. 
And yes we invite you to share the knowledge you gather here with your family and friends, brothers and sisters, allies, or even the stranger sitting next to you on a bench….
If you have any questions or ideas that you would like us to include, please contact us at: [email protected] or [email protected]
---
Missed an event?
Missed out on a variety of very diverse events and you would like to rewatch past events, you can always visit, comment and share the recordings on the: 
Democrats Abroad YouTube Channel. 
---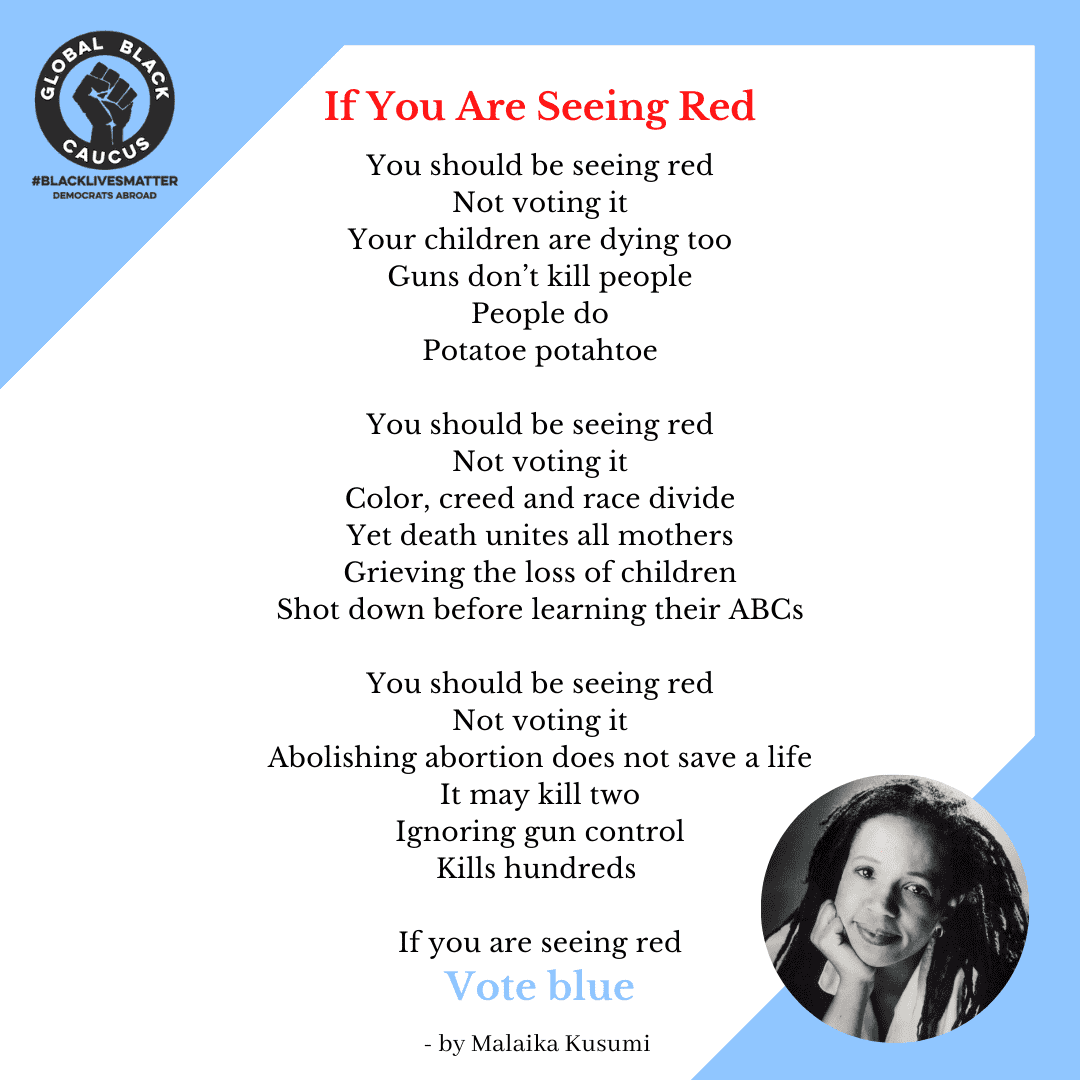 If You Are Seeing Red
You should be seeing red
Not voting it
Your children are dying too
Guns don't kill people
People do
Potato potahtoe
You should be seeing red
Not voting it
Color, creed and race divide
Yet death unites all mothers
Grieving the loss of children
Shot down before learning their ABCs
You should be seeing red
Not voting it
Abolishing abortion does not save a life
It may kill two
Ignoring gun control
Kills hundreds
If you are seeing red
Vote blue
- by Malaika Kusumi
---