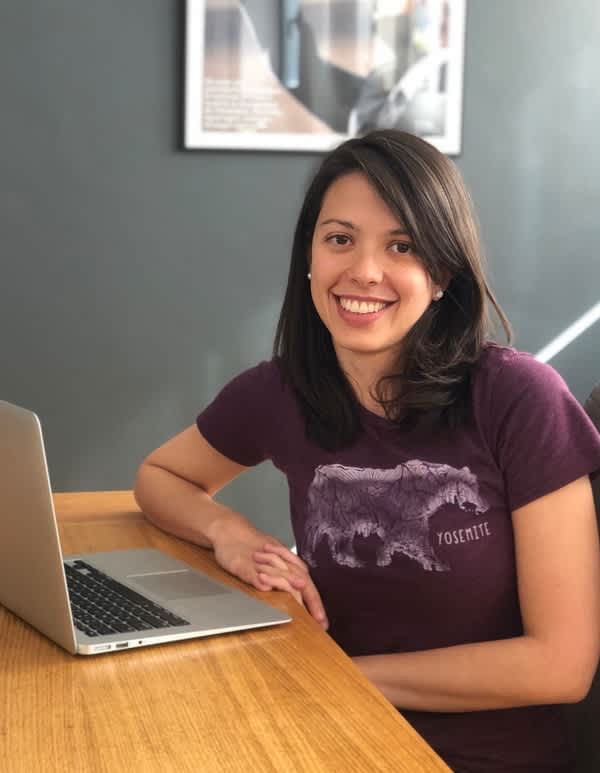 Voices from our Community is a series that aspires to showcase the diverse voices of our Democratic community in Belgium. This week we meet Onelica Andrade, an active volunteer in Brussels and member of DA's delegation to the 2020 Democratic Convention.
I was born in Venezuela and moved to the USA when I was a teenager. I spent my teenage years in the small town of Davis, California, where I also went to college at UC Davis. While I was active in the community through the local church, I wasn't involved in politics. I volunteered in after-school programs, including ESL (English as a Second Language), where I helped students, often from migrant farmworker families, with their school work. I wanted to help those who, like me, came to a new country and had to function in an unfamiliar language. The people I met on the ESL program reflected the diverse, kind, and compassionate side of our country.
In 2016 I moved to Brussels for work, the same year Trump won the election. I was in shock and denial. It was not until I watched Trump being sworn in from my small Brussels office that reality hit. As I listened to his America First speech, I felt increasingly uncomfortable as it became clear that he would govern as he campaigned: divisively and egotistically. I cried, feeling frustrated and powerless. I felt angry for being passive during the campaign and for naïvely thinking Trump could never win. The tolerant country that welcomed me and my family was at risk and I needed to do something. But being abroad what could I do?
When I got home that day I looked for ways to contribute so that I'd never feel that way again. I found Democrats Abroad (DA) and joined the Brussels Women's March soon afterwards. It felt good to be actively engaged and to be surrounded by others with the same fears and concerns.
The first few months of the Trump presidency were no better than his Inauguration Day. Misogynistic policies were adopted, travel bans imposed, and plans were in place to cancel DACA. I feared for the kids I had helped, my friends, my family. I never imagined we would have as our President someone so intolerant of those from other cultures who, like me, had made America their home.
Democrats Abroad was a positive outlet for my frustration. After a few months I volunteered to run DA Belgium's Executive Committee elections, and a year later, this past March, agreed to manage the voting centers for the Global Presidential Primary. The latter came with considerable responsibility, but was incredibly rewarding. I loved seeing new and familiar faces come in to vote, and enjoyed the feeling of hope fostered by the volunteers and voters.
It was clear that work did not stop at the primaries. I had learnt that DA members could run to become delegates at the National Convention, representing the voices of Democrats Abroad at the Party convention. I put myself forward as a candidate with no expectations; I thought it would just be a nice opportunity to share my views and allow myself to contribute to the election effort. 
The day of the delegate election, after overcoming my nerves to deliver not one but three speeches; the results came in – I was elected! Even Pauline & Jeffrey, our Chair & Vice-Chair, were surprised! It felt surreal, and a huge honor to represent Democrats Abroad. I am now preparing for the Democratic National Convention. I thought I would be packing my bags to go to Milwaukee, but instead I am going to be part of the first online convention!
I am also working hard to ensure that on November 4th, the day after the election, I will feel that I'll have done my utmost to ensure a blue White House and Congress. There is lots of work to do before then. There are around 6.5 million Americans abroad, more than enough to be the margin of victory. We are the original absentee ballot voters and our votes are at risk. We must be alert and ensure ballots are received and returned on time. And we need to spread the word, so if you know Americans abroad who have not yet registered to vote please encourage them to do so at: www.votefromabroad.org.
We must make Joe Biden our 46th President!
If you haven't yet requested your absentee ballot, go to www.VoteFromAbroad.org TODAY. Be sure to request that your election materials be sent to you electronically, NOT by postal mail. We'll be calling, mailing, and/or texting all of our members over the coming weeks to make sure you've received your ballots and have sent them back correctly. If you have questions, don't hesitate to reach out: email us at [email protected] or at [email protected].