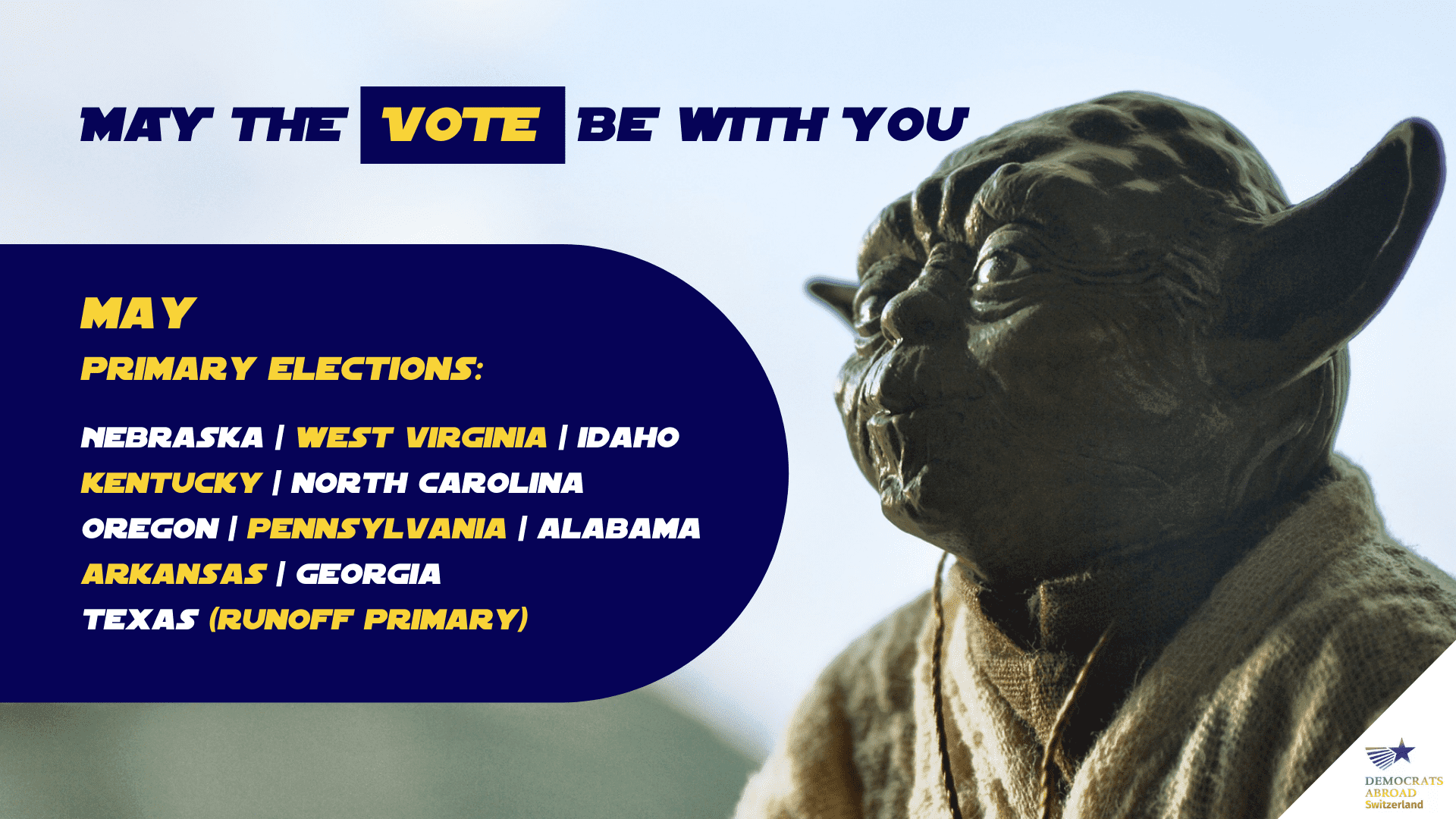 The 2022 midterm primary season kicks into high gear with 10 federal primaries and a run-off in May.
Who will win the Texas Runoff? Who will run against Stacy Abrams for Governor? How will Dr. Oz fare in Pennsylvania? Stay tuned to find out.
Here is a list of elections by state that will take place throughout the month of May. The list is compiled from Ballotpedia.
Be sure you vote counts and register and request your absentee ballot at VotefromAbroard.org.
Alabama Federal Primary

May 24, 2022

Tucson Special Election

May 17, 2022

Arkansas Federal Primary

May 24, 2022

Arkansas Supreme Court General Election

May 24, 2022

Livermore Valley Joint Unified School District Special Election

May 3, 2022

House of Representatives District 45 Special Runoff Election 

May 3, 2022

Georgia Federal Primary

May 24, 2022

Georgia Judicial General Election

May 24, 2022

Georgia Judicial Special Election

May 24, 2022

Idaho Judicial General Election

May 17, 2022

Idaho Federal Primary

May 17, 2022

Indiana Federal Primary

May 3, 2022

Kentucky Federal Primary

May 17, 2022

Baton Rouge Special Primary

April 30, 2022

Boston City Council District 1 Special General Election 

May 3, 2022

Newfield Township Special Recall Election 

May 3, 2022

Sidney Township Special Recall Election

May 3, 2022

Lee Township Special Recall Election

May 3, 2022

Michigan House of Representatives District 15 Special General Election 

May 3, 2022

Michigan House of Representatives District 36 Special Election

May 3, 2022

Michigan House of Representatives District 43 Special Election

May 3, 2022

Michigan House of Representatives District 74 Special Election

May 3, 2022

Michigamme Township Recall Election

May 3, 2022

Lansing School District Special Election

May 3, 2022

1st Congressional District Special Primary

May 24, 2022

Nebraska Federal Primary

May 10, 2022

Westside Community Schools General Election

May 10, 2022

Newark General Election

May 10, 2022

Lackawanna City School District General Election

May 17, 2022

New York State Assembly District 58 Special Election

May 24, 2022

North Carolina Federal Primary Election

May 17, 2022

Ohio Federal Primary

May 3, 2022

Oregon State Senate District 18 Special Primary Election 

May 17, 2022

Oregon Federal Primary

May 17, 2022

Oregon State Senate District 18 Special Primary

May 17, 2022

Pennsylvania State Senate District 5 Special Election

May 17, 2022

Pennsylvania Federal Primary

May 17, 2022

South Carolina House of Representatives District 97 Special General Election

May 17, 2022

South Carolina House of Representatives District 18 General Election

May 24, 2022

Clarksville-Montgomery County School System Primary Election

May 3, 2022

Williamson County Schools Primary Election




May 3, 2022

Shelby County Primary Election

May 3, 2022

Rutherford County Schools Primary Election

May 3, 2022

Nashville Primary Election

May 3, 2022

Metropolitan Nashville Public Schools Primary Election

May 3, 2022

Knox County School District Primary Election

May 3, 2022

Hamilton County School District Primary Election

May 3, 2022

Texas Federal Special Election

May 7, 2022

Texas Federal Primary Runoff

May 24, 2022

District 11 Republican Firehouse Primary

May 7, 2022

District 5 Republican Convention

May 21, 2022

District 8 Republican Convention

May 21, 2022

District 10 Republican Firehouse Primary

May 21, 2022

West Virginia Federal Primary

May 10, 2022