"It's Democracy- when we get engaged, when we get out there, when we get in this fight- when we do that we will make our voices heard and we will turn this government into one that works for the people." -Elizabeth Warren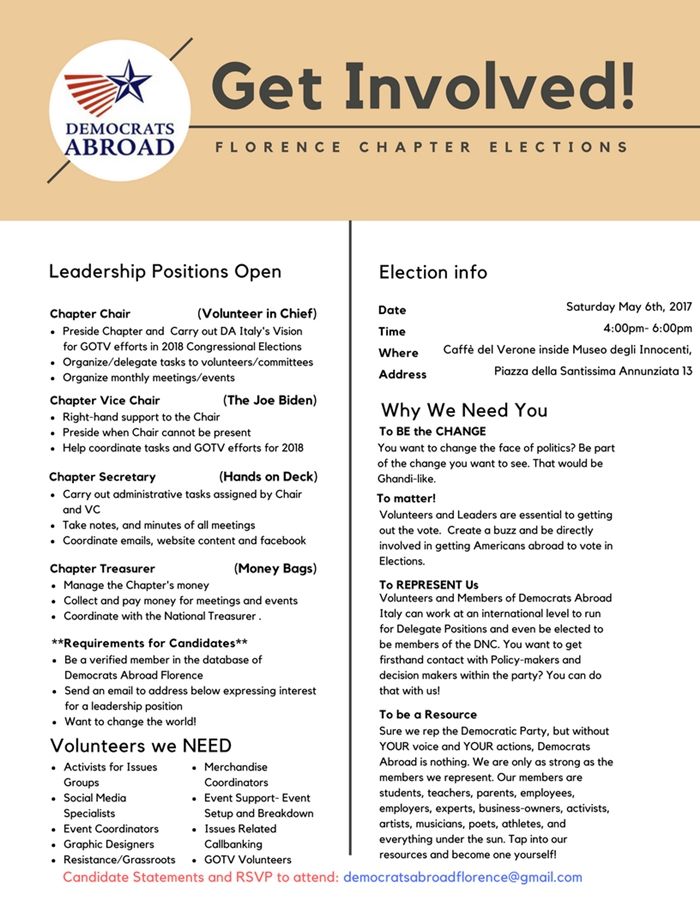 When:  Saturday May 6, 2017 from 16.00-18.00
Where:   Caffè del Verone
Piazza della Santissima Annunziata 13 (Google Maps Link: https://goo.gl/maps/bC8Q7HQuL7N2 )
located inside the Museo degli Innocenti, no entrance ticket required
(ATAF: Piazza S. Marco or Istituto degli Innocenti, via della Colonna)
Link to the facebook event: https://www.facebook.com/events/1230483293715816/

Positions up for election for Florence Chapter:
Chairperson
Vice-Chair/ Social Media Manager
Treasurer/ Events Manager
Secretary/ Membership Manager

Greetings to all Democrats in Florence, Tuscany and Umbria!
Please join us as we bring in new leadership.

As DA moves forward, we are building momentum towards the midterm elections and we need all hands on deck! Come run for a position for our local chapter!
           
Come join us on May 6.  Voice your opinion, vote, and be part of Democrats Abroad Florence as we march forward! Interested candidates and to rsvp for the meeting, please write to Kristina: [email protected]

We look forward to seeing you there!
Do you like this post?