Monday, January 16, 2023, is Martin Luther King Jr. Day and here is why we celebrate this day—plus, information about this influential American, civil rights leader, and Nobel Peace Prize laureate.
---
How We Observe MLK Day
Americans are often encouraged to observe this day not simply as a day off from work, but also as a "Day of Service" to others through appropriate civic, community, and service projects.
Think of Martin Luther King Jr. Day as an opportunity to give to others in any way you can—whether it's a community project or simply being kind to others in your community.
Visit www.MLKDay.gov to find Day of Service projects across the country.
"Sooner or later all the people of the world will have to discover a way to live together in peace … "
–Martin Luther King Jr. (1929–68)
---
Remembering Martin Luther King Jr.
Reverend Martin Luther King Jr. was born on January 15, 1929. He was a Baptist minister and leader of the civil rights movement, championing justice and equality from the mid-1950s until his death by assassination in 1968. As he said, "Injustice anywhere is a threat to justice everywhere." Dr. King was also a strong advocate of change through nonviolent civil actions based on his Christian values. He was a great speaker, and his powerful words still resonate with us today.
"Our lives begin to end the day we become silent about things that matter."
–Martin Luther King Jr. (1929–68)
---
When Is Martin Luther King Jr. Day?
The third Monday in January is Martin Luther King Jr. Day (often abbreviated to "MLK Day"). It has been a federal holiday since 1986. This means that it is an observed holiday for federal employees, as well as for many schools and businesses. This also means that the holiday does not always fall on Martin Luther King Jr.'s true birth date, January 15.
This year, Martin Luther King Jr. Day will be observed on Monday, January 16, 2023.
| | |
| --- | --- |
| Year | Martin Luther King Jr. Day |
| 2023 | Monday, January 16 |
| 2024 | Monday, January 15 |
| 2025 | Monday, January 20 |
---
Who Was Martin Luther King Jr.?
Martin Luther King Jr. was born in 1929 in Georgia into a Christian family. His grandfather was a church pastor, his father became a pastor, and then he became a pastor.
"We may have all come on different ships, but we're in the same boat now."
–Martin Luther King Jr. (1929–68)
After graduating from high school at the age of 15, Martin Luther King went on to receive his B. A. degree in 1948 from Morehouse College. After 3 years of theological study at Crozer Theological Seminary in Pennsylvania, he was elected president of a predominantly white senior class and awarded the B.D. in 1951. After winning a fellowship at Crozer, he enrolled in graduate studies at Boston University, completing his residence for the doctorate in 1953 and receiving the degree in 1955. In Boston, he met and married Coretta Scott, and they started a family.
See more facts about the life and work of Martin Luther King Jr.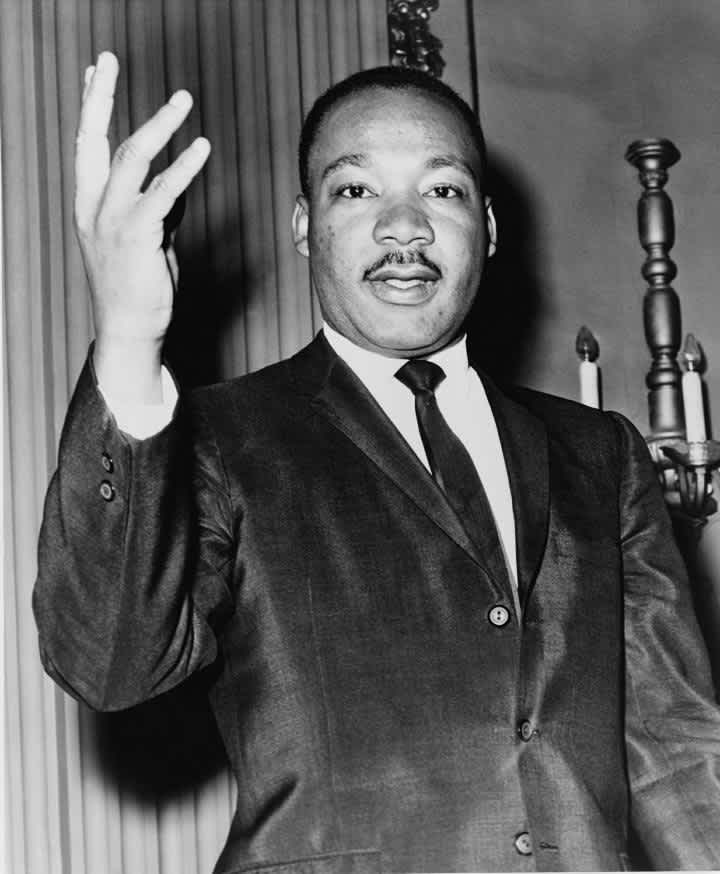 In 1954, Martin Luther King Jr. had become pastor of a church in Montgomery, Alabama. Always a strong worker for civil rights, King believed in nonviolence, following Gandhi's philosophy.
"Our scientific power has outrun our spiritual power. We have guided missiles and misguided men."
–Martin Luther King Jr. (1929–68)
---
The Fight Against Segregation
In 1955, he began his struggle to persuade the U.S. government to declare the policy of racial discrimination unlawful. He led the first large nonviolent demonstration against segregated buses. However, racists responded with violence to his nonviolent initiative.
"Peace is not merely a distant goal that we seek, but a means by which we arrive at that goal."
–Martin Luther King Jr. (1929–68)
In Birmingham, Alabama, in the spring of 1963, King's campaign to end segregation at lunch counters and in hiring practices drew nationwide attention when the police turned dogs and fire hoses on the demonstrators. King was jailed along with large numbers of his supporters, including hundreds of schoolchildren. His supporters did not, however, include all the black clergy of Birmingham, and he was strongly opposed by some of the white clergy who had issued a statement urging African Americans not to support the demonstrations. From the Birmingham jail, King wrote a letter of great eloquence in which he spelled out his philosophy of nonviolence:
"You may well ask: "Why direct action? Why sit-ins, marches, and so forth? Isn't negotiation a better path?" You are quite right in calling for negotiation. Indeed, this is the very purpose of direct action. Nonviolent direct action seeks to create such a crisis and foster such tension that a community which has constantly refused to negotiate is forced to confront the issue."
In December 1956, the Supreme Court declared bus segregation unconstitutional.
In 1957, King was elected president of the Southern Christian Leadership Conference. He led according to his beliefs from Christianity, with nonviolent influences from Gandhi. He traveled greatly, wrote five books and numerous articles, and led many initiatives to campaign for the proper voter registration of people of color.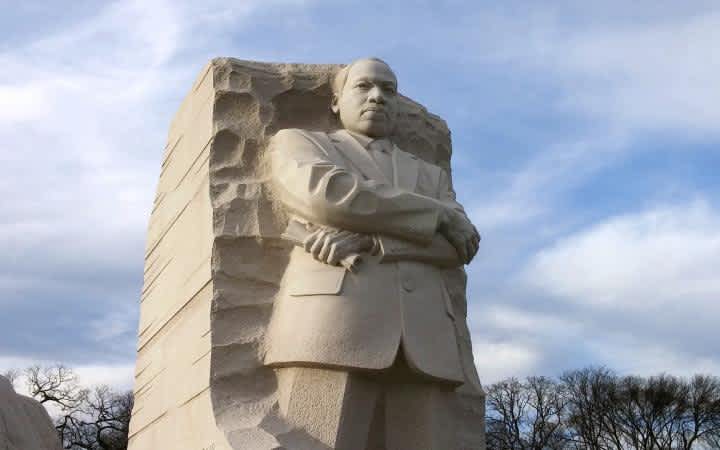 Photo: A statue of Dr. King stands at the Martin Luther King Jr. Memorial in Washington, D.C.
---
"I Have a Dream"
On August 28, 1963, King directed a march of 250,000 demonstrators to Washington, D.C., where he gave his famous "I Have a Dream" speech, delivered on the steps of the Lincoln Memorial.
Martin Luther King Jr. dreamed that the inhabitants of the United States would be judged by their personal qualities and not by the color of their skin:
"I have a dream that one day this nation will rise up and live out the true meaning of its creed, 'We hold these truths to be self-evident: that all men are created equal.'"
The following year, President Johnson signed a law prohibiting all racial discrimination.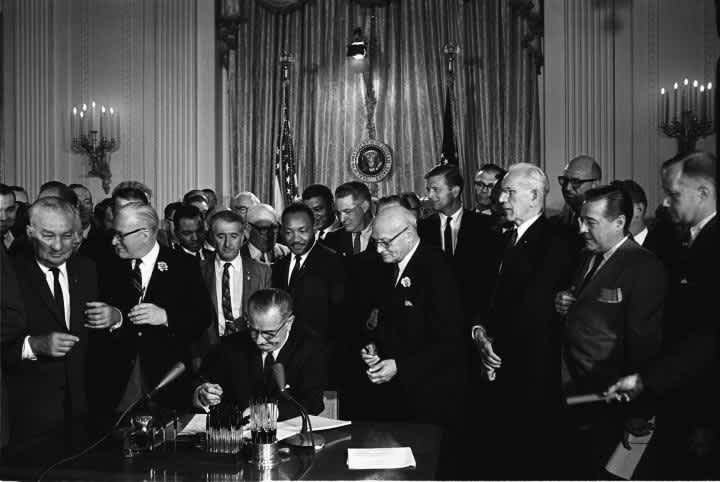 Photo: President Johnson signing the 1964 Civil Rights Act on July 2, 1964, in Washington D.C. as Martin Luther King, Jr., and others look on. 
In 1964, Martin Luther King Jr. was awarded Nobel Peace Prize at the young age of 35 for his peaceful campaign against racism. He turned over the prize money of $54,123 to support the civil rights movement. Here is his acceptance speech.
"Peace is more precious than diamonds or silver or gold."
–Martin Luther King Jr. (1929–68)
On April 4, 1968, King was assassinated by a racist while speaking in Tennessee in support of the struggling garbage workers of that city. It had been only 4 years earlier that he had received the Nobel Peace Prize for his nonviolent campaign against racism.
---
#MartinLutherKingJrDay #MLK #DemsAbroad #GlobalBlackCaucus #CivilRights #IHaveADream