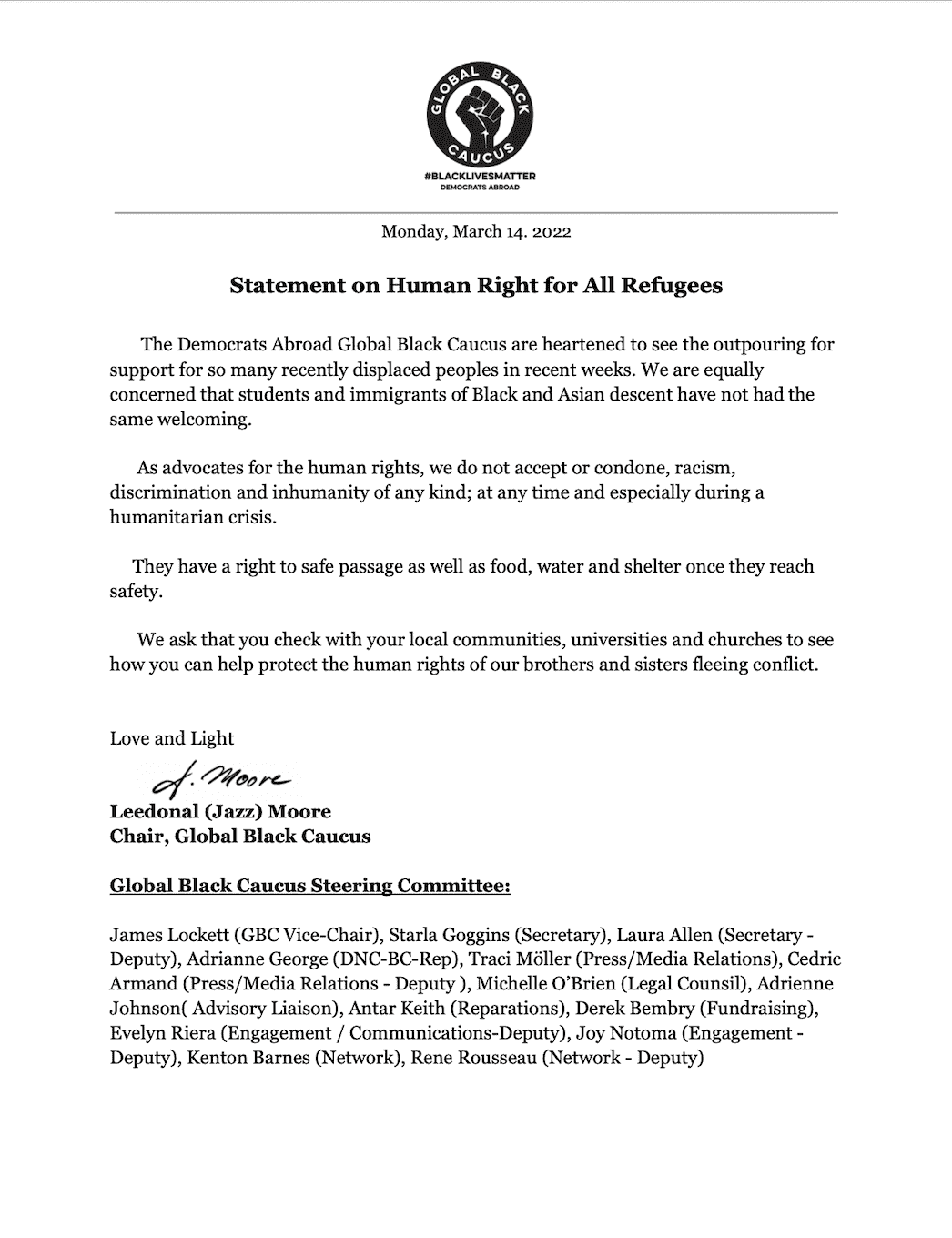 Statement on Human Right for All Refugees
      The Democrats Abroad Global Black Caucus are heartened to see the outpouring for support for so many recently displaced peoples in recent weeks. We are equally concerned that students and immigrants of Black and Asian descent have not had the same welcoming. 
      As advocates for the human rights, we do not accept or condone, racism, discrimination and inhumanity of any kind; at any time and especially during a humanitarian crisis.
     They have a right to safe passage as well as food, water and shelter once they reach safety. 
      We ask that you check with your local communities, universities and churches to see how you can help protect the human rights of our brothers and sisters fleeing conflict.
Love and Light
Leedonal (Jazz) Moore
Chair, Global Black Caucus
Global Black Caucus Steering Committee:
James Lockett (GBC Vice-Chair), Starla Goggins (Secretary), Laura Allen (Secretary - Deputy), Adrianne George (DNC-BC-Rep), Traci Möller (Press/Media Relations), Cedric Armand (Press/Media Relations - Deputy ), Michelle O'Brien (Legal Counsil), Adrienne Johnson( Advisory Liaison), Antar Keith (Reparations), Derek Bembry (Fundraising), Evelyn Riera (Engagement / Communications-Deputy), Joy Notoma (Engagement - Deputy), Kenton Barnes (Network), Rene Rousseau (Network - Deputy)