While Summer may not be officially over, Democrats around the globe are gearing up for a hard shift into second gear - the election may be more than a year away, but our heavy lifting begins now.
We are strategizing around community-building events, building out our budgets, working on messaging both big and small, and working on expanding our membership so we can reach as many Democrats living abroad as possible. One thing we learned from the 2020 election: your vote really does count. You may remember the important swing swing states of Arizona and Georgia could not be called until the overseas vote came in - our votes. And important to note - those votes are disproportionately Democratic.
SIGN UP at Democratsabroad.org
So if you've been thinking about volunteering to help get out the vote - please reach out, there is plenty to do. Step one is to become a member at Democratsabroad.org
If you are not one to volunteer, or are too busy - just get one friend do join the organization. Sign up at Democratsabroad.org. And after you do that - grab another. Remind them that it's easy to do, and their vote really does matters - in this election more than ever before.
VIPS ARE VISITING! A week ago, we welcomed the incomparable Yvette Lewis, chair of the Maryland Democratic Party. Yvette is doing her second stint leading the Maryland state party and inspiring democrats everywhere to get involved. She motivated two roomfuls of Portugal-based democrats to commit to volunteering to help with calls, donations and outreach. She is just one of those people you can't say no to! Stay alert for other visitors from the states - everyone wants to come to Portugal, and I expect we will host quite a few over the next year. You will not want to miss them!
CONSIDER BECOMING A SUSTAINING DONOR
A donation of any amount will help us in our efforts to get out the vote. This is a volunteer organization - from the Global chair on down. And simply put: the more money we raise, the more voters we will reach. We have a sustaining donor program called Power of Ten - for $10/month, $5 will go to Global and $5 to Portugal efforts to get Democrats to vote. Any amount is welcome. You can donate here: https://www.democratsabroad.org/pt_split_donation.
UPCOMING EVENTS!! If you want to meet fellow dems with like-minded values and learn more ways to get involved, please join us at one of our many upcoming events. 
PORTO: October 15th - 4-6pm. Vickery and Paul's home RSVP : [email protected]
SILVER COAST: September 24th 4:30-6:30pm. Sally's house. RSVP:[email protected]
LISBON: September 9th: SCREENING The Seduction of Joe Tynan - Cinemateca Portuguesa (off of Avenida da Liberdade). 21:30 1979 film starring Alan Alda as a Democratic Senator opposing a Supreme Court nominee and Meryl Streep as a political operative working with him. This info was shared by Lisbon member, Andrew Ross. (Thanks, Andrew!)
LISBON: September 12th. Coffee and Conversation - a monthly meet-up.
ALGARVE: Coming soon! If interested, please reach out to [email protected] or [email protected]
ATTEND THE REGIONAL RETREAT: There is still time to join the EMEA (Europe/Middle East/Africa) yearly retreat in Alicante, Spain Oct 27-29. All members of Democrats Abroad are welcome to attend. It is a fantastic opportunity to have a voice about strategies and outreach for the next year into the 2024 election. Your input matters - this is not simply for leadership. Moreover, this is a great way to help build our coalition - you'll meet folks from three continents - the largest group in Democrats Abroad. I guarantee you will grow even more enthusiastic about the important work you are doing.
As always - my monthly invitation to reach out if you'd like to get more involved - you can reach me directly at [email protected]. I would be more than happy to email or have a phone call with you to discuss all the ways you can join the effort.
LIKE US ON SOCIAL MEDIA Please follow us at:
The other is a video presentation by the great political strategist Simon Rosenberg that clearly charts the facts about the Democratic Party leadership than can only lead to a conclusion that we all need to vote, and do everything we can to ensure a Democratic Party win - the
statement that the parties "are the same" is simply an absurd fallacy.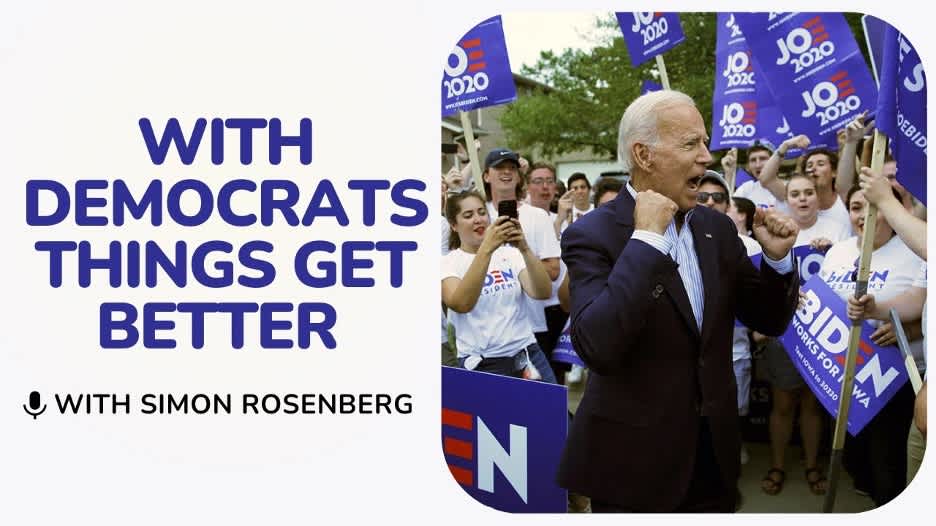 Thanks to all for your work,
Sally DeSipio
Chair, DA Portugal