Saturday, August 26
Malmö, Sweden
Skåne Annual Meeting, Chapter Elections and Meet & Greet with Nat'l Officers
RSVP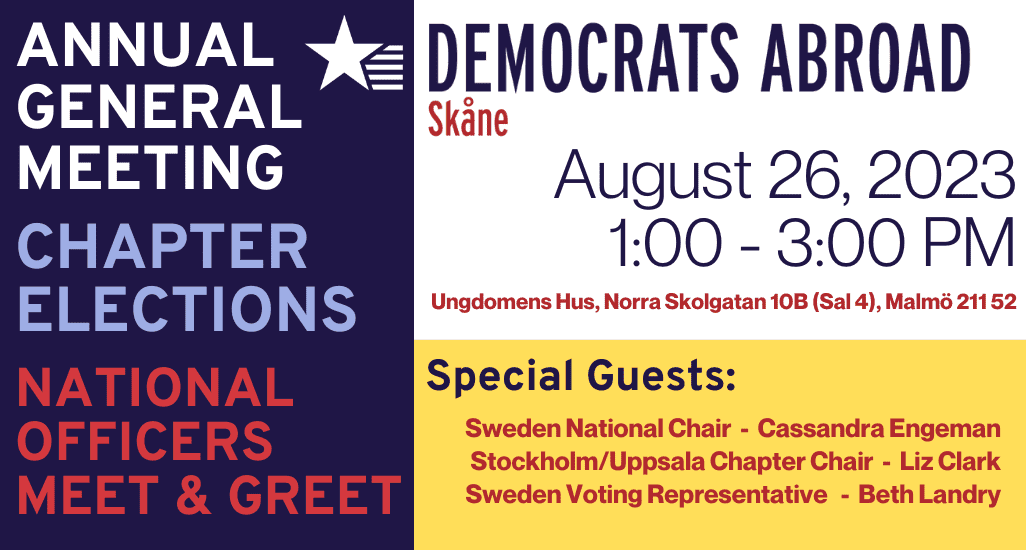 On Saturday, August 26th, the Democrats Abroad Sweden Skåne Chapter will hold its Annual General Meeting with Chapter Elections and a Meet & Greet with Sweden national officers including our Chair, Cassandra Engeman joining us from Uppsala!

This meeting is an essential part of continuing DA's primary goal -- helping Democrats vote from abroad. Please support our efforts with your participation.

During the meeting, we will nominate and elect Skåne Chapter members to the offices of Chair and Secretary for the 2023-2025 office period.
Please read our News Post for more information about the offices, election, and meeting agenda.


** NEW This meeting will be both in-person and available to attend online. The primary event location is a space reserved just for our in-person attendees; however, if you would like to attend remotely, please RSVP to receive remote meeting details. Connection details for logging in remotely will be sent closer to the event.
For public transportation, the closest bus stations are:

Malmö Stadshuset - Lines 5, 6, 15, 32, 34, 130, 132, 134, 148, 168, 169, 171, 174

Malmö Spångatan - Lines 130, 132, 134, 148, 168, 169, 171, 174 
If you are interested/have questions, please email to [email protected].

WHEN
Saturday, August 26, 2023 at 01:00 PM Stockholm Time
WHERE
Ungdomens Hus
Norra Skolgatan 10B (Sal 4)
Malmö 211 52
Sweden
Google map and directions
CONTACT
Beth Landry
[email protected]
24 RSVPs