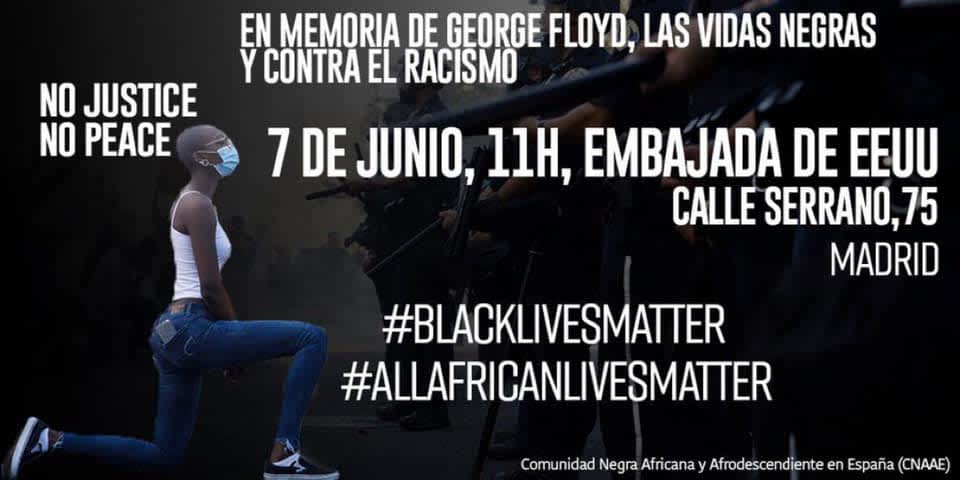 This Sunday, June 7th, various organizations in Madrid are coming together in a demonstration of solidarity on to show their support for
#JusticeForFloyd
 and the several black lives lost to institutional racism.


We will also give visibility to the current situation of the Black, African and Afro-descendent community in Spain.

This is a global issue that must be put to an end. #EnoughIsEnough #BlackLivesMatter



✊🏻

✊🏼

✊🏽

✊🏾

✊🏿





🔴

 Important measures for anyone that wants to join 

🔴



• Maintain a 2-meter distance from each person.

• MANDATORY use of a mask

• Please wear gloves and bring your own sanitary gel

• Avoid physical contact with people.

• Bring your own individual signs (not shared signs) to maintain social distancing

DATE: Sunday, June 7

TIME: 11 AM

Where: U.S. Embassy, C/Serrano 75, Madrid

EVENTS ARE ORGANIZED IN 10 cities across Spain. Details at CNAAEB on Instagram and Twitter
This event is organized by the CNAAE (Comunidad Negra Africana y Afrodescendiente en España), not Democrats Abroad Spain

Do you like this post?