Sunday, July 02
London, United Kingdom
Independence Day Picnic
RSVP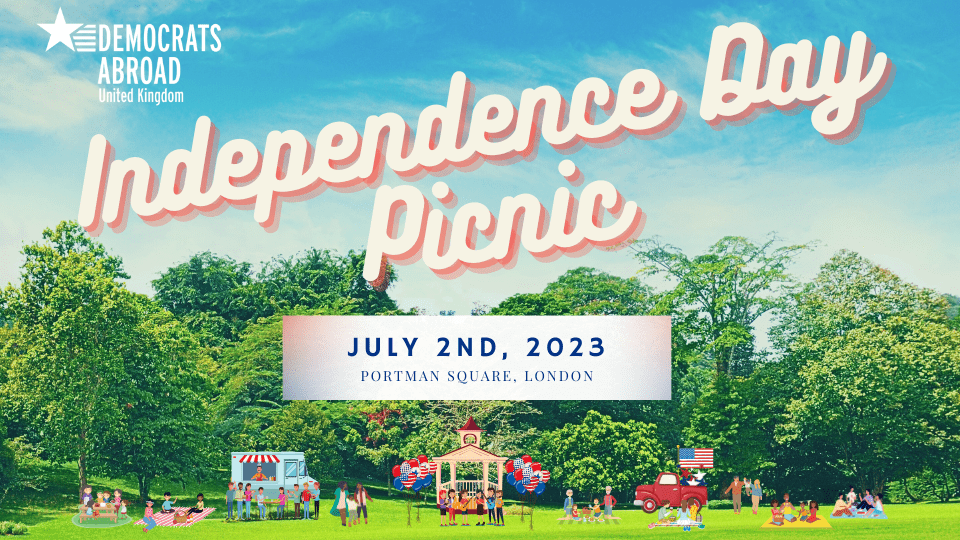 Put on your best Stars and Stripes t-shirts and hats and come join the Democrats Abroad UK's Independence Day Picnic on Sunday, July 2nd, 2023, at Portman Square, London!
There'll be food trucks, a bar, live music by folk singer/songwriter Kate Ellis, face painting, ping pong, crafts, raffle prizes, and more! All ticket holders will also receive a frozen Welcome drink (alcohol or non-alcohol) to get the party started. So, bring the whole family and all your friends (DAUK members or not) for this truly American celebration.
The Independence Day Picnic is DAUK's biggest fundraising event of the year. With the 2024 elections once again shaping up to be a battle for the soul of the Nation, the proceeds from the picnic are vital to DAUK's work to get Democrats elected right up and down the ticket in Washington and across every state and local election. With your support, we'll once again help deliver the margin of victory!
If you're interested in volunteering for the picnic, making an in-kind donation, or becoming a Host Committee donor, please contact Holly or Rebekah at [email protected]
We look forward to seeing you there!
Holly Westwood
Rebekah Rose Leo
DAUK Independence Day Picnic Co-Chairs
---
WHEN: Sunday, July 2nd, 2023
WHERE: Portman Square, London W1H 6LT
TIME: 1:00 – 5:00 p.m.
TICKETS:
Adults: $15.00
Concession: $10.00
Kids (3-17): $5.00
Kids Under 2: FREE
Host Committee Donors: 2 Adults/2 Kids Family Pass, Welcome Drinks, and Gift of Appreciation
(Min. Donation $120)
Raffle Prize Donors: 1 Adult Ticket, Welcome Drinks
(Min. Donation $50)
WHEN
Sunday, July 02, 2023 at 01:00 PM London Time
WHERE
Portman Square
Portman Square
London W1H 6LT
United Kingdom
Google map and directions
CONTACT
Picnic Host Committee
[email protected]