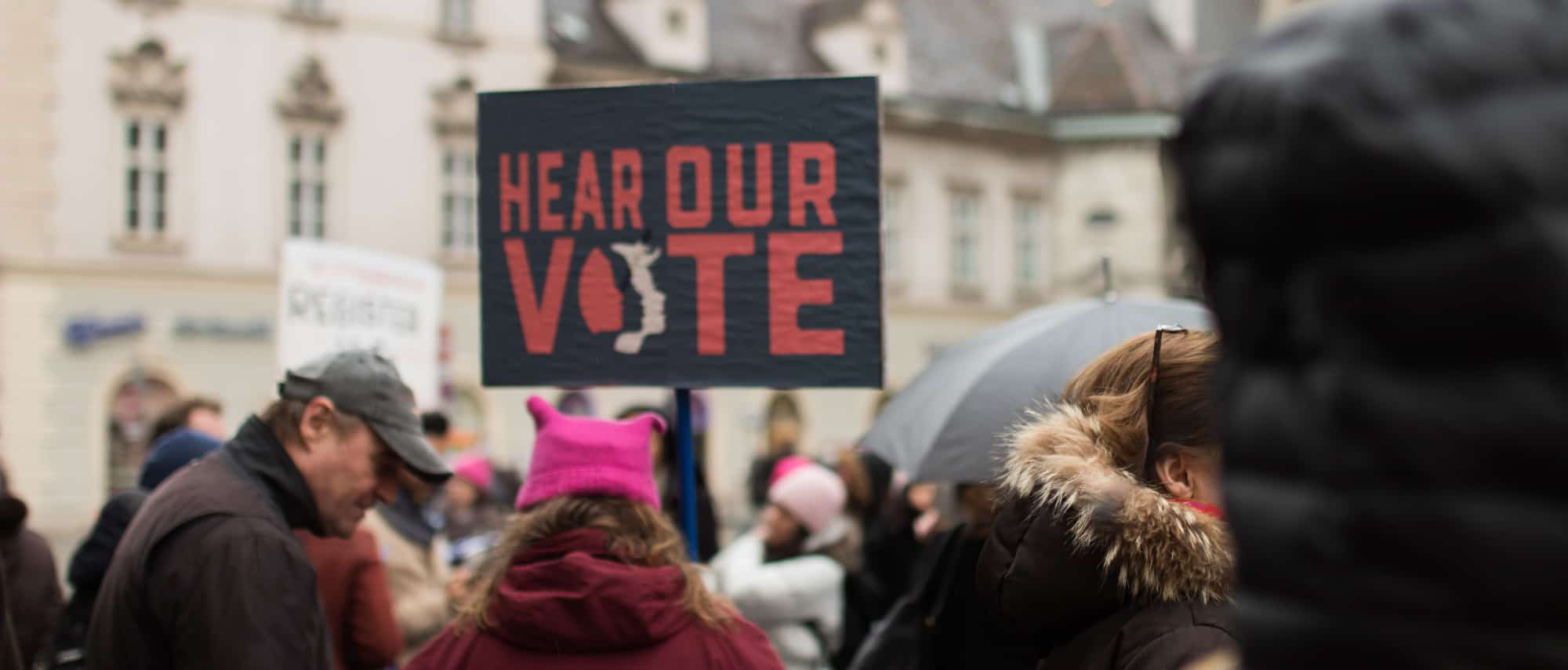 In This Issue:
Events
Experienced Democrats
Young Dems
SolSun #13
Issues & Actions

AGM Announcement
The Midterm Blue Wave Surges
Unity Reform Commission Update
Meet Faith Hall Herbold – DAA Chair, DA Black Caucus
Election Calendar
Reviews
EMEA Regional Meeting
Voter Registration Pub Night
Solidarity Sundays Vienna #12
Around Town
American International Baseball Club
Reading & Book-Presentation
---
EVENTS: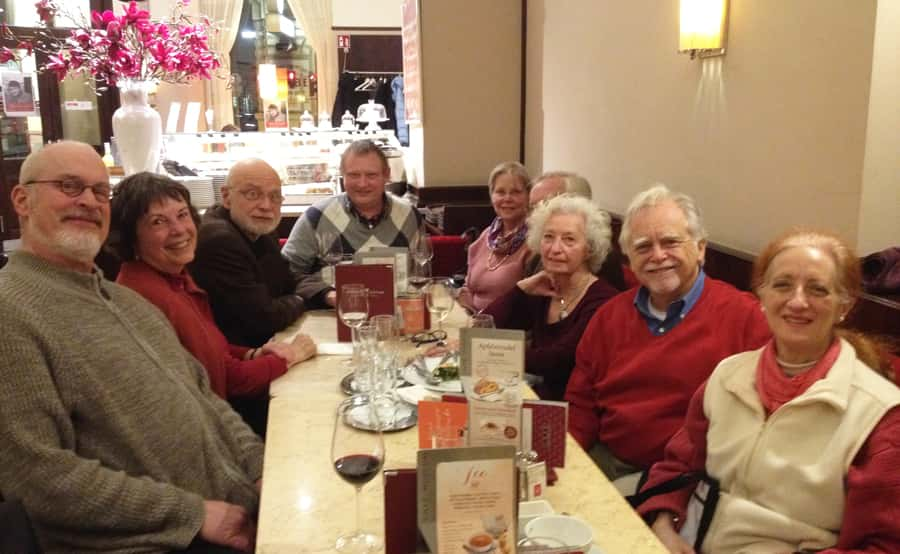 EXPERIENCED DEMOCRATS MEET-UP
The Inaugural Experienced Democrats Meet-Up was such a resounding success that we have decided to make it a regular event. We are looking forward to seeing even more of you experienced Democrats!
WHEN: Tuesday, March 20, 2018 at 6pm
WHERE: Café Museum, Operngasse 7, 1010 Vienna
YOUNG DEMS PUB NIGHT
Join us for our annual St Patty's Day pub crawl!
WHEN: March 17, 2018
WHERE: TBA
SOLSUN #13: HISTORY OF DEMOCRATIC PARTY & "THIRD WAY"
So what is a Democrat? What's the Democratic party's platform? Come learn about the history of Democratic Party and an overview of rising stars in the Democratic Party to look out for.
We will also review our "Impact My Way" projects. So join us for some coffee and cookies.
WHEN: March 25, 2018 at 4pm - 6pm
WHERE: Amerlinghaus, Stiftgasse 8, Vienna 1070
CONTACT: Juan Cerda ·

[email protected]

· +436769217865
SAVE THE DATE!
At May 26th's Solidarity Sunday, we'll be doing a group Phone-banking Sprint, complete with beer and pizza!
---
ELECTION CALENDAR REGISTER, REQUEST, RECEIVE, RETURN!
Texas – March 6 – State Primary
Register by February 5
Request ballot by February 23
Pennsylvania – March 13 – Special Election Congressional District 18
Register by February 12
Request ballot by March 12
Illinois – March 20 – Primary
Register by February 18
Request ballot by February 18
Arizona – March 20 – Special Election Congressional District 8
Register by March 26
Request ballot by April 13
---
ISSUES & ACTIONS:
ANNUAL GENERAL MEETING ANNOUNCEMENT

Please join fellow Democrat Abroad Austria members on Sunday, March 11, to recap 2017, vote on Bylaws amendments, and have a bit of food and fun.
2018 AGM Agenda:

Welcome

Chair's Report

Treasurer's Report

Auditor's Report
Discussion & Vote on amendments to the DAA Bylaws
GOTV Coordinator's Report
Meet our Caucuses – The Year in Review
Brainstorming: Ideas for 2018 and Beyond
Closing Remarks
We'll present brief reports on 2017, discuss plans for 2018, and conduct a vote on amendments to the DAA Bylaws. Along with our Caucus and grassroots leaders, we'll show a presentation of 2017's activities that illustrate how DA Austria continues to grow and strengthen almost 15 years after DAA's founding.
All DAA members are welcome. Any American over 18 (by the next federal election) and residing in Austria may also join at the meeting.
Your participation, activism, and donations have made Democrats Abroad Austria a strong and vital organization over the past fifteen years. In 2018, we'll continue working to strengthen the voice and the vote of all our members. We've got an important midterm coming up in November and we are relying on your help to make it a blue wave!
Come for business and stay for pleasure
Refreshments will be served during the meeting and there will be a no-host dinner afterwards for everyone who would like to join. Please RSVP for the meeting and dinner below.
Save Time at Check-In and Register in Advance
RSVP: Please pre-register for the meeting by contacting database manager Caitlin Ahern by email or by calling 0650-312-5572. Include your name, Austrian address, phone number and US voting state in your email to her so that your record stays current. This will help us start the meeting on time and ensure that we have an accurate vote count. We encourage all members to pre-register, even if you're uncertain that you can make it, in order to minimise long waiting lines.
Click below for more information about the Agenda, copies of the current and proposed Bylaws, Voting and Proxies, and directions to the AGM.
We look forward to seeing you at our AGM!
– Jennifer Rakow-Stepper, DA Austria, Chair
WHEN: Sunday, March 11, 2018 at 2pm - 5pm
WHERE: SPÖ Neubau, Lindengasse 64, Vienna 1070
DINNER: 5:30pm, Brickmakers, Zieglergasse 42, Vienna 1070
CONTACT: Ashley E. Arreola ·

[email protected]

· +436503749481
THE MIDTERM BLUE WAVE SURGES
Since January 2017, the Democratic Party has been turning the tide! Here are some highlights from the running scorecard.
November:
Philip Murphy and Ralph Northam win impressive Democratic victories in the governor races in New Jersey and Virginia.
December:
Doug Jones wins the vacant U.S senate seat in Alabama, reducing the Republican majority to just one!
As of today:
Wait a minute—Was that just one more vote needed for a House of Delegate majority in Virginia? I can imagine no more compelling rationale for our Midterm Marching Orders—it's time to turn that blue surge into a tidal wave for the 2018 Midterm elections!
Win back the Senate! Take back the House! Strengthen our 50-state focus to flip red to blue across the country!
GET OUT THE VOTE!!!
– Bruce Murray, DA Austria Counsel, DA Progressive Caucus Member, Our Revolution Austria Group Leader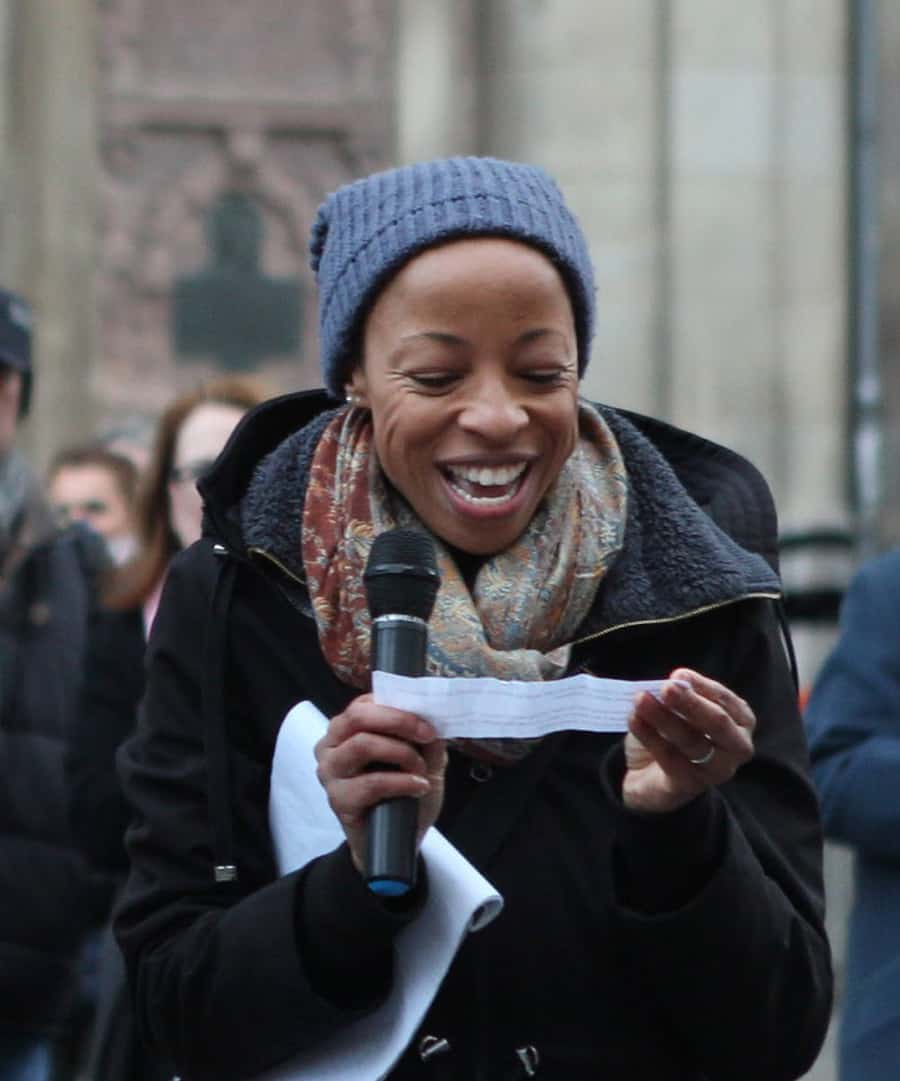 MEET FAITH HALL HERBOLD 
– DAA CHAIR OF THE BLACK CAUCUS
I am a California native and have been living in Vienna for almost four years. After completing my PhD in molecular biology from the University of California, Los Angeles, I conducted my postdoctoral training at the University of California, San Francisco, where I developed an interest in science policy.
The 2016 election inspired me to join Democrats Abroad Austria. I hosted my first Solidarity Sunday event and spoke at the second Women's march on the topic of climate change. Since climate change disproportionately affects people of color, I see the opportunity to establish an Austrian chapter of the Global Black Caucus as a way to combine my passion for science with my passion for social justice. As an African American woman, I have always had an interest in black history, diversity, and issues facing black Americans.
In this role, I hope to join with the other members of the Global Black Caucus to increase black voter participation, to support other black Americans living abroad, and to be an integral force in the ever evolving national and international political landscape. (photo: Christine Fahrngruber)
– Faith Hall Herbold, DA Austria Black Caucus, Chair
UNITY REFORM COMMISSION UPDATE
As you know, the Unity Reform Commission (URC) emerged from the 2016 DNC National Convention in Philadelphia as a tool to unite and strengthen the party. Information about its mandate, members, and work can be found here: https://democrats.org/page/unity-reform-commission Its recommendations have been endorsed by Tom Perez and Keith Ellison. On 12 and 13 January 2018 the DNC Rules and Bylaws Committee considered the URC recommendations in preparation for the DNC Winter Meeting in March. It did not vote on the recommendations. On 21 January, Democrats Abroad Toronto, in cooperation with the new Progressive Caucus of Democrats Abroad hosted an event with Larry Cohen, URC Vice Chair and Our Revolution Chair. You can view the event via recorded livestream here: https://www.facebook.com/prodacaucus/videos/1845052192194925/?fref=mentions
Larry's down-to-earth, straightforward and passionate presentation of what is at stake as we progress toward the midterm elections seems quite compelling. I strongly urge all to take a look and listen!
– Bruce Murray, DA Austria Counsel, DA Progressive Caucus Member, Our Revolution Austria Group Leader
WANT TO GRAB'M BY THE MIDTERMS? 
HELP US GET OUT THE VOTE!
As few as 5% of eligible overseas voters vote in midterm elections. From now through November, Democrats Abroad Austria will be making it as easy as possible for fellow expats to cast their ballots. You can help!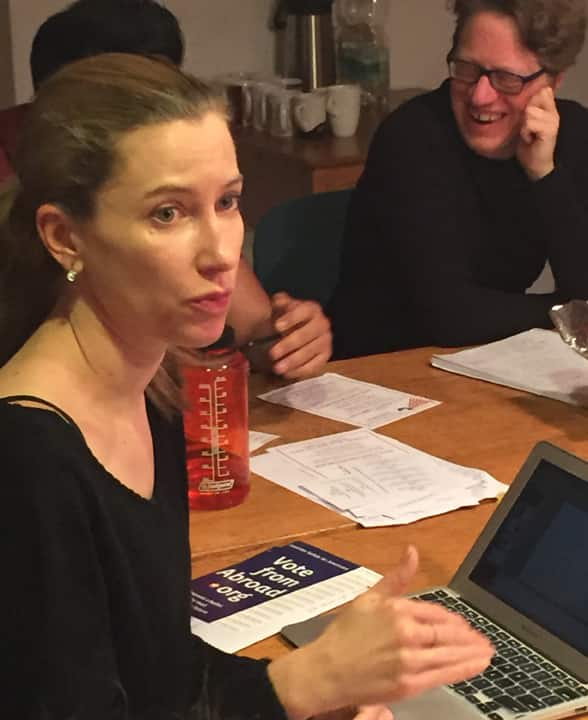 Registering voters We'll be registering voters at events throughout the city. Spend an hour or two at a registration table helping people fill out their registrations and ballot requests.
Phonebanking Call registered Democrats Abroad members and remind them to register and request their ballot (and send it in!). Calls are made online through CallHub, at no cost to you. You can call from the comfort of your couch or join one of our Phonebanking Sprints, where we gather with pizza and drinks and call as many voters as we can together.
Contact Democrats Abroad Austria's GOTV Coordinator, Becky Ellis, at Beck[email protected] to find out more, and join us at February's Solidarity Sunday to learn about other ways you can help GOTV by doing whatever you love to do most -- whether it's biking, baking or brunching!
For more information on phonebanking and online training materials, click here.
– Becky Ellis, DA Austria, GOTV Coordinator
STONE SOUP
Of the many inspirational moments at the EMEA Regional meeting in Madrid, my take home lesson was a conversation I had with Ann Hesse, the DA Germany, Stuttgart Chapter Chair. One evening we were discussing how to motivate people to become volunteers, when she turned to me and said, "It's simple. I tell the members it's a stone soup and each member has to bring one thing to the pot – carrot, parsnip, or turnip – once a year. My job is to stir the pot."
Whatever a member's talent, inspiration, or skill might be, she asks the members in her chapter to add one ingredient to the pot once, and only once, a year. If DAA had this from all our members, we would have a rich, delicious, multifaceted broth.
Dovetailing with Anne's "Stone Soup" was a challenge set at Solidarity Sundays for people to "get out the vote my way." Each of us is doing one action that is personal, feels right and adds our own bit to the brewing wave of 2018.
There is no action too large or too small. The soup is cooking. Come add your bit! #GOTVmyway
– Jennifer Rakow-Stepper, DA Austria, Chair
---
REVIEWS: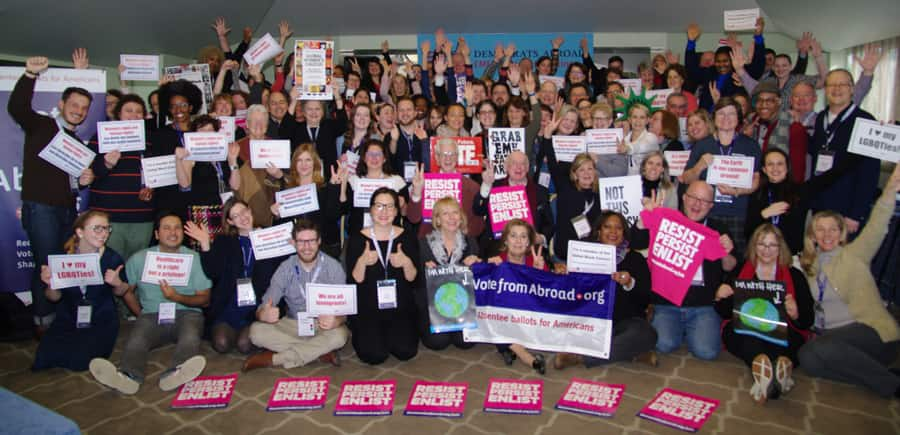 VIENNA GOES TO MADRID – FOR THE DA REGIONAL MEETING
Austria's Democrats Abroad leadership is delighted to report that the enthusiasm and determination to ensure a blue wave in November is widespread throughout DA. Chapters from the Europe, the Middle East and Africa regions are hard at work channeling Democratic frustration into votes from abroad. Members are opening their living rooms for DA meetings, fundraisers, and voter mobilization work. This is a group leaving no stone unturned.
Our Austrian country committee was talked about quite a bit, and leaders asked for advice how to create working groups like Solidarity Sundays Vienna in their countries. We shared our know-how, and received ideas and resources in return.
Governor Howard Dean's keynote speech reflected the weekend's cautious optimism. Cautious because California's top-two primary is crowded with so many Democrats that the party is in real danger of advancing few or no Democratic candidates in the fall. A reminder that our enthusiasm can work against us in some corners.
– Tanya Lolonis, Solidarity Sundays Vienna, Co-Coordinator
VOTER REGISTRATION PUB NIGHT

We may look a bit fuzzy in the photograph, but we were clearly focussed on  our goal of registering voters! Young Dems had a fantastic turnout and a lot of fun at our first voter registration pub night of the season. More than ten people who hadn't yet registered went online, registered and requested their ballots, and printed out their forms. Look at those envelopes all ready to be posted! We also have a couple of new members... welcome Melissa and Christina!
SOLSUN #12– SOLIDARITY SUNDAYS TAKES AIM AT 4%
Four percent. That's the portion of eligible American voters living abroad who voted in 2014. The reason most gave for not participating in the democratic process? They found registering and requesting a ballot too difficult. Turns out, registering is easy* -- it's getting the message to ex-pats that poses the challenge.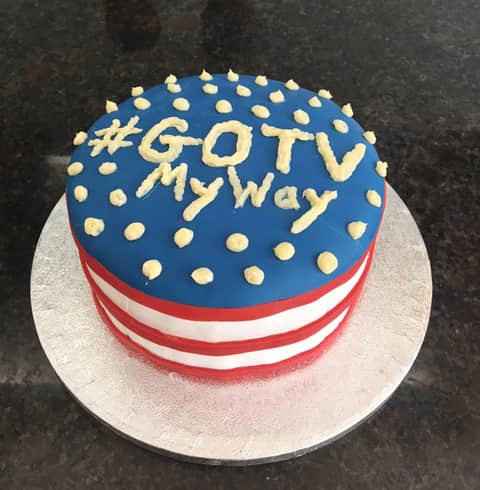 Traditionally DAA telephones members to remind them to register, and sets up registration tables in places Americans cluster to reach non-members. The Solidarity Sundays crew is fully behind DAA's Get Out The Vote effort – but with a twist. At the party commemorating their first political action last year in support of Planned Parenthood, Solidarity Sundays rolled out plans to Get Out The Vote their way. They crafted made-to-measure initiatives they'll carry out individually.
What does that mean? Well, in one case it means approaching members with registration information in a cake club (she tested the idea out with the crew; they found it delicious).
–Tanya Lolonis, Juan Cerda, and Antje Lewis, Solidarity Sundays Coordinators
---
AROUND TOWN:
AMERICAN INTERNATIONAL BASEBALL CLUB (AIBC)
Dear Parents - I would like to announce that registration is now open for the 2018 AIBC spring season! If you have any questions do not hesitate to contact us on Facebook or at www.aibc-vienna.at
AIBC spring league 2018:
Spring tournament 2018 scheduled from April to June every Saturday
Tuesdays: friendly games
Advanced level summer camps in August
During winter season trainings, drills and play in a heated bubble.
WHEN: Saturdays from April-June. Opening day April 7, 2018 at 8am-11:30am
A NEW DEVIL'S DICTIONARY
By author Nicholas T. Parsons
Politics, academe, business and journalism are constantly coming up with new forms of evasion, exaggeration, and disingenuousness. Accordingly this "lexicon for contrarians" seeks to provides Ariadne's thread through the maze of contemporary public discourse, and to probe the reality behind the innocent verbal facade. A disrespectful guide to the agenda that all too often lurks behind contemporary buzzwords, phrases or slogans. The book also features heroes and villains whose mots have enriched or impoverished our understanding over the years.
Nicholas T. Parsons is a writer based in Central Europe, about which he has written several guidebooks. Among his previous books are Worth the Detour: A History of the Guidebook; Vienna: A Cultural and Literary History, and The Xenophobe's Guide to the Austrians (writing as Louis James).
WHEN: March 9, 2018 at 7:30pm
WHERE: Shakespeare & Co Bookstore, Sterngasse 2, Vienna 1010
Do you like this post?