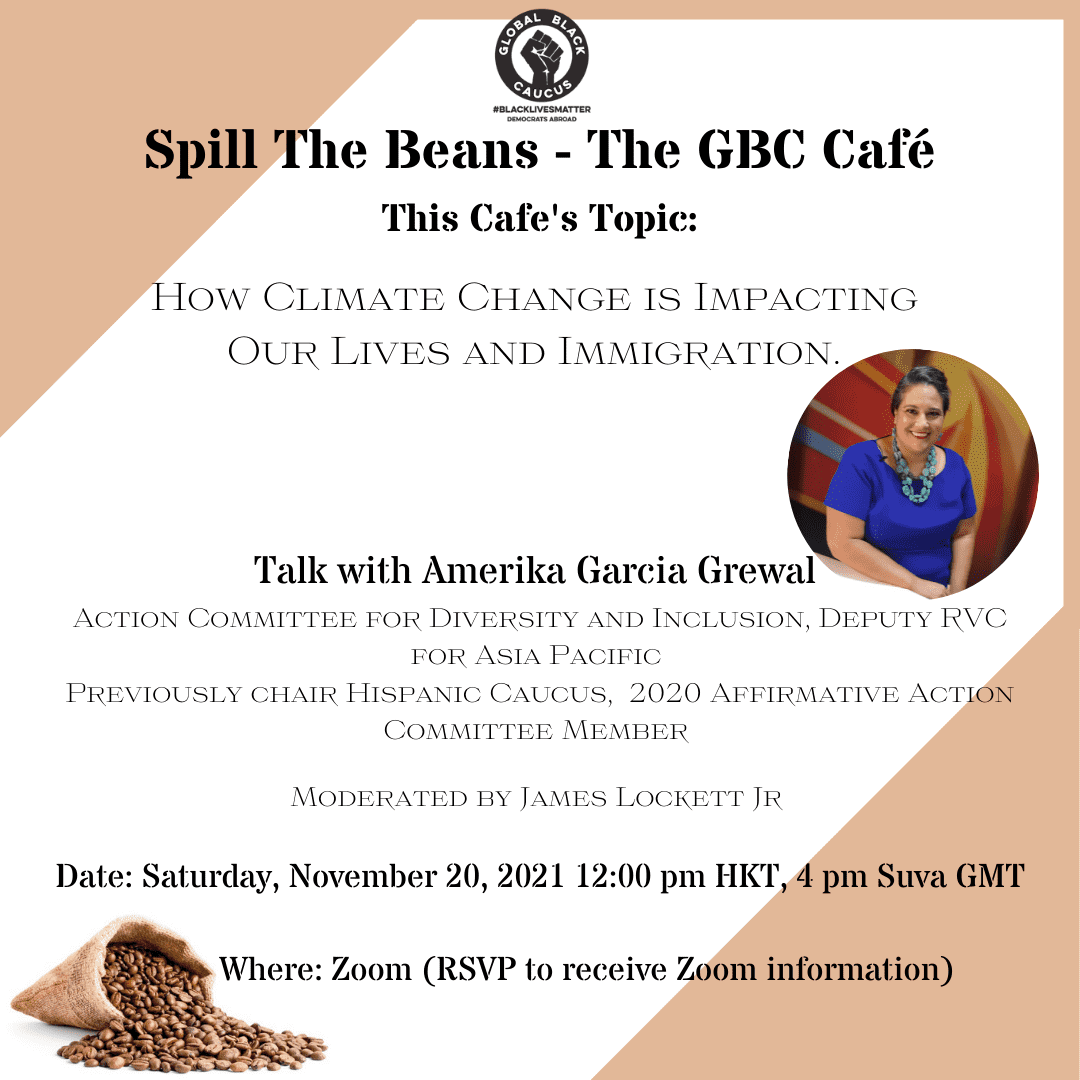 A seminar series on hot topics and current issues affecting African-Americans living abroad. 
Spill The Beans - The GBC Café is a coffee table discussion series for the Democrats Abroad Global Black Caucus. Each month, we invite African-Americans and our allies from all around the world and from all walks of life to grab a coffee and connect with us via zoom, as we discuss hot topics and current issues. All of our chats are one hour long and we encourage you to share your thoughts on the topic of the day as well. 
For any questions regarding our Spill The Beans - The GBC Café talks or are you interested in providing a topic for the next coffee table discussion, please contact us at [email protected].
This Cafe's Topic:
How Climate Change Impacting Our Lives and Immigration
Talk with Amerika Garcia Grewal
Moderated by James Lockett Jr
ABOUT AMERIKA GARCIA GREWAL
Amerika Garcia Grewal grew up on the US-Mexico border in a solar-powered home with gray water diversion; living in Germany as a high school exchange student was the first time she experienced a comprehensive national strategy for waste management and extensive support for public transit, cyclists, and pedestrians.
She returned to the US forever changed, not just by the surcharge on shopping bags at the till. Her actions as an individual are not enough, though. While every action by concerned people is important, her move to the developing nation of Fiji and firsthand experience of more intense and frequent cyclones and weather extremes made her realize that we as individuals must also work with our governments and multinational corporations to change.
Watching 17,000 displaced Haitians gather just north of her hometown underscored how interwoven climate change and migration are and how deliberately decision-makers are refusing to address the causes of climate change and its effects. Energy, construction, and agricultural sectors contribute far more to our rapidly warming planet; every nation on earth will experience the consequences if we don't change our ways.
Date: Saturday, November 20, 2021, 12:00 pm Hong Kong Time, 4:00 pm Suva GMT
Where: Zoom (RSVP to receive Zoom information)
Be part of the discussion and RSVP, join us Spill the Beans...
WHEN
November 20, 2021 at 12:00pm - 1:30pm Hong Kong Time
Who's RSVPing
Do you like this post?