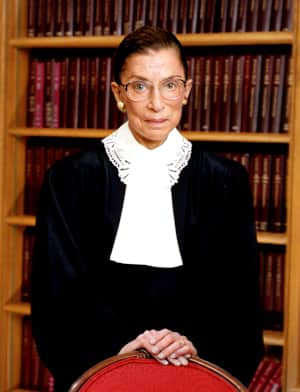 The notorious R.B.G.
15 March 1933 - 18 September 2020
A time to reflect on the life and legacy of Ruth Bader Ginsburg and the future of the US Supreme Court
The tributes pour in:

"As part of the Supreme Court's four-member liberal wing, she did her most memorable work in dissent." - Adam Liptak, The New York Times.
"Barely five feet tall and weighing 100 pounds, Justice Ginsburg drew comments for years on her fragile appearance. But she was tough.... - Linda Greenhouse, The New York Times.
"She spent her extraordinary career fighting for women's rights and ensuring the promise of the constitution applied to all." - Moira Donegan, The Guardian.
"Our nation has lost a jurist of historic stature." - Chief Justice John Roberts.

In her own words:
"Did you always want to be a judge" or, more exorbitantly, "a Supreme Court justice?" Schoolchildren visiting me at the court, as they do at least weekly, ask that question more than any other. It is a sign of huge progress made. To today's youth, judgeship as an aspiration for a girl is not at all outlandish. 
This special afterwork will open with a presentation about Ruth Bader Ginsburg, followed by a time for shared reflection on the life she lived and the changed nation and world she leaves behind. RSVP for directions on how to attend.

WHEN
September 29, 2020 at 6pm - 9pm Stockholm Time
CONTACT
Joel Parthemore · · 0702723849
Who's RSVPing
Do you like this post?