We are excited to be publishing our first newsletter as the official Democrats Abroad Asian American and Pacific Islander Caucus! This has been quite a busy first month as a caucus as we work to organize our first events and get things in place to make sure we can support all volunteers and country committees that are interested in creating an AAPI caucus in their own countries and chapters.
Events
July 19: AAPI Caucus Meet and Greets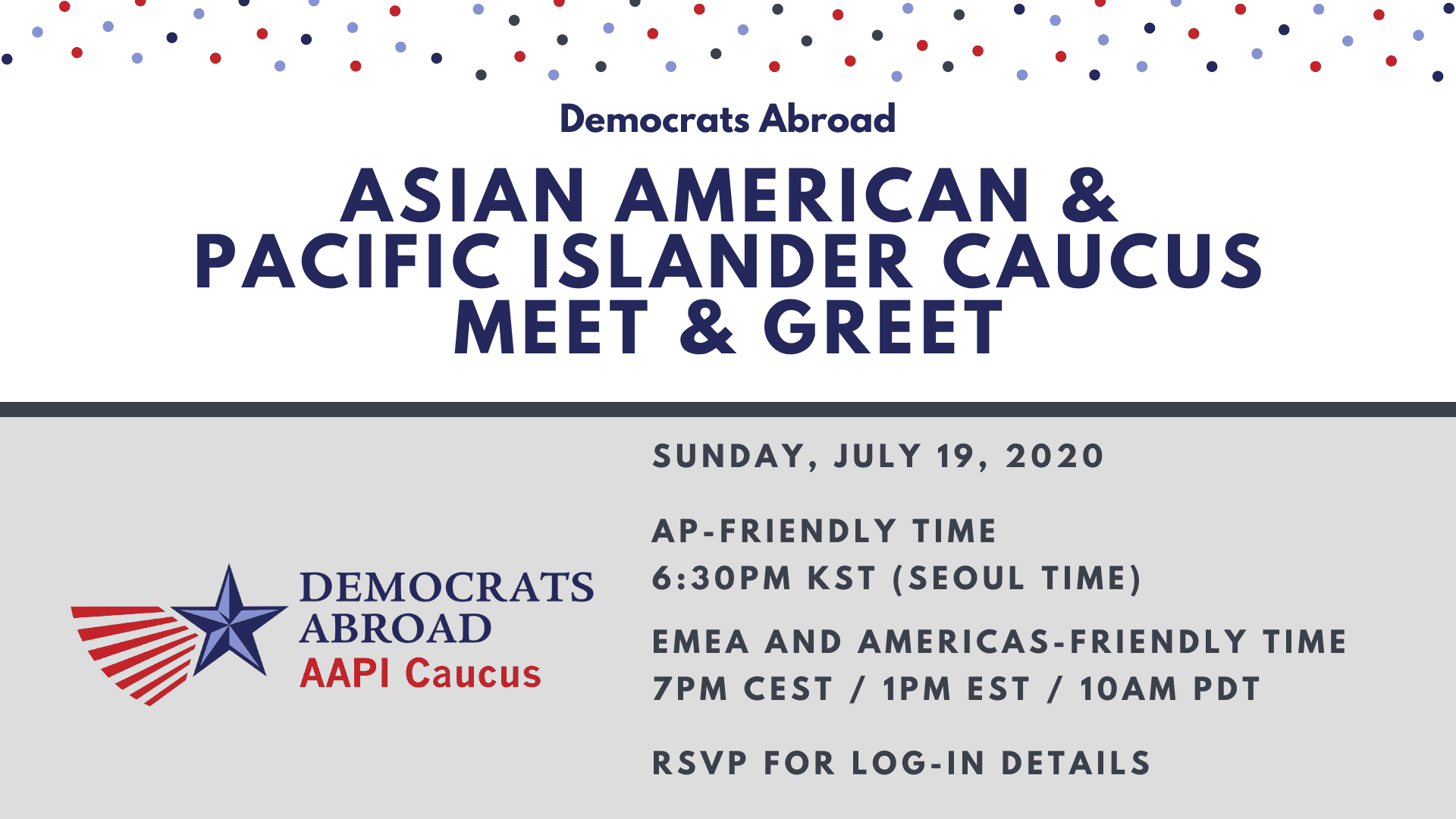 To help introduce the caucus, join us on Sunday, July 19th for our first meet and greet events. We will be introducing ourselves and talking about the goals and objectives of this caucus. RSVP for the meeting links!
August 4: COVID-19, Healthcare Access, & AAPI Activism with Dr. Paul Song

We are also pleased to announce that on Tuesday, August 4th, we will be hosting an online discussion with Dr. Paul Song to talk about the repercussions of COVID-19 in the US for AAPI communities and other minority groups, as well as the effects on healthcare. We'll also be talking about how we can effect change. RSVP here for the link!
July 21: Women to Win Forum with Gina Ortiz Jones
On Tuesday, July 21st, the Global Women's Caucus will be hosting the Women to Win Forum. Along with three other Democratic women, this will feature Gina Ortiz Jones, who ran in TX-23 in 2018 and came within just 926 votes of defeating Will Hurd who subsequently announced his retirement. Gina is a first-generation Filipina-American, raised by a single mother who came to the United States from the Philippines believing in the promise of a better future.
Meet the AAPI Caucus Co-Chairs
Cory Lemke, Co-Chair of the AAPI Caucus and Vice Chair, DA South Korea
I was born in Jeonju, South Korea and was adopted by a family in Iowa. As a Midwestern transplant in Arizona, i witnessed the enactment of the controversial, anti-immigrant SB1070 law, the attempted assisination of Congresswoman Gabrielle Giffords, and the legalization of marriage equality. I understand the importance of a strong US-ROK alliance for the maintenance, stability and prosperity in Northeast Asia. An entrepreneur and linguist, I am currently based in Seoul and serve as the Co-Chair of the DA Global AAPI Caucus and Vice-Chair for the Country Committee Democrats Abroad Republic of Korea.
Emily Lines, Co-Chair of the AAPI Caucus; Vice Chair, DA Germany - Berlin; Events & Fundraising Coordinator, DA Germany
Hi, Everyone! I'm Emily and I am an Indiana voter. I have been living in Berlin, Germany for the past nine years. At three months old, I was adopted by my parents, who were originally from Missouri. I am very excited to have the chance to be a Co-Chair of this caucus, particularly so that I can learn even more about the culture, history, and importance of this growing sector of the U.S. population, but to also represent one of the many diverse faces of the AAPI community.
Click here to read more about our AAPI Steering Committee Members!
The AAPI Caucus is one of Democrats Abroad's eight global caucuses. Check out the global caucuses page at www.democratsabroad.org/caucuses to see what we have and feel free to join as many as you'd like. Each one is a group with a focus on issues and lots of activities.
Democratically Yours,
Emily and Cory
Co-Chairs