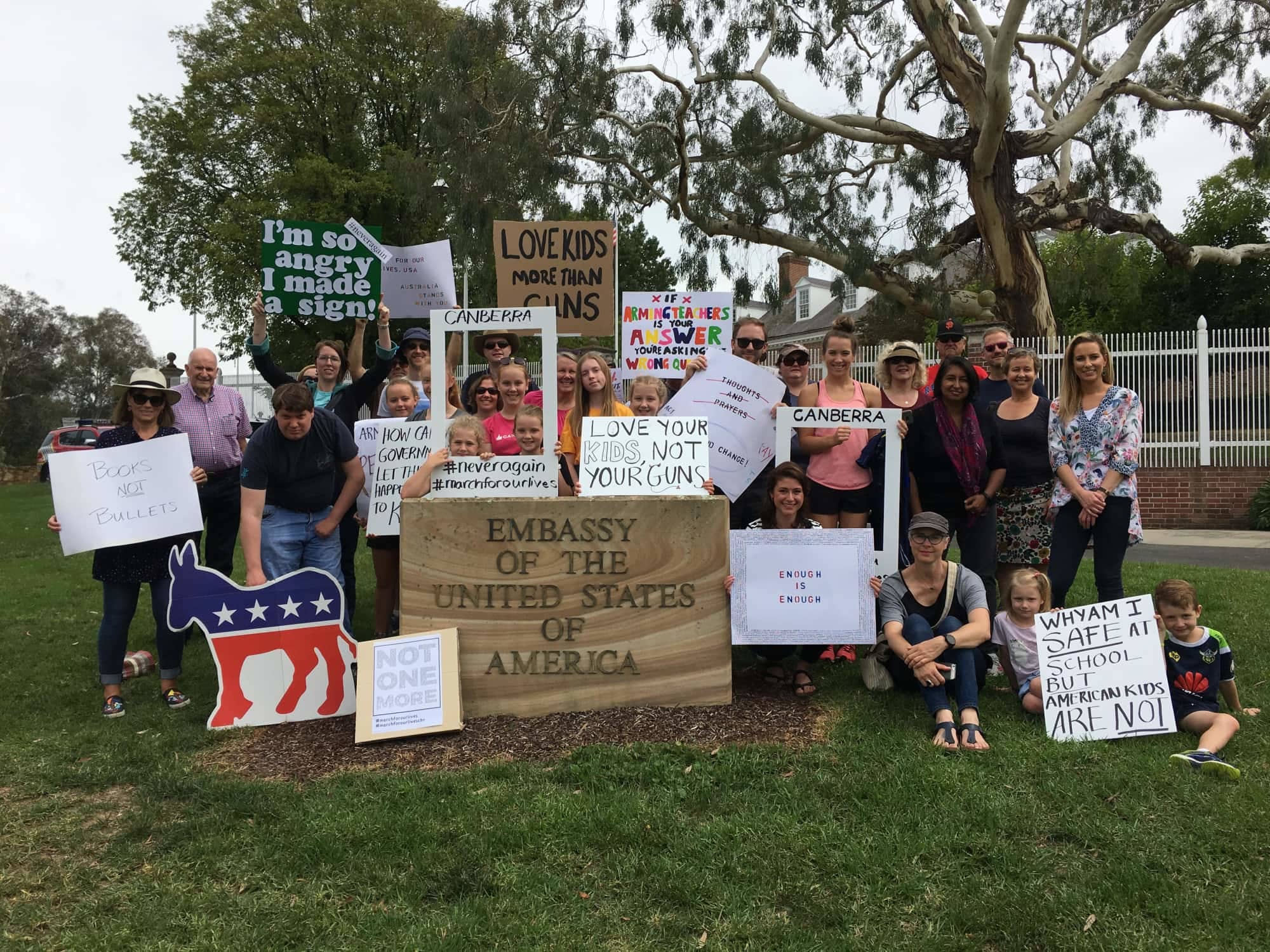 This past Saturday, 24 March, members from all over Australia took part in the "March for Our Lives" Solidarity rallies to say "Enough is Enough" and to ask Australians to help spread the word how important it is to tell Americans to vote this year.
In honour of the 17 people senselessly gunned down at Stoneman Douglas High School in Parkland, Florida, the US' most recent mass shooting, high school students all across America marched for their lives this past Saturday, 24 March 2018.
The March for Our Lives drew sister and solidarity marches from all over the world, including here in Australia. We, as Democrats living in Australia, can no longer continue to enjoy sensible gun laws and access to universal healthcare, while our fellow Americans back home are under constant fire.
Hyde Park in Sydney's CBD drew a crowd of nearly 400. At the US Embassy in Canberra and in Brisbane's CBD, over 50 people attended each. Many gathered outside the US Consulate in Melbourne. In Adelaide, Perth and Hobart, we had conversations with very receptive Australian audiences.
On Saturday, Democrats Abroad Australia launched it's 2018 GOTV campaign to Ask an American to Vote - to spread the word about the www.votefromabroad.org website. On the back of this critical issue of gun reform, we asked all Australians to contact an American that they know about voting so that we can expand our visibility for GOTV and Democrats Abroad.
In total, we handed out several hundred flyers that friends, workmates and acquaintances of Americans took. We will continue this campaign in 2018 to support all events in the State chapters as we push ahead with resolve and conviction knowing that we can take back Congress in 2018 with a Blue Tsunami!
We must act to change what we cannot accept. We must and will exercise our right to vote and ensure our fellow citizens living abroad do so as well!
What you can do
If you're an American living in Australia or anywhere overseas, request your ballot at votefromabroad.org. Spread the word and tell all your American friends living abroad. You can also become a member at democratsabroad.org/join to connect with Democrats living in your state, city or region. You will be kept up to date with your state's voter and registration deadlines. Membership is free.
If you're an Australian, please tell your American friend, workmate or acquaintance to request their ballot at votefromabroad.org. Spread the word, tag them, and send them the link to our page.
If you want to be more involved, email us at [email protected]

Do you like this post?