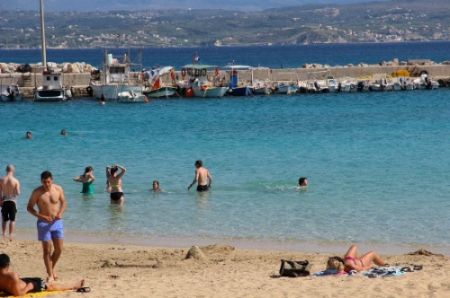 Chania Beach - thanks to the Athens Centre
Dear Mr/Ms Congressperson – When you next visit Greece, do get in touch with Dems Abroad! We'll bend your ear about our concerns, and in return? We've got superb sea in summer, great skiing in winter, tasty roast lamb in the spring and, okay, a bit of chilly rain in autumn. And we also know some excellent, out of the way eateries. Let us know you're coming, and we'll arrange for you to meet some of our members. (They vote, you know!) We'll help make it your most valuable vacation in recent memory!
VIP Visits and DAGR
For future reference, though possibly not concerning a presidential visit, we have learned that our lower place in the pecking order is not a new problem. First of all, local embassy staff is thrown into preparations for a visit over which they have only partial control. Other considerations are specified by the visiting VIP's staff. That's at least two potentially different sets of priorities.
There are also the concerns of local officials and interest groups. For instance, a group of local businessmen may value the opportunity to meet with potential investors. A social issue might mean visitors' meeting with a government ministry or local voluntary organization working in the same field.
Although DAGR includes many members who are actively engaged in business or social welfare efforts, as a group we represent none of them. The Chair or Vice Chair, who have the titular job of representing us, may or may not know anything or anyone of interest to any given group of visitors.
This suggests development of a 'meet n greet' committee comprising some socially adept volunteers who could be called on to represent DAGR in particular interest areas.
We should add that opportunities to meet with any given visitor may or may not be worthwhile. A case in point was a House junket in 2015 and a reception for them that the DAGR Chair was invited to. While there were a couple of Dems in the group, it was headed by a GOP congressman. The visitors were closeted with the then-ambassador; the residence foyer was filled with well-dressed businessmen and some military in dress uniforms. Upon exiting their discussion with the ambassador, the visitors said a few words, were deluged by hopeful attendees and left within a few minutes for a tour of Souda base in Crete. Your Chair caught another taxi home, wondering why she'd been invited in the first place. Did the Dem members of the junket even realize their party rep was attending?
All this illustrates what is possibly the knottiest problem we face: potential visitors (and their staffs, schedulers, handlers) simply don't know we're here. The Executive Director of DA, the only staff position we have, is tasked with outreach to party and elected officials. Additionally, our DA members of the DNC raise our profile, as do our 'door-knock' visits. Whenever there's a meeting in DC that Dems Abroad people attend, they schedule in these opportunities to meet and talk with elected officials.
Because of this, it was decided earlier this year, that the odd-year global AGMs would take place in Washington, with the even year AGMs alternating among the three regions, hosted by Country Committees around the world. So, every other year, a passel of Dems will be contacting our Congress-critters about our issue planks.
DA fits into the DNC like any other 'state party.' Consequently, our officers, especially the DPCA Chair, take part in meetings of Democratic state party chairs. This is another opportunity to introduce DA and to share our practices and concerns. Combined with our reps in the DNC, our Executive Director on the ground in DC, our state party participation, there's also the huge uptick in global news coverage that Dems Abroad got during the Global Presidential Primary 2016. We made headlines, and then were all over the media and social media when Larry Sanders cast 70% of our votes for his brother at the Convention. It added immeasurably to DA's growing support in the Congressional caucus for citizens abroad.
At the end of the day, though, it's really up to us. That photo caption above the article suggests a possible approach. Make it your own. Then, write/email/PM/tweet your congressperson or other public officials in your home state. Write to interest groups. Or students, or professors that you're still in touch with. Or business associates. Or members of the Greek-American community at home.
Let us know if you hear back from them, so we can arrange for other DAGR members to meet them while they're here. Every contact helps. And before we know it, more of our friends and family at home will be informed of our concerns, more of our planks will find their way into the DNC platform, and more of them will be passed in legislation.
Do you like this post?