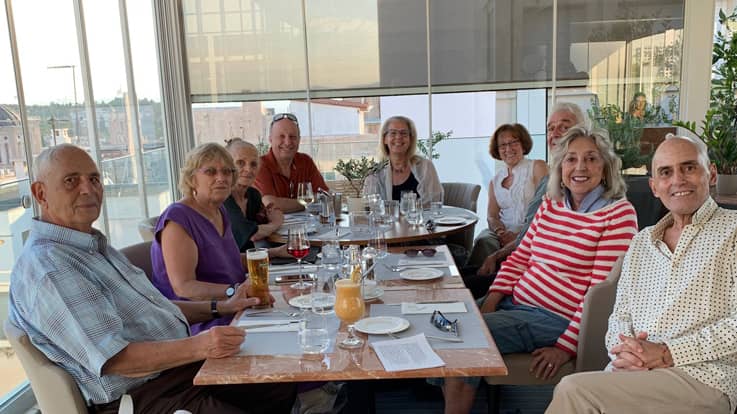 (l-r) Athan Vellianitis, Charity Moschopoulos, Karen Lee, Nick Loisos, Anna Haughton, Stephanie Nichols, Dina's husband Thomas Wright, Rep. Dina Titus, Steve Medeiros.
Καλώς Ήρθατε, Dina Titus!
Since its founding, DAGR has been inviting Greek-American politicians to share a few minutes of their time with our members during their visits to Greece. Not many answers, to be honest.
In 2019, however, Rep. Dina Titus (NV-07) reached out to us, almost on her way to the airport ...
"I'll be passing through Athens on the way to the village …" Then-chair Steve Medeiros gathered together local members who were able to meet up and an open-ended chat ensued.
Rep. Titus deeply impressed our members as smart, progressive and a great listener.
Fast forward to 2023, and Rep. Titus assumed the mantle of Americans Abroad Caucus chair in the US House. On May 5, Dina Titus will be hosted by Dems Abroad global in a webinar. We hope a sizeable contingent of DAGR members will repay the courtesy she showed us and Dems Abroad generally! Have you RSVPd yet?
You can read Titus' pretty impressive bio and committee placement on the DA website, Events page. (It's that link in the paragraph just above.) Or follow her in a recent House Homeland Security Committee hearing, where mostly-MAGA Republicans conducted a fairly disgusting 4-hour grilling of DHS Secretary Mayorkas. Titus takes meaningful testimony at some 3 hours into the melee. She's a breath of fresh air, down to earth, spot on the issues of concern to her constituents.
Interested in hearing more from our Americans Abroad standard bearer? See you on May 5!