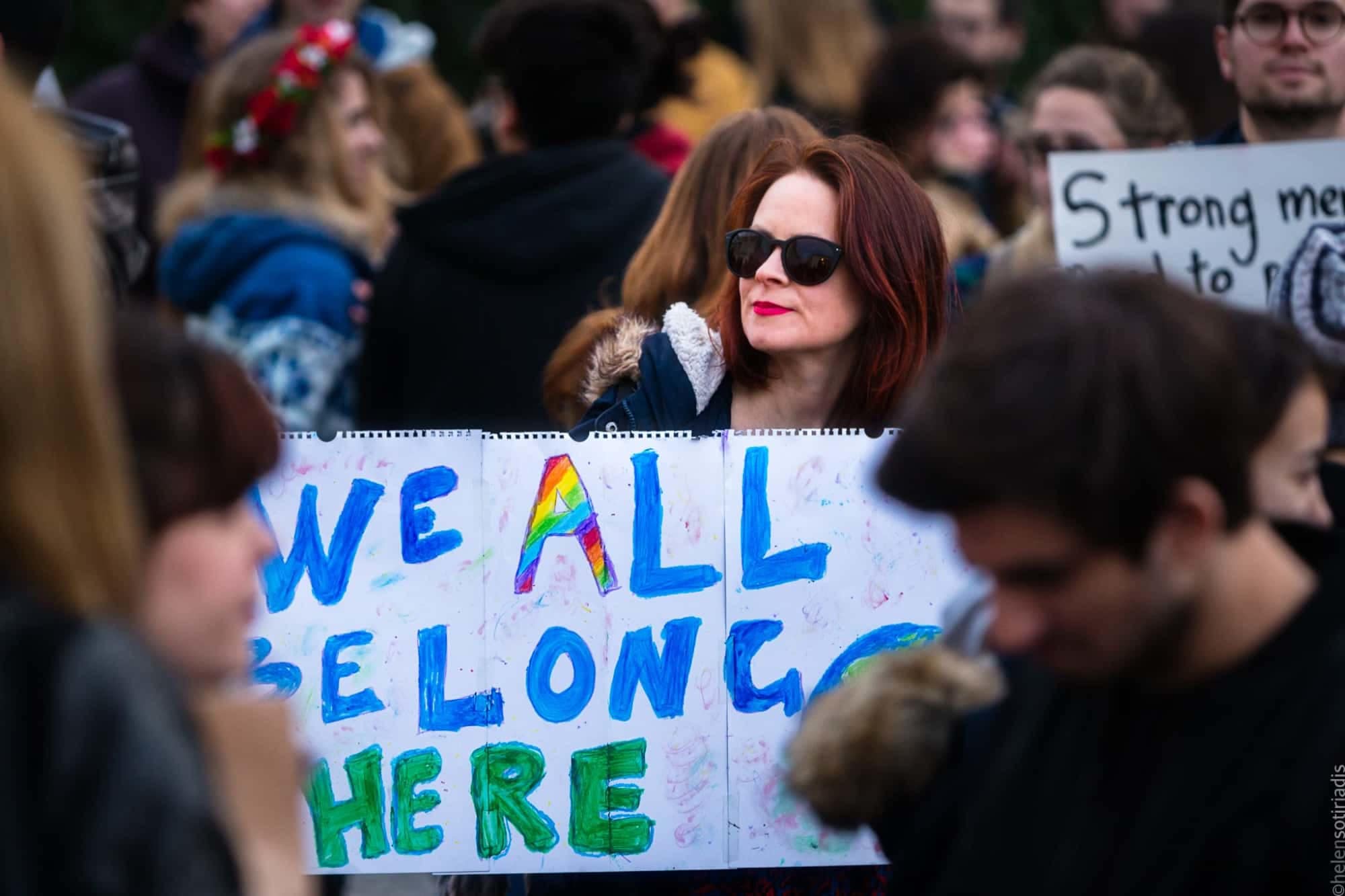 A SIMPLE MARCH THAT SNOWBALLED INTO A MOVEMENT
A few hundred or so participants gathered on the steps of historic Constitution Square in central Athens Greece with a backdrop of the parliament building to celebrate the anniversary of the Women's March on Washington 2018 on Sunday, January 21st.
A handful of speakers made statements, read poetry and offered inspiration. Many participants wore black, showing solidarity for the #metoo movement. The march in Athens was co-organized by Democrats Abroad Women's Caucus and the Women's March Athens, an independent group of international and Greek residents.
Coming together across seven continents – and in Greece – participants took a stand for a world that is equitable, tolerant, just and safe for all; January 21st, marked the one-year anniversary of the 2017 Women's March on Washington.
Last year, in the largest joint demonstration in history, women and men, of all backgrounds, ages, and races, came together, 5 million strong. The Women's March on Washington became an organic groundswell the day after the 2016 election, when a grandmother in Hawaii proposed to 40 of her friends to go march in Washington, D.C. The issues they raised, however, were not limited to the US, and the idea quickly grew into a movement with "sister marches" across the US and around the world.
The march was a proactive international movement to defend women's rights and those of others in response to the rising rhetoric of far-right populism around the world. The march is committed to equality, diversity, and inclusion.
In Athens, the 2018 Women's March began at 4 p.m. in Syntagma Square. The broad 2018 theme was "Look Back, March Ahead," focusing on human rights. Globally, Democrats Abroad followed a theme of "March to the Ballot Box" and efforts to encourage Americans outside the US to register and vote.
Athens organizers decided on "Together We Rise" to emphasize the common interest Greeks and foreigners, women and men, have in a world in which the human rights and dignity of each person are protected and our planet is safe from destruction.
Karen Lee, Chairperson of DAGR, co-organizers of the march, said, "Blatant misogyny sent American women into the streets last year. This year, it's determination that drives us. I think women everywhere have seen how far we've come and how far we still have to go. But we're awake now, we're talking, engaging, informing ourselves. When women have full parity, others get it, too. So, today, we march in solidarity for human rights for all; tomorrow, we vote. And then we do it again the next year. We're not going back."
Maria Kostaki, of Women's March Athens, said the local slogan, "'Together we Rise,' reminds everyone that it is up to us to do our part….and make our voices heard as one."
Kostaki added, "Last year, shocked by what the election of Donald Trump meant for the world, I scrambled to organize the sister march of the Women's March on Washington here in Athens. This year, I continue to participate because one single protest does not make a movement, it does not create change. The effort is ongoing, constant, even when we are not gathering in protest to voice our demands as humans. My aim is to get more of the Greeks to join us this year, as this is not about the United States, it's about women's rights, human rights, all over the world."
Several speakers addressed the crowd on the steps of Constitution Square before they took the march to streets, chanting, waving banners and holding signs high in the air.
Do you like this post?