A starling is a small songbird. She is mud-colored with a hint of purple or teal, but only if she twists to catch the light. When she's working, feeding her babies or building her nest, she sometimes forgets to do that. Life isn't usually about poetic twists. Most of the time, it's about blending with the bushes and avoiding predators. The starling is often mistaken for a common blackbird. People don't notice the smattering of light freckles across her chest and the back of her neck. Alone… one starling is unremarkable.

But sometimes, thousands of starlings suddenly take to the sky. Their miraculous dance—a black cloud of swells, shifts, swoops, soars—stops every witness in his tracks. Then it's called a murmuration.
A lot has happened since the first Women's March in 2017. That organic response to the election of Donald Trump inspired millions of women around the world to rise up against institutionalized sexism, misogyny, and prejudice of all kinds. It inspired men to understand the role they play in this fight for human equality. The movement was and is about voices: that single voice raised improbably against the machine; the strength of many voices rising together around the words #metoo.
Our chapter of Democrats Abroad was proud to support Women's March Norway in their anniversary event this weekend. It was a bright, cold day. WMN Founder Brit-Agnes Sværi invoked Oprah's recent battle cry—Time's Up!—and was met with a thunder of mittened applause and boots stomping in the snowy square.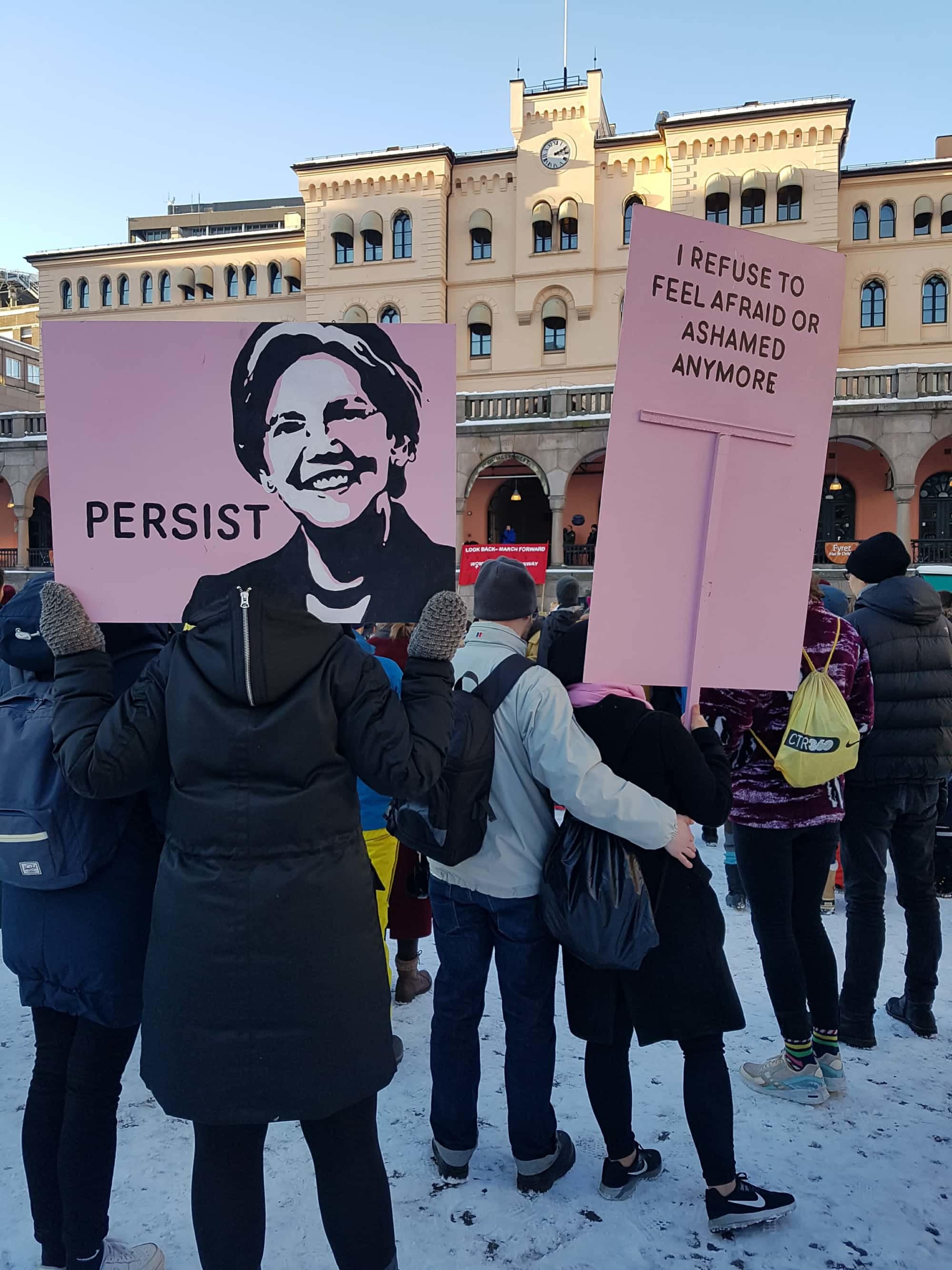 Last year's march was the reason I decided to step up my involvement with Democrats Abroad. There was something uncanny about the way those marches happened all around the globe. In big cities and little towns. In wealthy nations and "shithole countries". We gathered to meet the coming storm. I stood at Youngstorget beside my friend, Corinne, a fellow Californian-in-Norway. Her loud and proud sign read:
NASTY
VETERAN
MOTHER
FEMINIST
WOMAN
We'd come together with thousands of Norwegians and other internationals to object to Trump's inauguration. Enough was enough. We decided that if there was anything at all we could do to fix the fault in our home country, we would do it. Serving our fellow Democrats Abroad in Norway as elected officers still seems like a good fit. Our whole board feels that way.
Lots of us made it out to the march this year. Thank you to everyone who helped us carry the DAN banner through the streets from Youngstorget to Stortinget. Thank you also to all who volunteered to help with security and social media and set-up and clean-up. We were well-represented among the reflective-vest crew, and that warmed my heart. It was also a treat to have so many Dems and friends join us at Brewdog in Grünerløkka afterwards for post-march beers and invigorating conversation. This little Drinking Liberally Oslo field trip was a big success, and we hope to see you all again at the monthly DL event on Tuesday the 30th of January.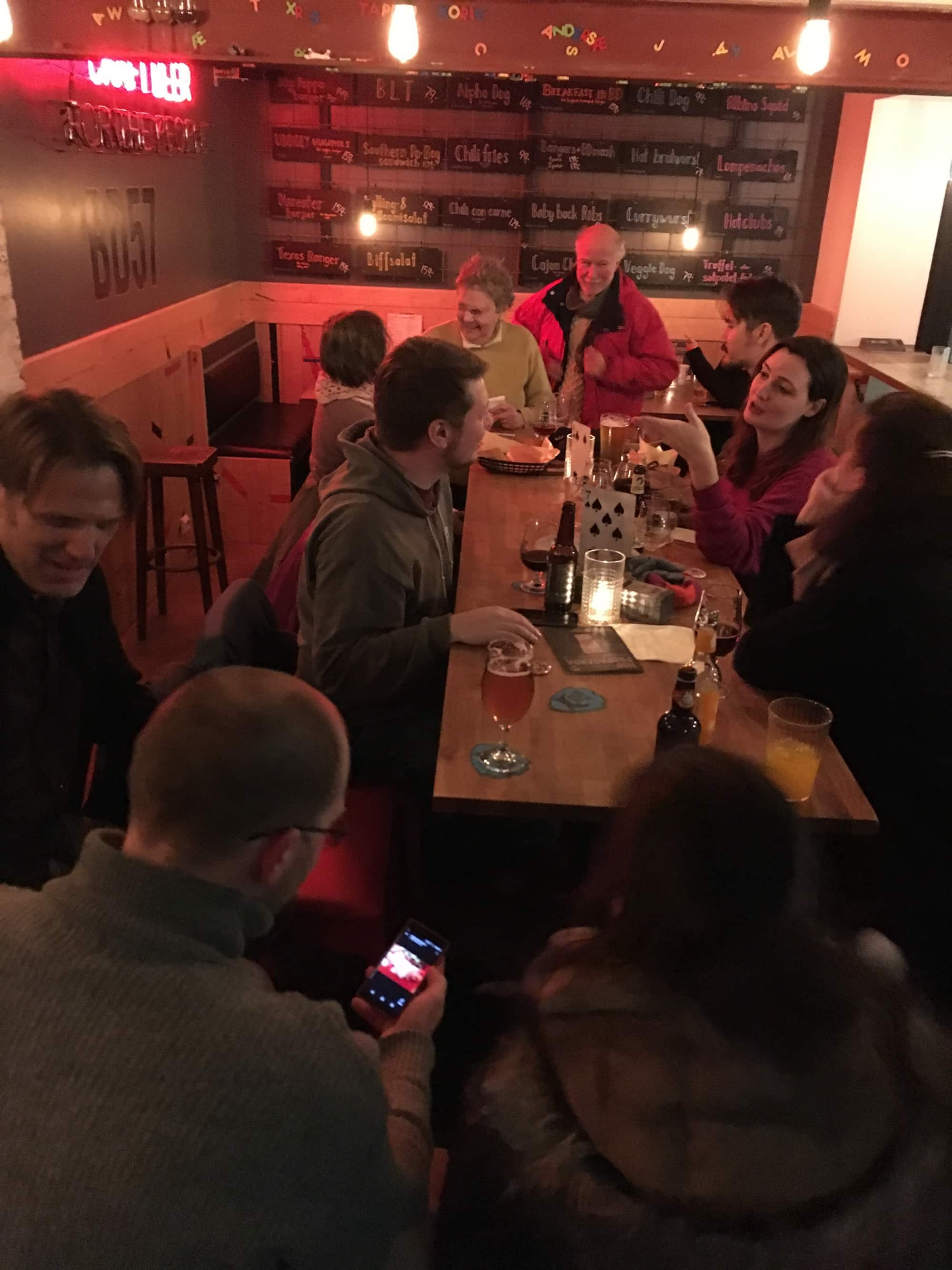 It's time to beat the drum and bring in votes for the 2018 midterm elections. Make sure you register to vote today! And if you know an American abroad who doesn't think his or her voice matters in these dark days, please put them in touch with us. We aren't just out to right the wrongs; we act locally to make the world a better place. Together, everything feels possible.
Once again, the Women's March has caused me to meditate on a single word: swarm.
Republican politicians use "swarm" to denigrate immigrants, for example. For them, swarm implies a hoard, an unstoppable wave of vermin, disease, decay, termites hollowing out the foundations of their homes, "takers" and "leeches" and "welfare queens" and all the rest.
(As an immigrant myself, I would take offence at this idea… but I don't have the time. I'm working too hard, paying taxes, and gratefully contributing to a society I admire. You know, the way immigrants do.)
So, let's look at the word "swarm" again. As a murmuration.
Mary Oliver described it this way:
dipping and rising;
they float like one stippled star
that opens,
becomes for a moment fragmented,
then closes again...
For some, it's hard to quantify the achievements of the Women's March. But the anniversary reminded us not to underestimate the mighty beauty of the swarm. Determining the definition of words like this one is up to us. Republicans may be the ones with the bully pulpit, but we're the ones with the bullhorn. And we know that a swarm can also be a murmuration. 
When a stippled star opens and closes like that, it contains enough power to blow a hole in the universe.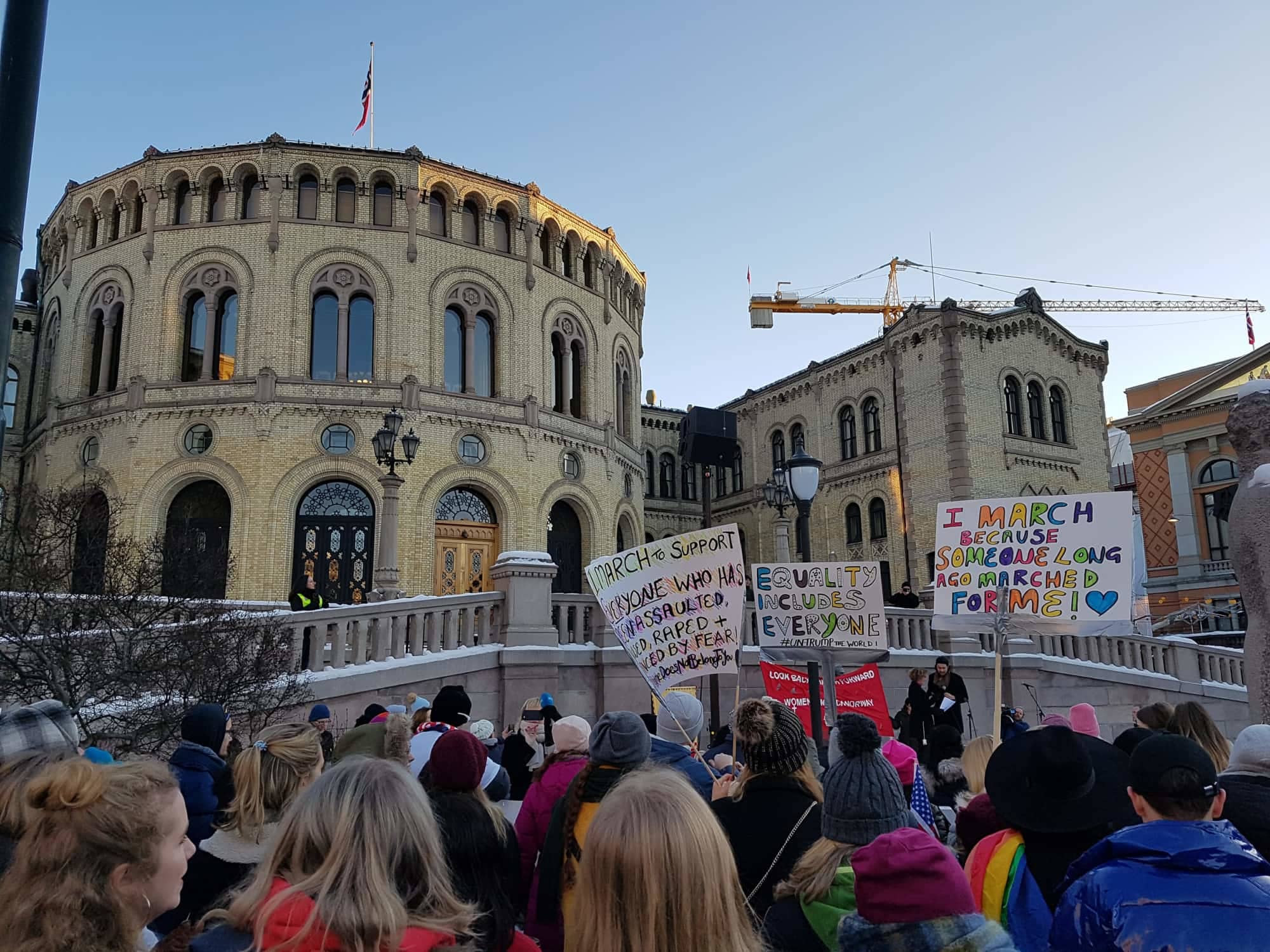 I'll close with the words of another poet who made good use of the bullhorn at the rally in New York City this weekend. "Castle" singer Halsey (23) knocked the wind out of everyone listening:
What do you mean, this happened to me?
I'm supposed to be safe now. I earned it. It's 2018,
and I've realized that nobody is safe 'long as she is alive,
and every friend that I know has a story like mine,
and the world tells me we should take it as a compliment.
It's Olympians and a medical resident
and not one f*cking word from the man who is president.
It's about closed doors and secrets and legs and stilettos,
from the Hollywood Hills to the projects and ghettos…
Listen, and then yell at the top of your lungs.
Be a voice for all those who have prisoner tongues.
-- Halsey, Women's March 2018 -- 
Do you like this post?