Table of contents: 
Online Town hall event on June 24th at 8pm
Online Action Meeting - MONTHLY ON 4TH THURSDAY 8:00-9:30
Online Speakeasy - MONTHLY ON 2nd THURSDAY 7:00~9:30
Call for volunteers to join DA Japan's slack
Vision for DAJ & Greetings from Chair Sarajean Rossitto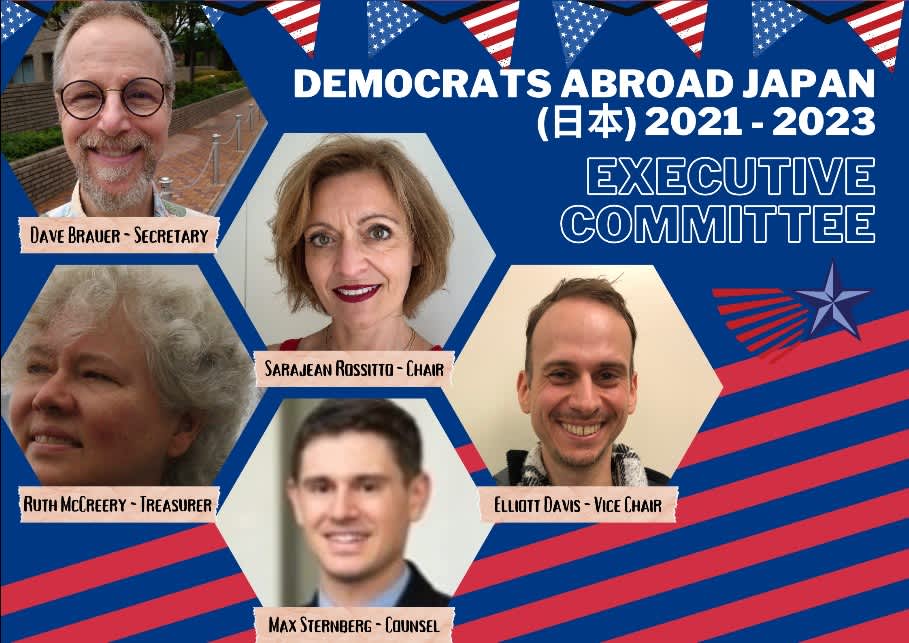 EVENT #1 DAJ TOWNHALL June 24, 8:00-9:30
We start our term with a Town Hall on June 24th at 8pm. (DETAILS AND RSVP HERE)  This will be a great chance to meet the national and chapter leadership, find out about the different teams in DAJ, and how you can get involved. There will be a chance to talk in small groups.  Bring your ideas to the table, be ready to join a team - Get out the vote, fundraising, events, communications, and more! Be ready to be part of this dynamic group!
DAJ ACTION MEETINGS - MONTHLY ON 4TH THURSDAY 8:00-9:30
The DAJ Monthly ACTION MEETING will be a 90-minute opportunity for presentation and discussion on  issues that matter to YOU. Each month we will focus on a different theme. We encourage DAJ members to bring their ideas to the table. An integral part of each meeting will be ACTIONS WE CAN TAKE. 
 DAJ SPEAKEASY MONTHLY ON 2ND THURSDAY 7:00~9:30
Despite the pandemic, DAJ has continued meeting every 2nd Thursday for The Speakeasy. Members from throughout Japan meet over drinks to discuss politics, news, or wherever the talk flows. Come hang out with your Democratic friends.    
INVITATION TO GET MORE INVOLVED, on the slack platform
Yes we have some challenges ahead, but this is an exciting time. I believe DAJ can be an instrument for empowering people to become agents for positive social change. We can't do this alone. Come join us on the leader and activist platform!  [email [email protected] for slack invitation]
Vision for DAJ & Greetings from Chair Sarajean Rossitto
The newly elected Democrats Abroad Japan (DAJ) executive committee is now up and running! I am excited to start this two-year term focusing on Democrats Abroad expanding DAJ's network throughout Japan.  Through community building, issues-oriented events, and hopefully in Fall, in-person public actions, we can build the DAJ community.  We will achieve this organically, and by working with and through like-minded organizations.  
As newly elected chair, I would like to use my know-how in program, and organization-development to build the capacity of future leaders.  These new leaders will lead campaigns and actions around their key issues.  We will also support chapters in Kanto, Kansai and Central Japan, through online and hybrid trainings and events. 
While my inclinations are on the progressive side, I recognize that the Democratic Party is a big tent.  I want to welcome all people who believe in democratic values and human rights to join us. Inclusion means everyone! 
Activating and building the membership is the only way we will have a chance in the midterm elections next year. There will be many close races, and 2022 will be tough, but we have this next year to reach out to our neighbors and networks and win in 2022.
Democratically Yours, 
Sarajean Rossitto, and the DAJ Executive Team
Do you like this post?