To add even another level of interest and excitement to our
Black History Month Event this Sunday Feburary 21st
, we will also be participating in the Global Town Hall, an opportunity for both the Clinton and Sanders campaigns to field questions from Americans living abroad. We will be incorporating our event into the Global Town Hall by asking the campaigns questions regarding race and Black history. 
 Participating in the Town Hall for each campaign will be: 
- Jake Sullivan, Hillary Clinton's top Foreign Policy Advisor, will join us from the Clinton campaign. Mr. Sullivan served as Secretary Clinton's Director of Policy Planning at the State Department. He also served as Vice President Joe Biden's National Security Advisor and was a main architect of the Iranian nuclear talks.
- Bernie Sanders has yet to confirm the exact person who will be speaking with us. 
So start thinking of questions you want to ask the campaigns, and join us on 
this Sunday
! 
Can't wait to see you there! 
---
Stevie Evans is a member of the Madrid Chapter of Democrats Abroad Spain. She has been a teacher and Activist after teaching in inner city schools in Oakland, California, which gave her first-hand experience of the issues that face people of color. Stevie is a panelist for the event, "All Power to All the People: Black Organizing from the Civil Rights Movement to #BlackLivesMatter" on Sunday, February 21 at 5:30 pm.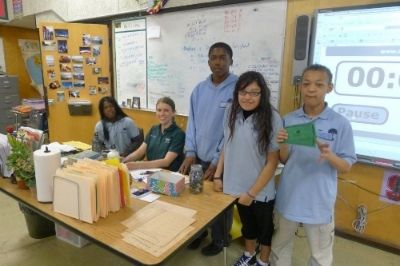 As a white person, I have benefitted from a long history of advantages that I was privileged enough to not fully recognize until I decided to unearth their roots. I am still digging to understand their reach to this day. For many years I had a feeling this was the case, but it was never so evident until I started teaching in a place like East Oakland, California.
It was in this community where I met the most resilient kids and adults I've ever had the honor to know. I saw first-hand their relentless struggle against poverty, violence, and institutionalized racism within the educational system, as well as the housing, financial, and the criminal (in)justice systems.
We're living in a time where in every indicator of success Black people are (still) underrepresented and in every indicator of risk they are (still) overrepresented. How can we continue to accept this? In the words of human rights lawyer Bryan Stevenson, "we cannot be fully evolved human beings until we care about human rights and basic dignity...all of our survival is tied to the survival of everyone." And that's what is at stake here; it's a question of survival.
The Democratic Party and our candidates need to understand the urgency of this issue and the history behind it. We must advocate for the kind of change we want to see in our country.
At our Madrid Chapter event on Sunday February 21st, I will be speaking about how racism still permeates within our educational system, the long-term effects this has, as well as what white people can do (as well as avoid) in order to be effective allies in this struggle. I hope to see you there.
For more information about this event and to get involved in the conversation, join the conversation on Facebook and Twitter.
---
Welcome to Democrats Abroad Madrid!
DA Madrid is a chapter of DA Spain, the official country committee for US Democrats living in Spain. Watch this space for upcoming announcements of meetings and events - we have events planned throughout the year, and encourage anyone interested in participating to get in touch.
If you have questions or would like to help with Democrats Abroad in Madrid, please contact us.
---