In the country committee elections this month, former Chair of Democrats Abroad Toulouse, Meredith Wheeler, was elected to the role of Vice Chair of DAF, specifically charged with Chapter Liaison.
Meredith remains on the local Toulouse Leadership group too--and indeed she was one of the founding members of the chapter in 2003 (we're celebrating our 15th anniversary). 
Her first opportunity to cast a vote as a member of the DA France team came last week in Washington D.C., at the Global Meeting of Democrats Abroad. She was part of a large delegation of DA France members who attended, led by the new DA France Chair, Ada Shen.
Here's the entire delegation: Front row--Meagan Lopez (Vice Chair of the Paris Chapter), Ada Shen (Chair of DA France), Meredith Wheeler (Vice-Chair, DAF)  Back row--Salli Swartz, Alex Rehbinder, Kaitlin Hickey, Joe Smallhoover (International Counsel for DA); Connie Borde (DNC member representing DA).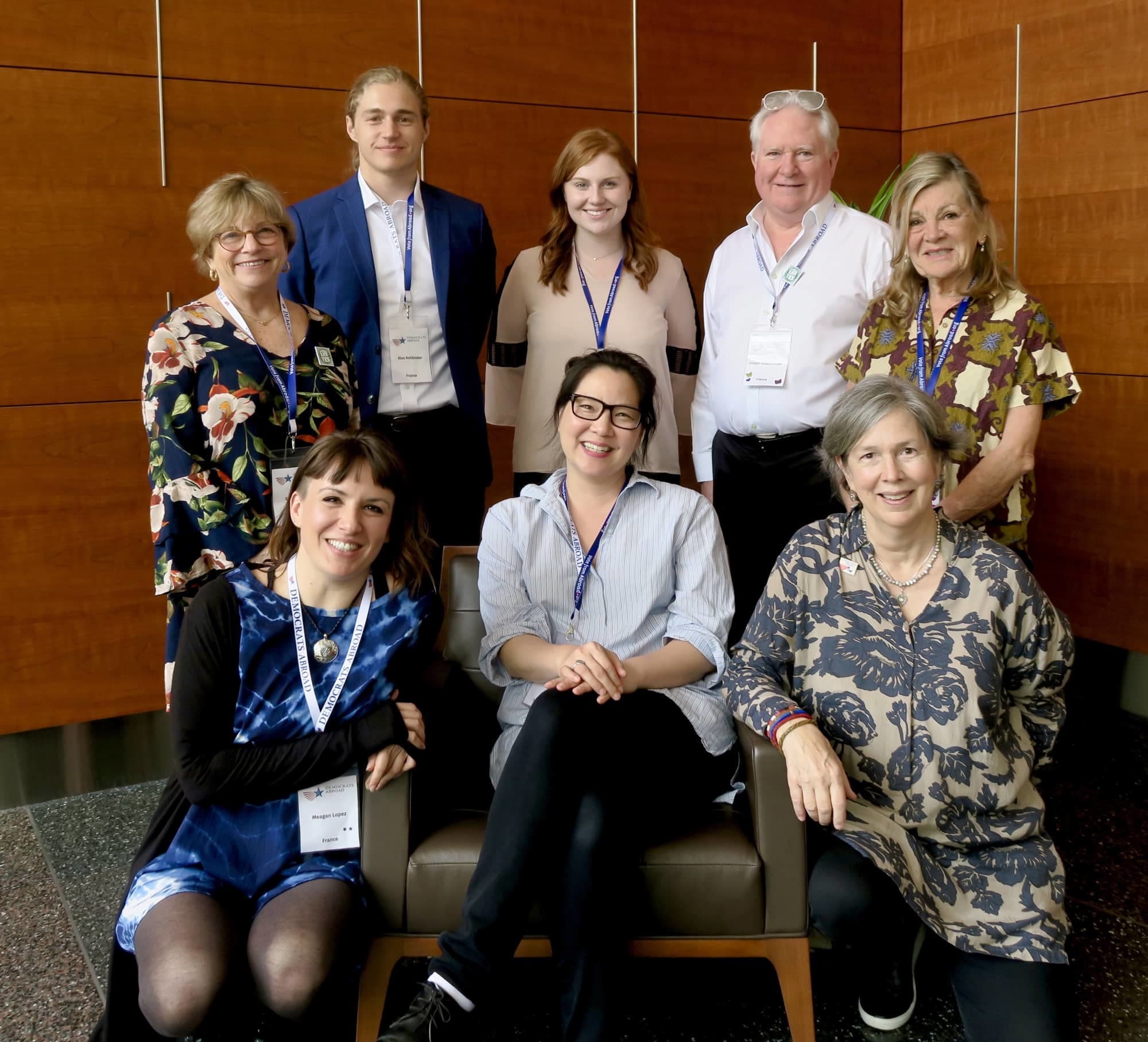 ---
Meet the 2019 Toulouse Leadership Candidates!
The nominations period for the Toulouse Chapter Leadership Elections has now closed. The candidates for Toulouse Chapter Leadership are listed below.

All members of DAF Toulouse may vote in the Toulouse Chapter Leadership elections, either by an early/absentee vote ballot they will receive via email (must be voted by April 5), or by attending the Toulouse Leadership Meeting on April 7. For information and to RSVP, go here. New members are welcome, to join Democrats Abroad go here. Must be a US citizen living overseas 18 years or older by November 3, 2020, participating as a Democrat.

---
Scott Stroud for Toulouse Chapter Chair
As one of the early members of the DA Toulouse chapter, I was active on the Toulouse ExCom from 2007 to 2017.  After a two-year break I am back and eager to work with Democrats Abroad as part of the Toulouse Chapter. 
I've been in Toulouse for over 31 years and am the father of two Franco-Americans.  I've worked at the Ecole Nationale de l'Aviation Civile for many years as an English teacher. 
Democrats Abroad has an important role to play in uniting, educating and motivating American citizens on issues that affect our lives and those of future generations in the U.S. and around the world.  And of course it goes without saying that we must work on our Get Out The Vote campaign over the next two years, registering more people than ever before, bringing in the votes from abroad to help Democrats win back the White House. 
It is an honor for me to offer my time and energy as Chapter Chair. 
---
Rebecca White Bordonado for Toulouse Chapter Treasurer
I moved to Tournefeuille in June 2000 from Tempe Arizona through my work at Motorola. In 2005, following a 20 year career as project manager in electronic product development, I became a business owner. Currently I provide training in Quality for Airbus as an independent training consultant and also work as a real estate negotiator for Valimmo in the Toulouse region.  My husband Bernard is a Toulousain, and our son John who was raised here is now living in California. An active member of DA Toulouse since 2004, I've served as membership secretary, Member at Large and Treasurer in the past.  Participating in DA allows me to meet Americans with similar values, work with them to elect Democrats, and have a voice in promoting progressive legislation.
---
Maria

Clemow

for Toulouse Member-At-Large
I was born in the in the US but spent much of my childhood in Ireland. I returned to the US for high school and college and registered as a Democrat when eligible to vote in 1964. The high point of my early political activity was joining the Civil Rights March in August 1963 and hearing Dr Martin Luther King Jr's famous speech. After graduating from Bryn Mawr College, I returned to Ireland to do a post-graduate degree in history and literature at Trinity College Dublin and then moved to Paris. In the 1970s my husband and I, with a small group, set up a commune in Wales to develop alternative technologies and lifestyle. In 1978 we returned to France and settled in the Gers. We restored an old farmhouse where I still live. I joined Democrats Abroad Toulouse in 2003, was Member-at-Large from 2009 to 2011, Vice-Chair from 2011 to 2013 and have been Member-at-Large since then. I would like to continue to do what I can to help in these most difficult times, so I am running again for Member-at-Large.
---
John Dahlburg for Toulouse Member-At-Large
John Dahlburg is a foreign correspondent, editor and writer. He and his wife Yvonne live in Toulouse, next to the Capitole, and met here 40 years ago when he was studying for a doctorate in law at the University of Toulouse.
His professional career has included postings in Paris, Moscow, New Delhi, Brussels and New York for The Associated Press and Los Angeles Times.
In 2013, as investigations editor for the South Florida Sun Sentinel, he and his reporting team received the Pulitzer Prize in Journalism for Public Service.
"In my work, I've striven for objectivity and non-partisanship," John writes. "It's been my privilege and pleasure to meet inspiring Americans of all kinds, Republicans as well as Democrats. But the challenge today to our political system, even our constitutional order, may be unprecedented. I believe it is time for all Americans to get involved politically and insist our laws apply to everyone, starting with the president. Congress and the courts must faithfully perform their constitutional role of checking and opposing all executive abuses of power."
A native of Orange, N.J., John is a graduate of Washington & Lee University and is registered to vote in Florida. In Toulouse, he has been appointed by the mayor to the Conseil Toulousain des Résidents Étrangers. He and his wife have two adult daughters.
---
Angela Victoria Shaw for Toulouse Member-At-Large
I am currently a dual-national Belgian/American residing in Toulouse, France since 2002. A graduate of the Harvard Law School class of 1975, I hold a Bachelors degree cum laude from Hunter College in political science and economics. Admitted to the New York State Bar in 1976, and currently retired from the practice of law.
Since Dems Abroad Toulouse was first founded, I have served the group in some leadership capacity and I will be happy and honoured if my service can continue if I am elected.
Currently an empty-nester with a 39 year old son, living and working in Singapore with his wife, Naambo Shivute and their two sons: Esaiah and Dominic. My 36 year old son lives and works in Bristol, England and is married to Michelle O'keeffe. My 31 year old daughter lives, works and is in her 1st year of law school at Columbia University. She and her husband, Warren Whyte have their PhD's from MIT.
My passion and commitment for my work and the black female diasporic community is only surpassed by my love and devotion to my family. I am married to my husband of 43 years, Georges Julien DeCock.
---
Suzette Tanis-Plant for Toulouse Member-At-Large
From a family with French-American roots since the early 1900s and from a long line of committed Democrats since the early 1960s, my voting residence is in New York State where I grew up. Since 1976 I have lived in France and since 2016 I have lived in Toulouse.
The 2016 presidential election triggered me to participate in party-based action. In 2017 I was elected to Democrats Abroad-Toulouse as a member-at-large and I participated in various ways. I helped organize demonstrations (The Women's March, the March for the Environment and the public outcry for Keeping Families Together). I disseminated DA-Toulouse messages by radio and TV news programs. I did logistics at activities such as the conferences of guests. I made signs and arranged food to celebrate our wins after the mid-term elections. I attended almost all the executive committee meetings and thereby took part in party decision making.
Being a member-at-large fits well my availability as there are periods of time when I am out of town. As a renewed member-at-large of Democrats Abroad - Toulouse I would continue in much the same way, helping the Democratic party transform its objectives into lived experiences.
---
Meredith Wheeler for Toulouse Member-At-Large
Hi! I've been an active DAF member for 16 years from my home in the Tarn (near Toulouse).
The Toulouse Chapter was the second to be formed in France in 2003, and I'm proud to have been one of the founding members and original Chairs.
Our main goals are to help Americans register and VOTE in the vital US elections.
Events I helped organize over the past two years include a Gun Control vigil (in the rain) in Place du Capitole, after the Florida school shooting; a #MeToo gathering; special guest lectures by authors Marjorie Spruill and Jen Schradie; film outings, Earth Day potluck lunch and solar power talk; and an Obama Birthday Party!
Stanford class of '74, I worked many years for ABC News in New York and London, writing for Peter Jennings, Barbara Walters and Sam Donaldson.
I serve now as admin on the DAF and DA Toulouse Facebook pages.
Originally from Northfield, Illinois, I vote in Manhattan.
I am also running in the DAF countrywide elections (as opposed to the chapter level) for the Vice-Chair responsible for chapter development.
I'm married to British actor and cookbook author, Robin Ellis and we live in the Tarn.
---
photo by chantrybee
Welcome to the Toulouse Chapter of Democrats Abroad France!
We're a friendly group and we welcome new members—either new arrivals to the region or longstanding Americans residents who wish to remain active and informed voters.
DA Toulouse has a book club that meets roughly every quarter. We run various events from tax seminars to guest speakers and film screenings. When events call for it, we organize demonstrations or marches. In the past that included a Women's March, Earth Day event, Science March, Gun Control demonstration—and we honor important events—such as Martin Luther King's "I have a Dream" speech and World War military commemorations.
We are open to new ideas and invite you to join us!
We have an active Facebook page and Twitter feed.
Please take a look and make contact with us! 
---