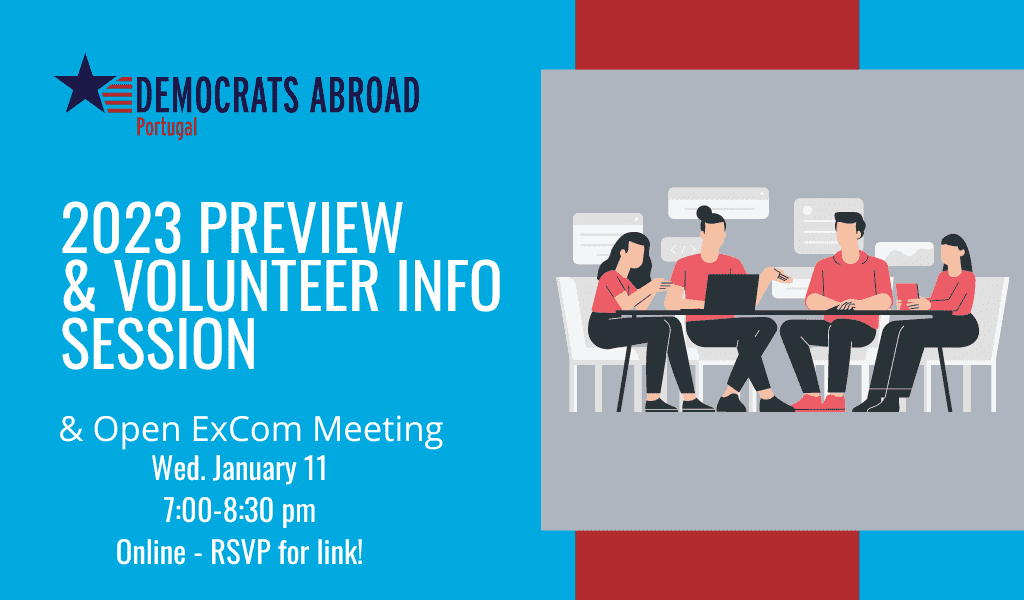 As we enter into the New Year, we want to thank you, our members, for DA Portugal's incredible success in 2022, and invite you to look ahead with us at 2023 and beyond!

As of November 2022, DA Portugal was the WORLD LEADER among Dems Abroad country committees in
the percentage of ballot requests as a percentage of membership number, at 113%
the percentage of our members tagged as having requested their ballots, at 51%
membership growth, at 42%
Thanks to our amazing, hard-working leaders and members, we were able to make a difference and get out the vote among Americans in Portugal, contributing to the Democrats' historic midterm success! 

We want to keep the momentum going in 2023 and on into 2024, and we need our members help to do it. Those who've attended events or volunteered can confirm that being involved in DAPT is a great way to make friends while making a difference!

Please join us on January 11, 7 pm, for a preview of 2023 and learn more about DA Portugal, our organizing team, and how you can be part of this fun and successful group!
We will be holding elections to fill our Executive Committee member positions in March 2023, and are looking for people who want to step up and help out. We'll explain more about these positions and the election process at this meeting.
We are also looking for folks all around Portugal to pitch in and help with:
organizing and helping with local events
getting trained on DA's tech tools to host meetings, post to website, etc.
helping with PR and social media
GOTV - getting out the vote
outreach to new members
helping organize volunteers and volunteer teams
local/regional point people
organizing speakers and programs, online or in-person
fundraising
serving as liaisons to DA's global caucuses (LGTBQIA+, Hispanic, Black, AAPI, Veterans, Disability, Seniors, Environmental, Women's, Youth, Progressive)

If you are even a little bit curious about how you can contribute, please attend this virtual meeting to learn more. We are looking forward to another successful year, but we can't do it without you, our members!

Can't make the meeting but interested in learning more? Just email DAPT Chair Kristi Espineira or one of our other ExCom members (listed below) for more information.

Please RSVP to receive the login information.