Democrats Abroad Hamburg Political Book Club Meeting at
Mathilde, Literatur und Café, 4 June 2017
Hillbilly Elegy by J.D.Vance
Even after nearly three hours of discussion, the important themes and lessons learned from Hillbilly Elegy were not yet exhausted, but we were!  J.D. Vance´s autobiography is direct, shocking, graphic, heartwarming, optimistic and depressing by turns, but without a doubt, worth reading.  It offers an illuminating comparison to our last book, Joe Bageant´s Deer Hunting with Jesus, written more than ten years earlier, but dealing with the same regional sub-culture, descendants of Scots-Irish immigrants who settled in the Appalachians in the 18th century.  Both authors detail the vicious cycle of violence and self-destructive behavior, unemployment, alcohol and drugs that plague these "hill people", who are nonetheless fiercely devoted to their kin and culture.  "Our elegy is a sociological one, yes, but it is also about psychology and community and culture and faith," writes Vance.
Bageant´s book was divided into chapters that dealt with themes aimed at offering prescient policy tips to Democrats and trying to explain this largely overlooked population who many years later, catapulted Trump to victory.  Vance, on the other hand, illustrates his lessons learned by detailing the story of his life:  coping with his mother´s five husbands, constant moves and drug addictions, plus his birth father´s retreat into evangelicalism.   Along the way he helplessly observes the increasing isolation and disintegration of this working class community.  It is only a stint in the marines which breaks the seemingly downward spiral of his life because it instills in him the discipline and self-respect required to take control of his destiny.  In the end, both authors managed to escape their seemingly predestined fate in a "world of truly irrational behavior" as Vance puts it, in the only way they saw possible—by leaving—with all the conflicting emotions that entailed.
Now a Yale law school graduate, Vance credits his grandmother with providing the only constant support and stability in his troubled youth, plus a certain amount of luck in finding guidance at crucial stages of his life, with pulling him from the abyss which enveloped so many of the people he grew up with.  It is a fascinating story, made all the more poignant today by the fact that these people who feel abandoned by politicians, distrustful of the news media, and jealous of elites, are nevertheless the ones who propelled Trump into office in the Rust Belt states.  We had to ask ourselves if it is at all possible to overcome the gap that separates us; to develop policies locally that address their specific problems; to find democratic candidates that they can relate to—that look like them and talk like them.  We all agreed that local government and social services had largely failed this community, and that most were never given the tools to succeed in schools lacking well trained teachers and counselors who could prepare and motivate students first for life, and then for further education whether it is college or vocational schools, and compensate for a lack of role models in the community.  A mixture of students—from every economic class—would also be helpful in this regard.
Democrats, for their part, must engage in local politics and a listening tour, although Vance insists that in the end, it is his hillbillies who should stop blaming the President for their problems and start trying to do something themselves.  Also suggested, by our group, was the idea of developing a civilian corps which deploys trained locals to help others from their communities to solve problems of infrastructure, job retraining, even parenting, without taking away their pride.  Vance himself has recently given up his comfortable life in California to return to Ohio to start a non-profit organization to help the people he identifies with to get ahead in life just as his wife and kindly mentors enabled him.  "Public policy can help, but there is no government that can fix these problems for us" he concludes.
We hope to schedule another meet-up this month for those who could not make it and because there is still so much food for thought in this book even for those of us who met this weekend.  Please join us!  (Mail us at [email protected] and we will notify you when a date is set.)
Article and photo by Maryann Schmunk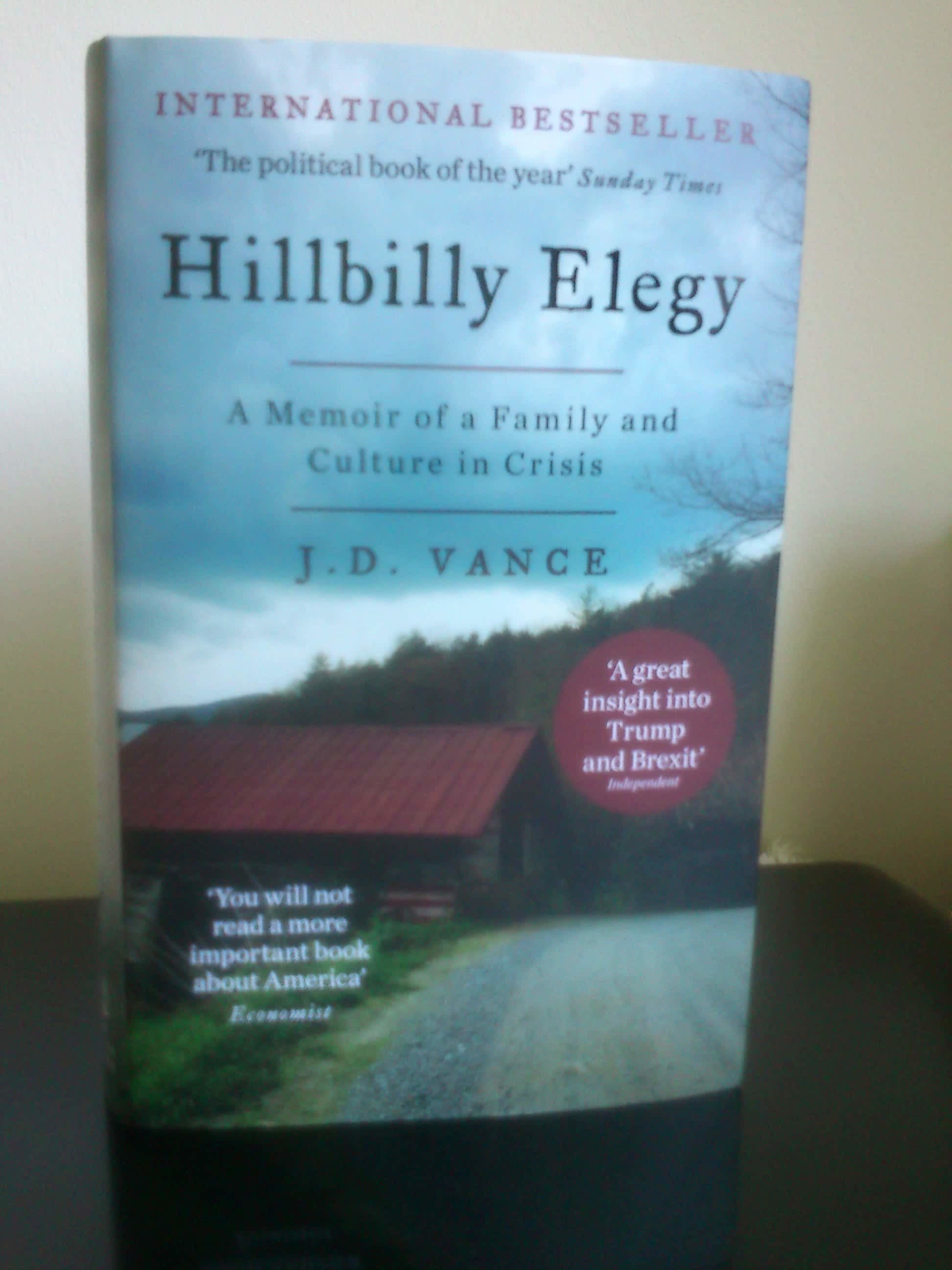 Do you like this post?