Meet Chet Durnal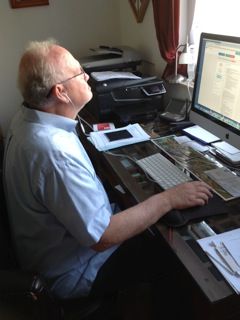 Member of DAG, Stuttgart Chapter
"DA is one of the few ways that the issues facing Americans living abroad can reach our representatives."
One of the first things Chet did when he and his spouse returned to Germany in 2010 was to join DAG. They retired in 2013 and now live at Lake Constance, working as a Stuttgart Chapter "field office".
He signed up with the Democrats Abroad Get Out The Vote efforts and volunteered to help with Phone Banking because "I will do anything I can to insure that Donald Trump does not become president. Also, "down ballot" Republicans need to be removed."
Chet found that some people called said that they will not vote. "This bothers me because veterans, including my spouse, fought for our right to vote. I don't get into a discussion with the non voters because we still need their support. I feel all should at least register or check their registration."
Phonebanking is the most effective tool to get out the Democrats Abroad vote and to clear up some misconceptions. For example, some think that when they registered for the DA Global Presidential Primary in March, they had registered for the General Election as well. But this is not the case. For the General Election every American must register in his or her home state and apply for an absentee ballot.
Join Chet in making some calls every day! Join the DA Phone Banker team: http://www.democratsabroad.org/voter_support_Team
Do you like this post?