We hope this newsletter finds you re-energized after a summer spent relaxing with family and friends and recharging your batteries. Today, as the United States celebrates Labor Day, let's pool our energy and enthusiasm to recommit to uplifting the working people who built our country. 
Democrats Abroad Germany has many opportunities for you to get involved this fall. Find out more below!
---
DON'T MISS OUT ON OKTOBERFEST


On Sunday, October 1, 2023, Democrats Abroad Germany will be hosting its 15th annual Oktoberfest fundraiser in Munich. The weekend is shaping up to be an exciting one, with Democrats Abroad members from all through Europe descending on Munich to explore the city, have a beer or two, and raise funds to get out the vote.
Get your tickets now to meet up in the gallery of the Schottenhamel tent and meet other DA members from near and far. This is our biggest and most important fundraiser and our Fundraising team has put together another fantastic weekend, so please consider celebrating with us!
Tickets are selling fast for this fantastic event, so get yours now! 
---
FILM SCREENING IN FRANKFURT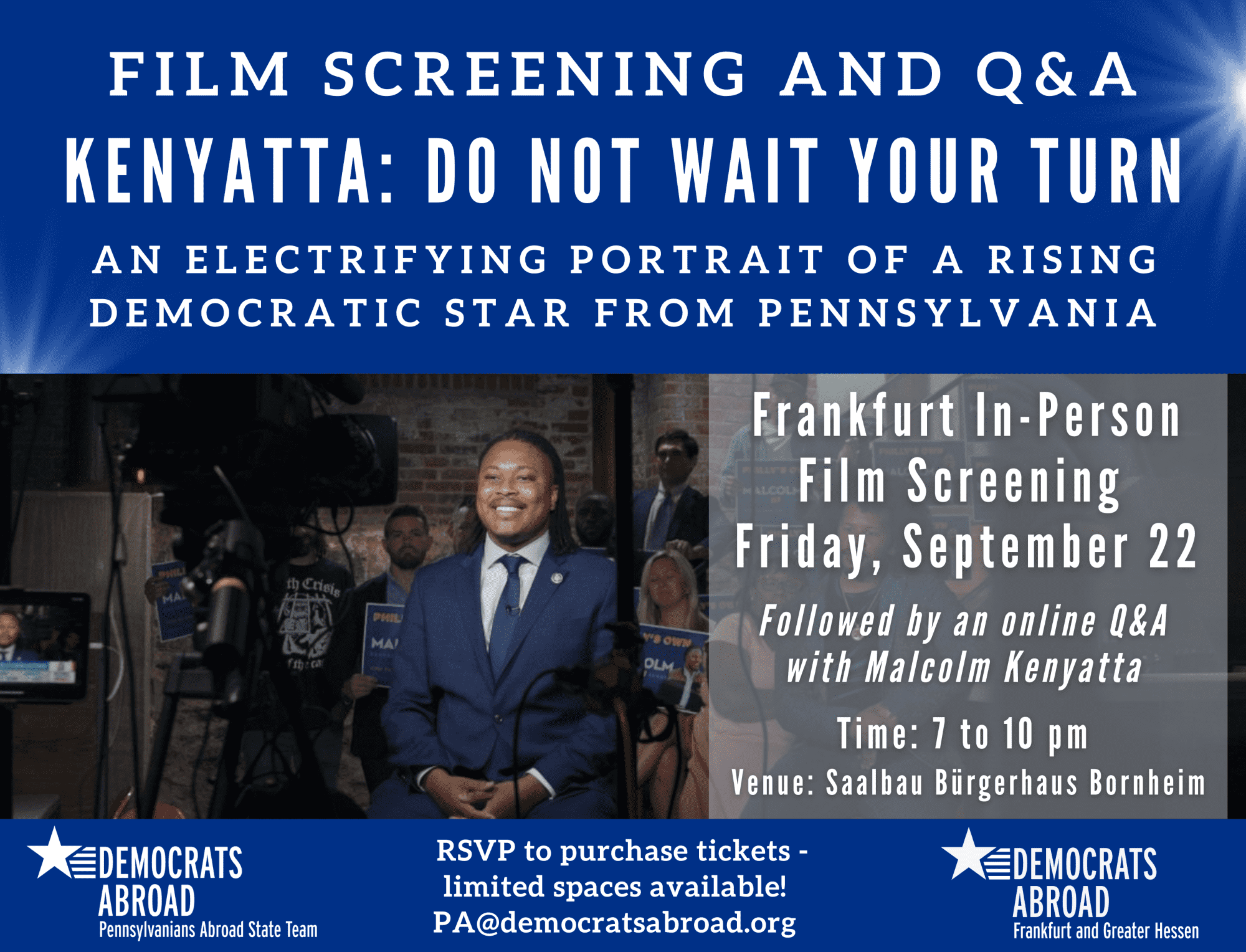 KENYATTA: DO NOT WAIT YOUR TURN FOLLOWED BY AN ONLINE Q&A SESSION WITH MALCOM KENYATTA
FRIDAY, SEPTEMBER 22 
The Frankfurt Chapter of Democrats Abroad Germany is hosting an in-person screening of the documentary "Kenyatta: Do Not Wait Your Turn", which offers an electrifying glimpse of the next generation of political leadership in America.
After growing up as a member of the working poor in Philadelphia, Malcolm Kenyatta demonstrated his talent as a community advocate before becoming the first openly LGBTQ person of color ever to be elected to PA's General Assembly when he was just 22.
The follow-up Q&A session will be attended online by both the filmmakers and State Rep. Kenyatta.
This event is co-sponsored by the Pennsylvania State Team and the Global Black Caucus, with screenings being held in Toronto, Frankfurt, and London.
---
CALL FOR RECIPES FOR OUR DAG COOKBOOK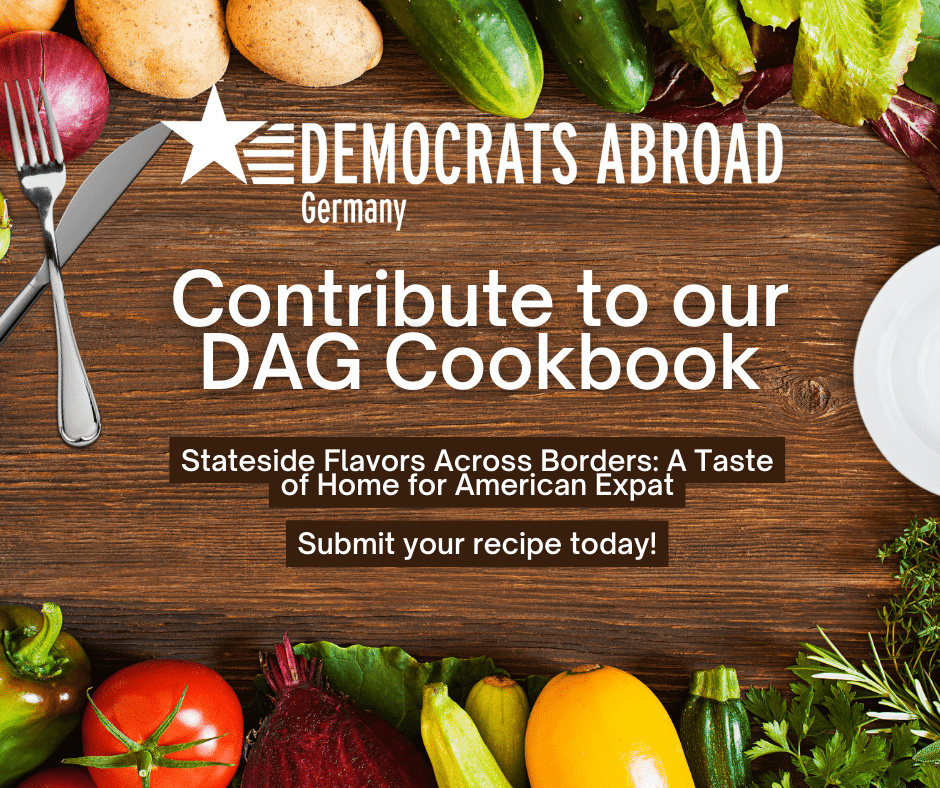 Our Advertising Coordinator Angela Fobbs put forward the fantastic idea of compiling a cookbook of recipes from our members and selling it as a fundraiser to help us get out the vote. The idea is to collect American recipes from our members (modified for use with German ingredients if necessary) and make the book available for sale. 
Recipes for your grandmother's potato salad, your own favorite vegan brownies, or anything near and dear to your heart are needed! No recipe is too simple or too fancy to include. Please consider taking the time to help us out so we can make the best and most helpful cookbook possible.
Now it is up to all of us members to submit our recipes using this Google form:
---
BECOME A SUSTAINING DONOR
The support that our sustaining donors provide each month allows DAG to reliably plan how to use our resources best to get out the vote. Budgeting for our advertising, tabling, and outreach efforts in the run-up to the 2024 election is currently underway, and recurring monthly donations are extremely helpful, so please consider becoming a sustaining donor today.
---
OTHER UPCOMING EVENTS
DÜSSELDORF/RUHR: Blue Table Society dinner club for a night of good food and interesting company.
WIESBADEN/MAINZ: Chapter Dinner with special guests DA Germany Chair Kenton Barnes and DA Germany Vice-Chair Emily Lines. Saturday, September 16, 7:30 PM
BERLIN: Political Pub Night on Wednesday, September 20, 7 PM
COLOGNE-BONN: Innagural meeting of the Cologne-Bonn book club, reading "Who Cares" by Emily Kenway. September 23, 2 PM