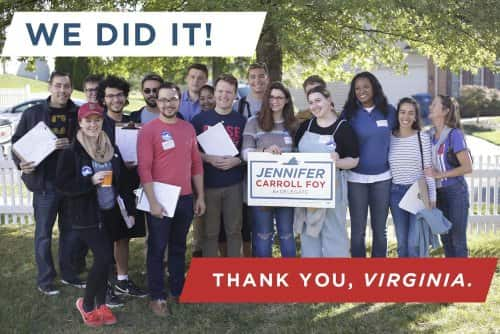 Congratulations to all the amazing, newly-elected candidates from across the country. There are so many reasons to celebrate the election results from November 7, including seeing a victory for Jennifer Carroll Foy (Virginia House of Delegates, 2nd District) who Democrats Abroad China supported through the Sister District Project. Foy also gave birth to premature twins, who only came home from the hospital days before the election - talk about a super woman!
"When you try to spread racism and xenophobia and sexism and misogyny, this is how we respond! We sent a huge message. Trump has heard us, and he has heard us loud and clear!"
 - Jennifer Carroll Foy, Virginia House of Delegates member-elect for the 2nd District.
Democrats are also celebrating these victories:
Virginia and New Jersey governor
Virginia and New Jersey lieutenant governor
Virginia attorney general
Control of Washington state senate
Expanded Medicaid coverage in Maine
Virginia house seat for Danica Roem, the state's first openly trans legislator
Minneapolis city council seat for Andrea Jenkins, the first openly trans woman of color to serve
Virginia house seat for Chris Hurst, who ran on a platform of gun control following his girlfriend's on-air murder
Philadelphia district attorney seat for Larry Krasner, a civil rights lawyer who sued the city's police department
Georgia's 117th & 119th districts *FLIPPED*
Mayor of Charlotte, NC, the first African-American female to serve
Mayor of Manchester, New Hampshire, the first female to serve
Mayor of Hoboken, New Jersey, the first Sikh American to serve
Mayors in Boston and NYC *HELD*
Untold city council, school board, parks board, etc. races across the entire country, inspired to stand up and do something by the 2016 election.
Thank you to all the Democrats Abroad China voters and volunteers who made this happen! We couldn't have done it without you! 

Do you like this post?