Democrats Abroad Sweden participated in the Rock the Vote event sponsored by the Hard Rock Cafe, The American Club of Sweden and the US Embassy. Ryan Roxie of Alice Cooper and Greg Poehler of Welcome to Sweden fame were the evenings special guests.  Approximately 80 people registered to vote including many first timers. A special thanks to our DA Sweden volunteers who made the evening a resounding success!
Pictured below our outstanding Communications director Suzanne and Ryan Roxie
---
Welcome to the Democrats Abroad Presidential  Primary
You can vote in person at these locations:
Stockholm:   Tully's Coffee,  Götgatan 42, 11826 Stockholm
Thursday, March 3rd from 17:00 to 20:00
Saturday, March 5th from 12:00 to 17:00
Gothenburg:  Starbucks at Central station
Tuesday, March 1st from 15:00 to 19:00
Sunday, March 6th from 14:00 to 18:00
Halmstad:  Halmstad Central Library, Klarasalon, Axel Olsons gata, 30227 Halmstad
Wednesday, March 2nd from 16:30 to 19:30
Uddevalla:  Uddevalla Rådhuset, Kungsgatan 25-29 (on the square) Uddevalla
Saturday , March 5th, from 11:00 to 15:00
  
---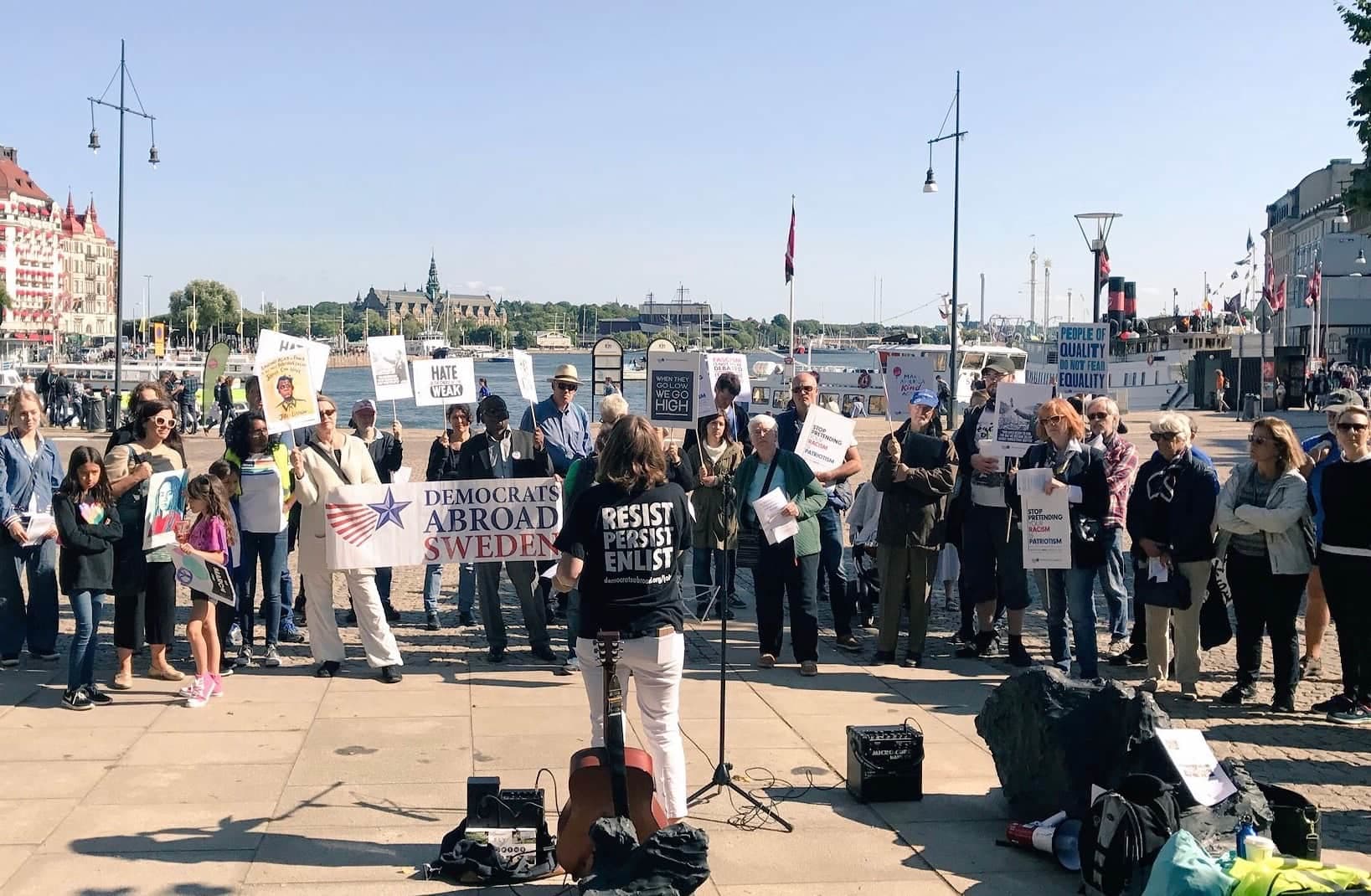 Democrats Abroad Sweden holds a rally to unite against hate in Stockholm, Sweden on Aug 26th, 2017
Democrats Abroad Sweden is the local volunteer organization for U.S. Democrats living in Sweden. Our mission is to register U.S. citizens to vote and Get Out The Vote in Federal Elections. 
We are a grassroots organization, and our members live throughout Sweden. We have great local chapters in Skåne, in Western Sweden, and in Stockholm-Uppsala.
2017, 2018, and 2020 are going to be big years for Democrats, so please get involved with your local active chapter or contact us to set up your own local chapter.
Members may access country committee bylaws and meeting minutes here: https://wiki.democratsabroad.org/x/HgDr. To receive the access information, just send a note to info-sweden@democratsabroad.org.
For regular updates, follow our page on Facebook at: https://www.facebook.com/dasweden
---