Asia Pacific Phonebanking training and practice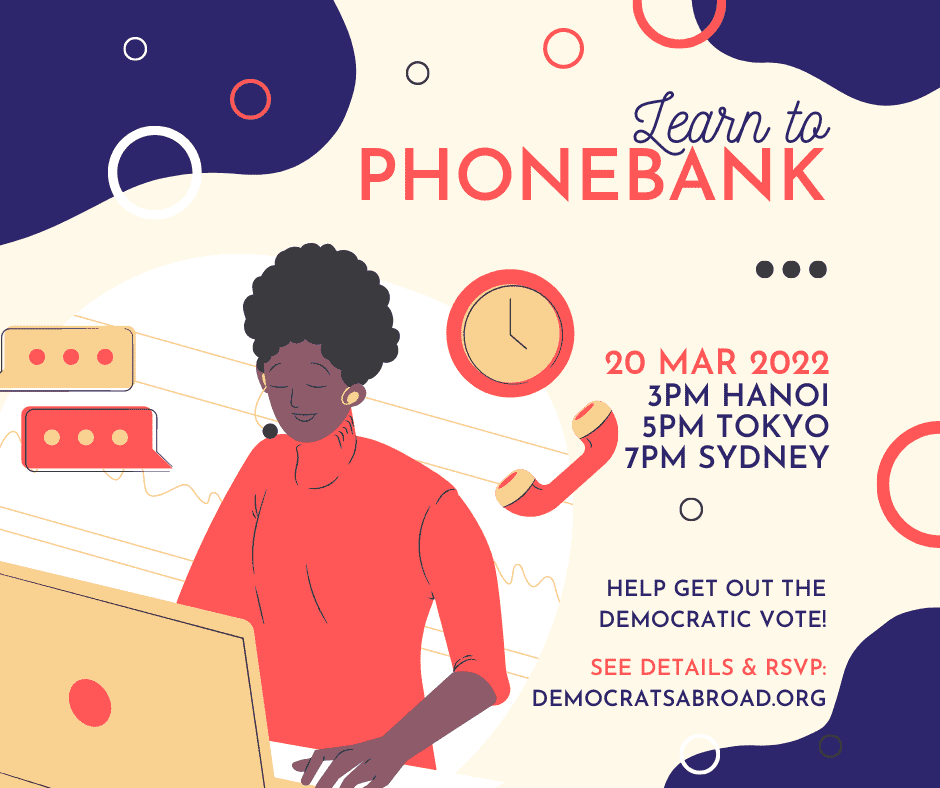 March 2022 Trainer: Layne Mostyn, DA Australia
Phonebanking is one of the easiest and most effective ways for us to turn out the DA vote in Asia Pacific and around the globe! Join our phonebanking training to call Democrats Abroad members.
After this session, you'll be ready to join in on current campaigns and phonebank from the comfort of your own laptop.
If you've attended a phonebanking training but want a little support, come along and practice with others.
What will we do:
The first hour will be devoted to training participants on the in's and out's of phone banking.
The second hour will be focused on practice => Build your confidence and jump right into phone banking!
Sun March 20 => Asia Pacific Local Times (if incorrect, PLEASE let Sarajean know)    
- Auckland: 9pm
- Sydney: 7pm
- Brisbane 6pm
- Tokyo/Seoul: 5:00pm
- Bali/Perth/Hong Kong/Beijing/Taipei/Singapore: 4pm
- Hanoi/Bangkok: 3pm
- New Delhi: 1:30pm
- West Kazakhstan 1pm
WHEN
March 20, 2022 at 5:00pm - 7pm Tokyo Time
CONTACT
Sarajean Rossitto ·
Who's RSVPing
Do you like this post?