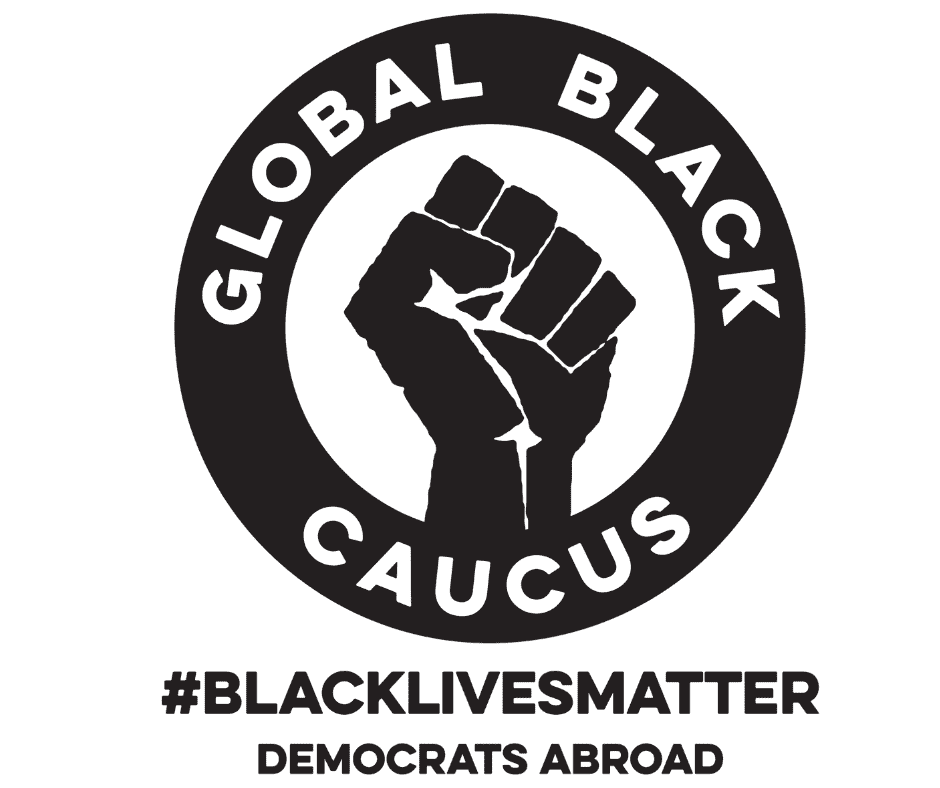 We are excited to be in the midst of organizing a Democrats Abroad Canada Black Caucus (DACBC). To get this initiative started, we have arranged our first meeting in order to introduce our members to the Canadian Black Caucus, which will be part of the Democrats Abroad Global Black Caucus (DAGBC). Joining us on Zoom will be Angela Fobbs, Chair of the DAGBC. Following her presentation we will have a Q&A session. We invite all members and allies of the Global Black Caucus and interested Democrats Abroad Canada members to attend to learn more about this committee.
And, to facilitate our search to find a Chair to lead the (Canadian) Caucus, we are reaching out to our members who may be interested in Chairing this caucus. If this interests you, kindly send a short email to the hosts informing us of your interest at least one week prior to our first meeting and we will email you a form to fill out.  At our 2nd meeting on Zoom, each candidate will be allotted a 10-minute presentation. This will be your opportunity to inform the members as to why you would like to Chair this Caucus, as well as share relevant information about your background and experience in leadership positions.
We hope you are available to attend our meeting on Zoom, which will be hosted by Democrats Abroad Canada members, Paulette Kelly and Larry Rousseau. Paulette and Larry, have volunteered to host the meetings until the Chair is elected.
For your perusal, attached is information about the Democrats Abroad Canada Black Caucus.  We look forward to communicating with you.
You must RSVP for this event to receive the Zoom access details. If you have questions please send an email to Paulette and Larry.
Kind regards,
Paulette Kelly and Larry Rousseau  
***********************
The Democrats Abroad Canada (DAC) Black Caucus (DACBC) is made up of DAC members of all ethnicities in Canada who are willing and able to advocate on issues important to Black Americans within the United States of America and those living abroad. All DAC members are eligible to join the DACBC. We advocate for laws, policies, and programs that improve the lives of Black Americans and educate all people on the humanity of Black people.
People of visible African descent have been in what we now know as the United States of America since 1619, long before many ethnic groups who are now considered to be White. Black Americans were essential to building America. Without Black people, the greatness of America would not be possible.
Today, Black Americans are in all walks of life and are 13.3% of the American population[1]. By 2060, the projected black population in the United States will be 74.5 million, with a predicted median black wealth as of 2053 of zero and a current median White wealth of $116,000.
According to the Voter Participation Center, from 2012 to 2016, Black voter turnout dropped by 4.7% overall[2]. Black voter turnout is essential for Democratic election victories. Therefore, it is necessary for Democrats to identify and focus on those issues close to the hearts of African Americans and other minority voters.  In general, voters do not turn out unless they feel included, listened to, and excited. It is important that DAC  have a caucus that directly addresses the issues of Black Americans. Thus, the DACBC will produce and disseminate political content which bears witness to the ever-unfolding international history of the Black American reality. Black Lives Matter!
The purpose of the Democrats Abroad Canada Black Caucus (DACBC) 
is to provide a forum for all DAC members to better understand the issues and concerns affecting Black Americans, to help eliminate unconscious bias within the DAC membership and in America, to help engage with Black voters living abroad and ensure that their needs are met within the DAC community, and, where needed, to advocate for reforms to political issues. We encourage and facilitate Black Americans abroad to engage, become informed, and exercise their voting franchise.
MISSION STATEMENT
To support and defend the Constitution of the United States against all enemies, foreign and domestic[3]
To support the goals and ideals of the Democratic Party and Democrats Abroad
To encourage voting in every eligible U.S. election by as many Black Americans abroad and Black Caucus members as possible
To advocate on issues of concern to Black Americans
To be a voice for U.S. citizens living abroad
To support campaigns of Democratic candidates aligned with our interests running for elected office in the U.S.
To work with other teams within DA to further our joint goals.
[1] "QuickFacts." U.S. Census Bureau QuickFacts Selected: UNITED STATES, United States Census Bureau, 1 July 2016, www.census.gov/quickfacts/fact/table/US/PST045216.
[2] Fraga, Bernard L., et al. "Analysis | Why Did Trump Win? More Whites - and Fewer Blacks - Actually Voted." The Washington Post, WP Company, 8 May 2017,www.washingtonpost.com/news/monkey-cage/wp/2017/05/08/why-did-trump-win-more-whites-and-fewer-blacks-than-normal-actually-voted/?utm_term=.c54e479ea009&wpisrc=nl_politics&wpmm=1.
[3] In these times where assaults on the constitutional rights are routinely taking place and there are many forces who are actively working to call a constitutional convention and change our rights, it is important that every American defend our constitution not just those who work for the government.

WHEN
August 08, 2020 at 2pm - 4pm Eastern Time (US & Canada)
Who's RSVPing
Do you like this post?