Welcome and thank you for visiting the Democrats Abroad Global Black Caucus page.
The Democrats Abroad Global Black Caucus (GBC) is made up of DA members of all ethnicities from around the world who are willing and able to advocate on issues important to Black Americans within the United States of America and those living abroad. All DA members are eligible to join the GBC. We advocate for laws, policies, and programs that improve the lives of Black Americans and educate all people on the humanity of Black people.
The purpose of the Global Black Caucus is to provide a forum for all DA members to better understand the issues and concerns affecting Black Americans, to help eliminate unconscious bias within the DA membership and in America, to help engage with Black voters living abroad and ensure that their needs are met within the DA community, and, where needed, to advocate for reforms to political issues. We encourage and facilitate Black Americans abroad to engage, become informed, and exercise their voting franchise.
---
News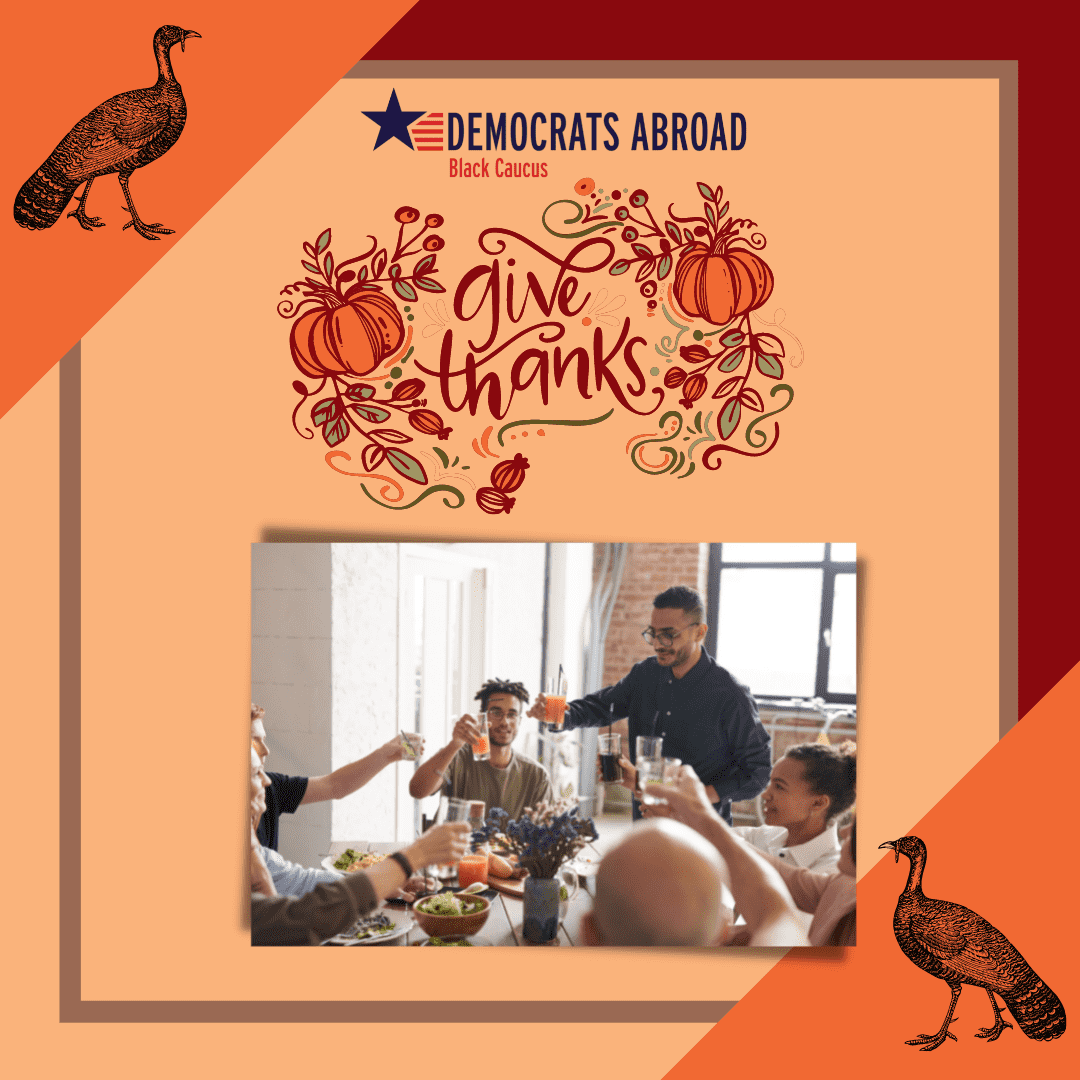 Dear Brothers and Sisters, Allies and Volunteers, Family and Friends, Democrats Abroad...
I want to wish you a Happy Giving Thanks Day and reassure you that we do have cause to be thankful. 
We as Black Americans understand clearly the myths that were perpetrated about the first Thanksgiving. Still, we celebrate this day as a day to recall our successes during the year, offer gratitude and spend time with friends and family.
I am very thankful for the warm embrace and support given by the GBC Membership and beyond. I am very thankful to all of the great work which is accomplished every single day by our talented and committed volunteers and I am very grateful to have such an amazing Global Black Caucus Steering Committee, which is spread across the whole world and which brings an infinite resource of knowledge and experience to the table, believing in our GBC-Mission to Build and Strengthen our Community & Inspire African-Americans to cast their fundamental Right To Vote. 

THANK YOU! 💙🙏🏾👍🏾
Although November has presented us with some difficult days, the last couple of days have given us some hope for the future of justice in America and expands our faith that more people will realize that Black Lives Matter!
Leedonal 'Jazz' Moore
Democrats Abroad Global Black Caucus Chair 
---
#GivingThanks #GlobalBlackCaucus #DemocratsAbroad #ThankYou #BlackLivesMatter #Thanksgiving
read more
Message from the Chair
This is the final countdown. We need you to VOTE as if your life depends on it - because it does! Some key things to keep in mind:
If your friends don't vote, they're not really friends.
Don't wring your hands – ring some doorbells or phones!
To all those with "fingers crossed": no offense, but that won't help – especially since you can't knock on doors, text, or phone bank with crossed fingers!
This message is about channeling your energy (and helping you help others in your orbit do so) in these final days. There's a TON we can do to make a difference in this election and we'll only win if EVERYONE gets involved.
SO – a few things for you to consume to get fired up and then take action:
Your actions in these final days will have a profound impact on both of these dates:
November 9, 2022 – the day after the election. You want to be able to wake up that day and know you did everything in your power to save our democracy!
January 3, 2023 – the day the next Congress will be sworn in. You have a choice: it can either be a glorious day with elected officials who will protect our freedoms and human rights getting sworn in OR, it can be a non-violent coup filled with election deniers and those who don't believe in the rule of law.
If you need any help with voter assistance, feel free to contact your local chapter's leadership. You can also attend Democrats Abroad Global Voter Help Desk on Zoom (https://qrco.de/bbh0zg)
Last but not least, let us know if you voted by pressing the button...
Polls don't vote, people do – and my money is on the people! Please VOTE!
Love and Light

Leedonal (Jazz) Moore
• Democrats Abroad Global Black Caucus
• Democrats Abroad Interim Int. Secretary
• DPCA Voting Rep. DACH
---
read more
See all posts
---
Upcoming Events
The Democrats Abroad Reparations Task Force is dedicated to tackling economic, racial, and political injustice head on. Join us as we fight to keep the Biden Administration accountable to its own promises to address racial disparities. This is important because H.R. 40 (the Reparations Study Bill) runs a risk of lapsing before a vote. We will use the momentum to not only federal reparative justice efforts, but state and local. 
On November 30th at 1 p.m. Eastern US Time / 19:00 Central European Time, we will be discussing recent developments in the US reparations movement, ongoing successes in reparations activism/advocacy, and further opportunities to get involved as we march towards the midterms.