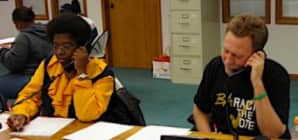 You can influence voters in states with key elections by calling them!  It's a great way to start getting involved and to influence US elections without having to travel, from the comfort of your own home. We are phoning Da members to help them VOTE, we don't ask for donations, and many members will thank you for volunteering and for calling. Talking to other DA members is usually very engaging and informative, and knowing you've helped someone to vote is the best feeling."
DA Global is organizing phone banking campaigns throughout September and early Oct but you need to learn how to use the app! 
WHEN
September 25, 2021 at 11:00am - 1pm Tokyo Time
CONTACT
Sarajean Rossitto ·
Who's RSVPing
Do you like this post?