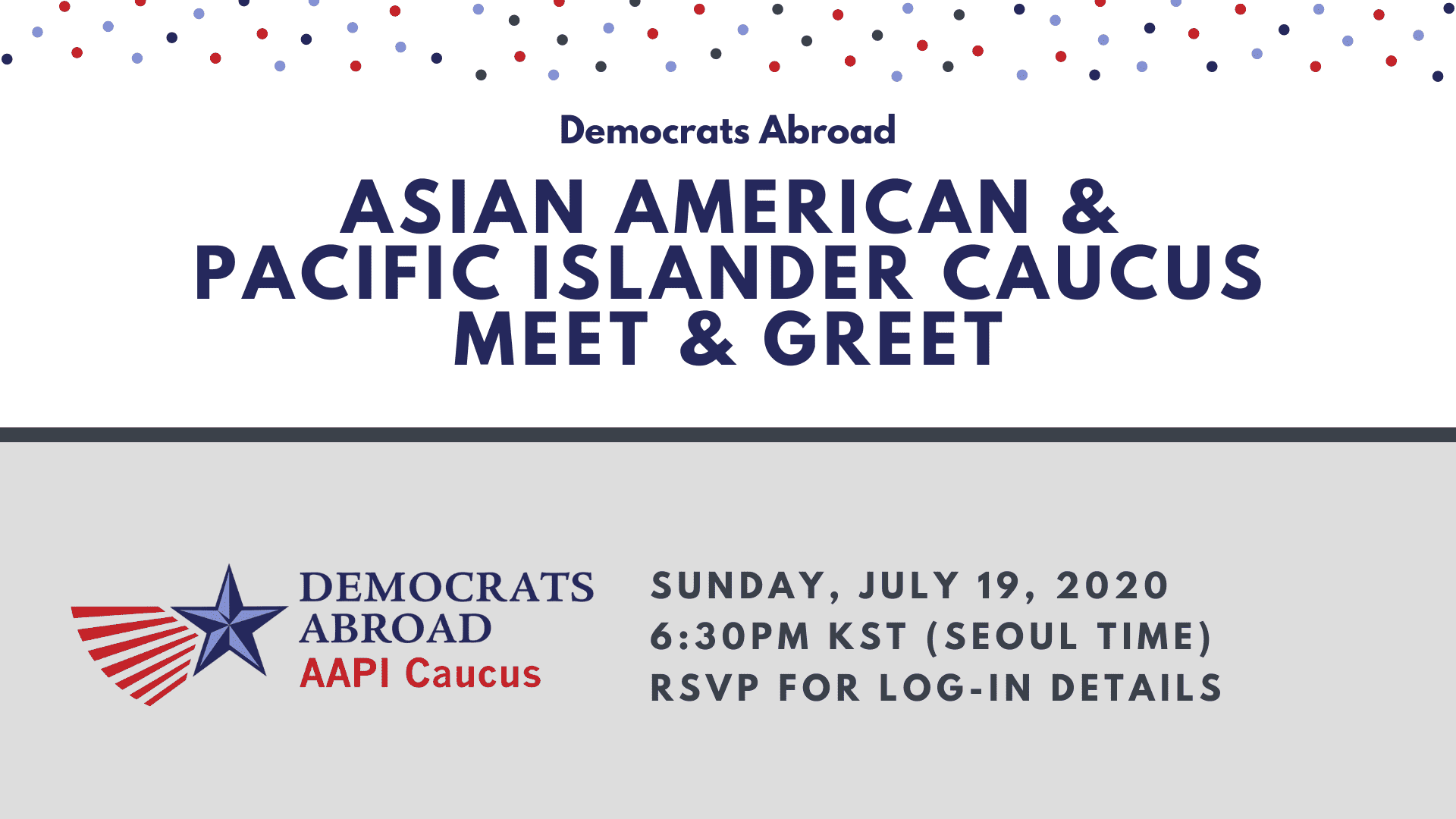 Are you interested in joining the newly formed Democrats Abroad Asian American and Pacific Islander (AAPI) Caucus?
Do you want to know how to get involved and what the caucus is all about?
Then join us on Sunday, July 19th for an online meet and greet to meet some of the leaders of the AAPI caucus and learn more about how you can become a member and help the caucus develop. We'll also address how you can start the caucus in your own country. And, of course, you will have the chance to meet other members of Democrats Abroad and the caucus!
We will provide a short introduction about what caucuses are all about in Democrats Abroad and what specifically the AAPI caucus is working on. As a group focused on promoting and advocating on issues related to the AAPI community, we hope to hold events to raise awareness and help increase voter participation among this specific group. Following this introduction and any questions, we will open up the floor to an informal discussion about ideas people have about what issues the AAPI caucus should focus on and how to be an effective group.
All are welcome to join us on the call, even if you do not specifically identify as a member of the AAPI community.
If you have not done so yet, you can become a member of the caucus here: https://www.democratsabroad.org/aapi 
Please RSVP below to receive the log-in information for the event. We will also be holding another meet and greet that is more suitable for EMEA/Americas region.
We look forward to welcoming you to this event and officially kicking off the AAPI caucus!
| | |
| --- | --- |
| Location | Local Start Time |
| Sydney, Australia | 19:30 AEST |
| Seoul, South Korea | 18:30 KST |
| Beijing, China | 17:30 CST |
| New Dehli, India | 15:00 IST |
| Dubai, United Arab Emirates | 13:30 GST |
| Berlin, Germany | 11:30 CEST |
WHEN
July 19, 2020 at 6:30pm - 8:30pm Seoul Time
CONTACT
Cory Lemke - Co-Chair, Global AAPI Caucus ·
Who's RSVPing