---
News
On Tuesday 17 September Rep. Carolyn Maloney (D-NY12) and Rep. Don Beyer (D-VA08) introduced two bills to provide support and relief to Americans Abroad.  They are the Commission on Americans Living Overseas Act and the Overseas Americans Financial Access Act.  Democrats Abroad endorses these bills and thanks Rep. Maloney and Rep. Beyer for their on-going interest in and support for the Americans abroad community.
Commission on Americans Abroad Act
The Commission on Americans Abroad Act, first introduced by Rep. Maloney and former New York Rep. Charlie Rangel in the 113th Congress, would create a commission to establish the impact of U.S. laws and regulations on Americans living abroad and make reform recommendations.  You can read about it here.
Overseas Americans Financial Access Act
The Overseas Americans Financial Access Act, first introduced by Rep. Maloney in the last Congress, provides an exemption for Americans abroad from all Foreign Account Tax Compliance Act (FATCA) reporting for the accounts we hold in the countries where we live.  FATCA was created to discourage and apprehend Americans using foreign financial accounts to hide money from the IRS; it was never intended to track the accounts we use in the places where we live to pay our bills and save for the future.  You can read about it here.
Democrats Abroad is in Washington DC this week (18-20 September) for more talks about expat tax reform and will be discussing these bills in our meetings.  Expat tax reform activists are encouraged to participate in our Congressional CallStorm this week to tell our elected representatives that we need relief from the unjust burden that the U.S. tax code and other laws and regulations place on Americans abroad.
Please send comments and questions to taxationtf@democratsabroad.org.
read more
Democrats Abroad is back on Capitol Hill again next week to talk to Congress about Residency Based Taxation, FATCA reform, Tax Cuts and Jobs Act fixes and other recommendations aimed at reducing the burden U.S. taxation places uniquely on Americans living abroad.   We especially look forward to meetings we have scheduled with the Ways and Means Committee for updates on their work on legislation to enact a switch from Citizenship Based Taxation to Residency Based Taxation.
Please help us demonstrate the enormous support that exists across the Americans abroad community for these critical reforms by reaching out to your elected representatives some time between 16 and 20 September.  This campaign guide has all you need to call or write your members of Congress.
Democrats Abroad UK is hosting a Webinar on 17 September for those who would like a tutorial about how to contact their members of Congress.  Click here for more information and to register.
As usual,  in the follow-up to next week's expat tax reform meetings we will publish a report on what we learned.  Please send comments or questions to taxationtf@democratsabroad.org.
DEMOCRATS ABROAD TAXATION TASK FORCE
read more
See all posts
---
Upcoming Events
Saturday, September 28, 2019 at 10:00 AM · $20.00 CAD
Saturday, October 05, 2019 at 10:30 AM · £20.00 GBP
Democrats Abroad UK (DAUK) Tax Committee is proud to present the first ever Tax Day. Tax Day will be an all-encompassing event covering topics including tax, financial planning, and social security. The aim of this event is to help Americans abroad understand tax filing obligations and the financial complexities around being an American living abroad. Purchase your ticket today: https://dauk-tax-day-2019.eventbrite.co.uk


Commonly asked tax questions will be addressed such as:
When is the tax filing deadline for Americans living outside the U.S.?
How much do I need to earn to file?
How much do I have to earn in order to be double taxed?
How do I manage my US student loans while living abroad?
Can I open an ISA, SIPP or 529?
Do I have to pay capital gains tax to the IRS when I sell my UK home?
Do I get double taxed if I'm self-employed in the UK or have a UK Limited Company?
What US tax forms do I need to submit to the IRS if I'm retired?

This event is for you if:
you just moved to the UK from the US and you're unsure of your tax obligations
you haven't filed for decades
you're scared to face your tax filing obligation or don't know what questions to ask to get started
you've filed for years but you're not sure if you're doing it right, or
you've filed every year but you've wanted a straightforward answer for a specific issue.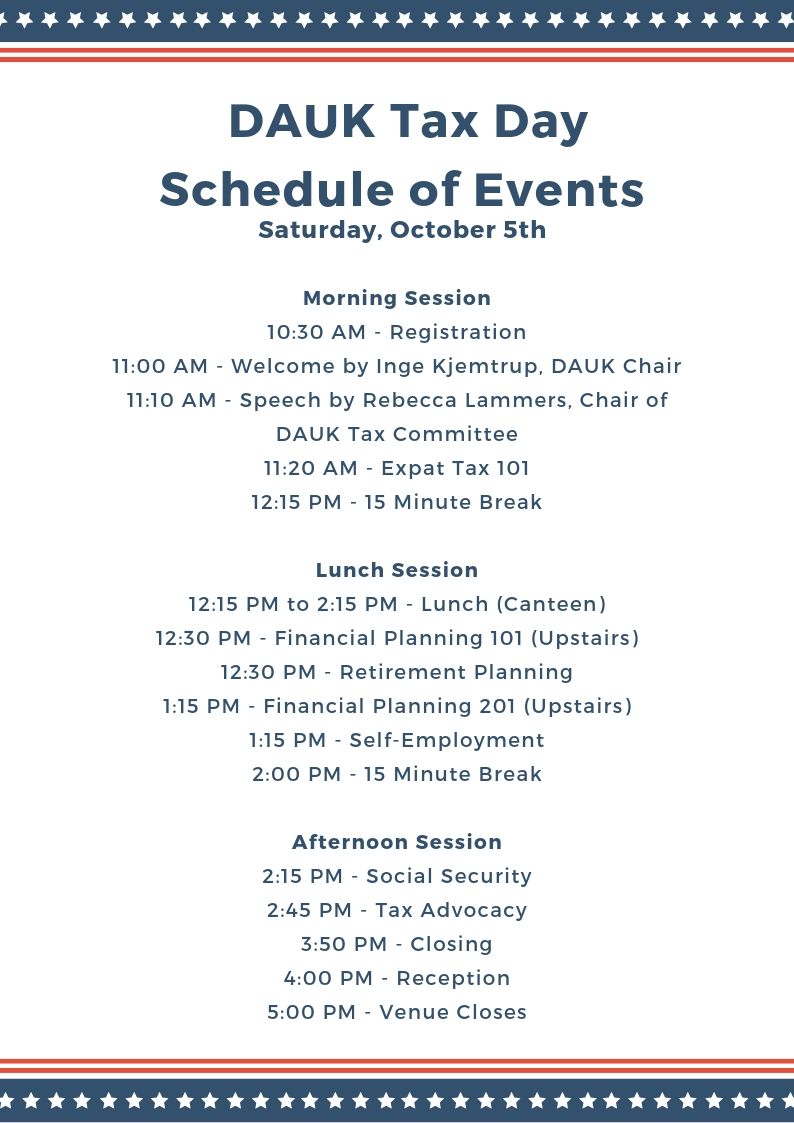 Speakers confirmed so far include:
Kristopher Heck, Managing Partner @ Tanager Wealth Management
George King, Senior Wealth Manager @ MASECO
Jack Leuchtman, Regional Federal Benefits @ Social Security Administration
Susan Shriver, 

Enrolled Agent, 

US Tax Consultant (former IRS)
David Treitel, Founder and Managing Director @ American Tax Returns
Liz Zitzow, MD @ British American Tax

Please email any questions in advance to taxcom@democratsabroad.org.uk

If you are unable to attend this event, please email taxcom@democratsabroad.org.uk to be added to the mailing list to keep up to date on future events and news on Democrats Abroad UK tax advocacy work.

Disclaimer: DAUK cannot provide individual tax advice. Advice requires consideration of your individual circumstances and needs, none of which can be done at this event. We are not tax lawyers, accountants or advisers. Please consult a professional tax adviser/accountant/return preparer when addressing your personal tax matters.
DAUK does not endorse or recommend companies or individuals attending or hosting this event. The views expressed at the event are those of the respective individuals and companies, not DAUK. No liability is accepted by DAUK for the opinions expressed, or for any errors or omissions expressed about matters of tax in any country, your financial planning, or your legal obligations.
We recommend the ACA Tax Return Preparer Directory to find a service provider who meets your needs and budget, though buyers need always beware. Democrats Abroad suggests Americans abroad in need of tax advice consult the ACA Tax Return Preparer Directory to find an advisor or tax return preparer near you or providing online services: http://acareturnpreparerdirectory.com